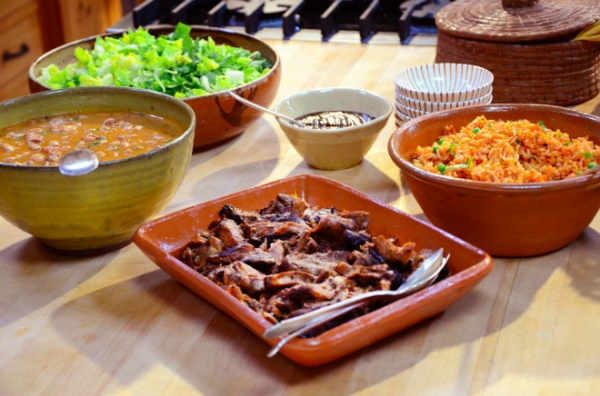 Ingredients
2

garlic cloves, peeled

1/2 of a

15-ounce can

diced fire-roasted tomatoes, undrained

1 1/2

tablespoons

vegetable oil

1 1/2

cups

long-grain white rice (I typically like the meatier texture of medium-grain rice, but since I don't fry the rice in this version, medium grain turns out too sticky)

1 3/4

cups

chicken broth or water

Fresh hot green chiles to taste

(roughly 1 to 2 serranos or 1 large jalapeño), stemmed, a slit cut down the side of each one

2

medium

carrots, peeled and chopped into ¼-inch cubes (optional)

About 1/2

cup

defrosted frozen peas (optional)

About 1/4

cup

chopped flat-leaf parsley or cilantro
Instructions
Put the garlic in a small microwave-safe bowl, cover with water and microwave at 100% for 1 minute. Drain, scoop into a blender or food processor and add the canned tomatoes.  Process to a smooth puree.
In a 6-cup rice cooker, stir together the oil and rice.  When the rice is thoroughly coated, stir in the tomato puree, broth (or water) and 1 ½ teaspoons salt if using unsalted broth or water, 1 teaspoon if using salted broth. Nestle in the chiles.  Cover the rice cooker, turn it to "cook" and set a timer for 15 minutes.  When the timer goes off, gently stir the rice to incorporate the tomato mixture.  Re-cover and let the rice cook until the cooker changes to the "keep warm" mode, about 20 minutes. Taste a grain of rice: It should be very close to done at the core.  If not, sprinkle in a little water, re-cover and cook 5 minutes more.
If you're using carrots, scoop them into a microwave-safe bowl, splash with a couple of tablespoons water, cover with plastic wrap, poke a few holes in the top and microwave at 100% for 2 minutes. Carefully uncover (it's steamy and hot) and tip off the water.
When the rice is done, uncover it and sprinkle in the carrots, peas  (if you are using them) and the parsley or cilantro.  Use a fork to gently fluff the rice, reaching all the way to the edges of the bottom, to release steam and slow the cooking.  Re-cover, let stand 5 to 15 minutes and the rice is ready to serve.  In my rice cooker, I can hold this warm for about 30 minutes without having the peas turn gray.