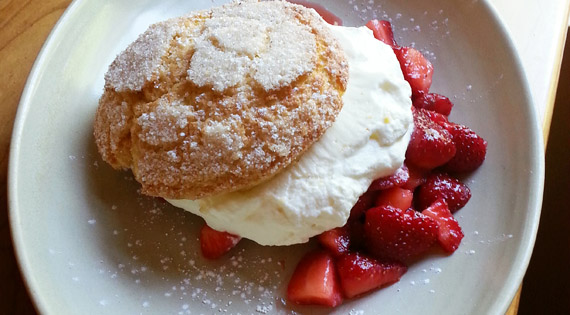 Here's a spring/early summer recipe straight from Frontera's pastry department. (It happens to be one of Lanie's favorite dessert recipes, too.)  Our favorite is with strawberries, but it's delicious with any summer fruit and also great filled with your favorite ice cream.
Ingredients
For the Shortcakes

1 3/4

cups (8 ounces)

all-purpose flour

1/4

cup plus 1 tablespoon

sugar (divided use)

2

teaspoons

baking powder

1/2

teaspoon

salt

4

ounces (1 stick; 8 tablespoons)

chilled unsalted butter, cut into small cubes

1

large

egg

1/3

cup plus 1 tablespoon

buttermilk (divided use)

1 1/2

teaspoons

pure vanilla extract, preferably Mexican

1/4

cup

grated semi-sweet or Mexican chocolate (optional)

For Finishing the Dessert

1

quart

strawberries, hulled

1/4

cup plus 2 tablespoons

sugar (divided use)

1 to 1 1/2

cup

heavy (whipping) cream

Powdered sugar, for garnish
Instructions
Turn on the oven to 400 degrees. Measure the flour, 1/4 cup of the sugar, the baking powder and the salt into a food processor. Scatter the chilled butter evenly over dry ingredients. Pulse the processor 10 to 12 times (use 1-second pulses) until the butter is in tiny bits. Add the egg, 1/3 cup of the buttermilk, vanilla and grated chocolate if you're using it. Pulse the processor 7 to 8 times until the soft dough just comes together.
Turn out the dough onto a well-floured surface and press together to form a disk that is 3/4 to 1 inch thick. The dough will be very moist. With a floured 3-inch biscuit cutter, cut out 4 biscuits. Transfer to a rimmed baking sheet lined with parchment. Gently bring the scraps back together and pat out the dough again. Cut two more disks and transfer to the baking sheet. Brush the tops of the biscuits with the remaining 1 tablespoon of buttermilk, then sprinkle with the remaining 1 tablespoon sugar. Bake for about 18 minutes, until they are lightly browned. Cool.
Thinly slice the strawberries and scoop into a medium bowl. Gently mix in 1/4 cup of the sugar. With an electric mixer, beat the cream and remaining 2 tablespoons sugar (using the whisk attachment if available) until the cream holds soft peaks. Just before serving split each biscuit as you would a bagel. Top the bottom layer with a generous dollop of whipped cream, spoon on a portion of the strawberries (and any of their juices), then set the top in place (or slightly off to the side, to show off the strawberries more). Sprinkle with powdered sugar and you're ready to serve.