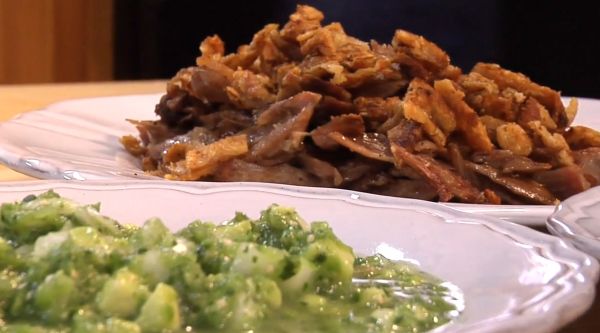 Avocado-Tomatillo Salsa is great when you're making tacos from these duck carnitas. During mango season, though, I love doing a salsa of red onion, avocado, mango, serrano chile and cilantro. this is a recipe from Season 7, Mexico—One Plate at a Time.
Servings:
3
generous cups of coarsely shredded duck
Ingredients
6

large

duck legs (you need 2 1/2 to 3 pounds total)

4

teaspoons

salt

2

teaspoons

dried oregano,

preferably Mexican

2

tablespoons

fresh lime juice

6

cups fresh, rich-tasting pork

lard

8

garlic cloves, peeled and halved

Crunchy Tomatillo-Avocado Salsa
Instructions
Lay the duck legs in a 13 x 9-inch non-aluminum baking dish. Sprinkle with half the salt and oregano, then drizzle with half the lime juice. Flip them over and sprinkle with the remaining salt and oregano; drizzle with the remaining lime. Cover and refrigerate for 24 hours, turning a couple of times.
Heat the oven to 300 degrees. In a large (4-quart) saucepan, melt the lard. Remove the duck from the baking dish and pat dry on paper towels. Rinse and dry the baking dish. Fit in the duck legs. Pour the lard over the duck, making sure the legs are completely submerged. Scatter the garlic cloves over the duck legs and nestle them into the lard. Slide into the oven (you may want to do this on a rimmed baking sheet to avoid spills), and bake for about 2 hours until the duck is very tender. Cool to lukewarm.
Remove the duck from the lard. Pull off the skin and set aside. Pull the meat from the bone into large pieces. Discard the bones. Spoon 2 tablespoons of the lard into a very large (12-inch) skillet (preferably nonstick) and set over medium-high. When hot, lay in the skin and cook, turning frequently, until very crisp, about 5 minutes. Remove to a drain on paper towels. Add the meat and cook, turning regularly, until browned and crisping in spots, about 7 or 8 minutes Scoop into a serving platter. Coarsely crumble the duck skin over the top and serve with the Tomatillo-Avocado Salsa and warm tortillas.