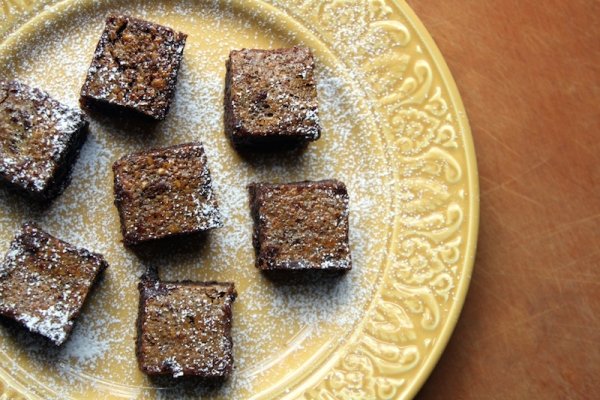 Recipe from Season 6, Mexico—One Plate at a Time
Ingredients
9

ounces (about 2 cups)

pecan halves

One

9-ounce

bag pretzel rods

1

pound (4 stick)

unsalted butter (divided use), plus extra for buttering the pan

1/2

cup

sugar

8

ounces

semisweet or bittersweet chocolate, chopped into pieces not larger than 1/4-inch

3/4

cup (about 4 1/2 ounces)

Mexican chocolate,

finely chopped, (like the widely available Ibarra brand)

3

tablespoons

flour

6

large

eggs

1 1/2

cups

firmly packed dark brown sugar

1 1/2

cups

corn syrup, preferably dark (or use a mixture of corn syrup and molasses, sorghum, Steens cane syrup or most any of the other rich-flavored syrups that are on the market)

1

tablespoon

pure vanilla extract, preferably Mexican vanilla

Powdered sugar, for garnish
Instructions
Toast the pecans and prepare the crumb crust. In a 325 degree oven, toast the pecans on a rimmed baking sheet until noticeably darker and toasty smelling, about 10 minutes. Let the pecans cool to lukewarm (but keep the oven heated), then coarsely chop them by hand—1/4 to 1/2-inch pieces makes luxurious-looking bars. Scrape into a large bowl.
Use a food processor to chop the pretzels into fairly fine crumbs. (You should have 2 cups of crumbs.) In a small saucepan over medium heat or in a microwave at 50% power, melt 2 sticks of the butter. Scrape into the processor, along with the 1/2 cup sugar. Pulse until everything is combined. Butter the bottom and sides of two 8 x 8-inch baking pans. Cut a piece of parchment to fit the bottom of each pan, then press them firmly in place. Butter the parchment paper. Divide the crumb mixture between the two pans and pat into an even layer covering the bottom completely.
Make the filling. To the pecans, add the 2 chocolates and the flour. Stir to combine, then divide evenly between the 2 pans. In your small saucepan or microwave, melt the remaining 2 sticks of the butter. In the bowl of an electric mixer, combine the eggs, brown sugar, corn syrup and vanilla, and beat at medium-low speed (if your mixer has a choice, use the flat beater). Slowly add the melted butter, mixing until the batter looks smooth. Divide the batter between the two pans, pouring it slowly and evenly over the surface to ensure even distribution of the chocolate and pecans through the batter.
Bake, cool and serve the bars. Slide into the oven and bake for 45 to 55 minutes, until the center has just set. Let cool to room temperature.Cover and refrigerate until firm for easy cutting. Cut into 2-inch squares. Keep them stored in the refrigerator until just before serving. Transfer to a serving platter, dust with powdered sugar, carry to your guests and await the ooo's and aah's.