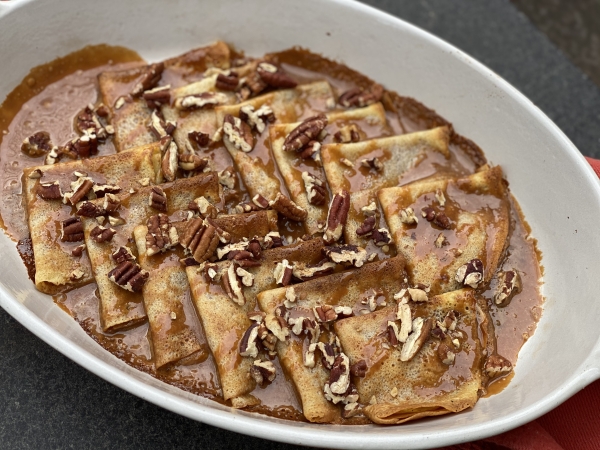 Ingredients
1/2

cup

milk

2

large

eggs

1

cup (5 ounces)

all-purpose flour

1/2

teaspoon

salt

3

tablespoons

butter, melted, plus a little more for the pan

For Finishing the Dish

3

ounces (6 tablespoons)

butter, melted

4

ounces (about 1 cup)

pecans, lightly toasted and roughly chopped

About 1/2

cup

Cajeta (Goats Milk Caramel)
Instructions
Make the batter. In a blender jar, combine ¾ cup water with the milk, eggs, flour, salt and melted butter.  Blend until smooth, 1 to 2 minutes, scraping down the jar as needed to ensure everything is combined.  For the best crepes, set the batter aside in the blender jar for an hour to completely rehydrate the flour.  
Make the crepes.  Over medium, heat a 7- or 8-inch crepe pan or a well-seasoned cast-iron or non-stick skillet. When hot enough to make a drop of water pop around happily, use a pastry brush or paper towel to rub the pan with a little butter. Holding the hot pan in one hand and the blender jar of batter in the other, confidently pour about ¼ cup batter into the pan, swish it around just enough to cover the bottom, then pour the excess back into the blender jar.  If the pan isn't hot enough or you swish too quickly, the crepe will be paper thin and hard to work with. (Worse case, it will be so thin that it rolls back in with the batter).  If the pan is too hot or you swish too slowly, the crepe will be thick and inelegant.  It's a delicate dance between temperature and timing and every pan is a little different.  
Cook until the edges begin to dry, less than a minute.  Loosen the edges with a knife or narrow spatula and trim off the irregular part where you poured off the excess batter.  Using your fingers or a narrow spatula, flip the crepe (it should be golden brown). Cook about a minute longer, until golden brown underneath, then remove to a plate.  Continue making crepes in the same manner, greasing the pan from time to time if necessary and stacking the finished crepes on top of one another. You need 12 good crepes to finish the dish; this amount of batter can make up to 16.  
Finish the dish.  Heat the oven to 400 degrees. Lay out a crepe, prettiest-side down, brush with butter and spoon about a tablespoon of cajeta on one side.  Fold the empty side over the one with cajeta and gently press to spread the caramely goodness out.  Brush the top with butter, then fold in half again and butter what is now the top.  Lay in a buttered baking dish.  Continue buttering, filling and folding the crepes, arranging them in the baking dish slightly overlapping.  Drizzle on the remaining cajeta and sprinkle with the nuts.  Bake until the cajeta is bubbling and the edges of the crepes are crispy.  They're ready.