jicama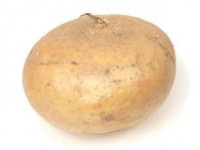 USES: This slightly sweet, crisp-and-crunchy root vegetable is typically peeled and eaten raw as a vegetable (usually with chile and lime, or in a salady preparation); rarely cooked.
FINDING: Most well-stocked general groceries and nearly all Mexican groceries.
CHOOSING: Smaller (no more than 1-pound) jícamas with thin, taught, unblemished skin are usually the sweetest and crispest.
STORING: In the refrigerator, unwrapped, for up to a month.