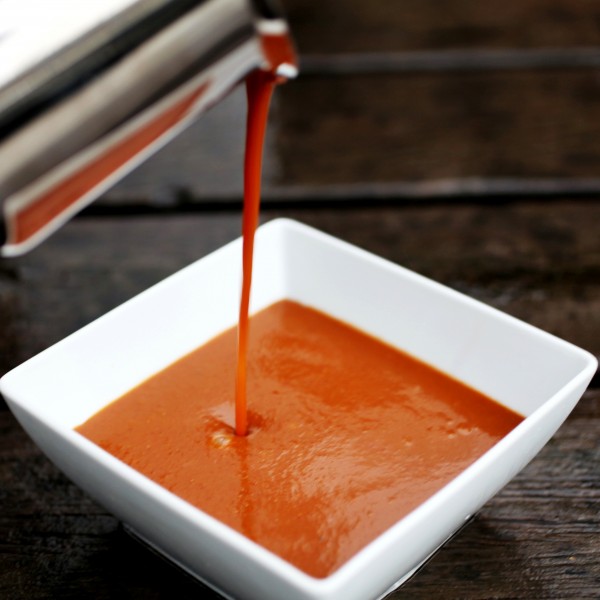 Kuri squash has such unique, concentrated sweet winter squash flavor that you can turn it into a soup quickly and with little fuss.  Dried chile and kuri are a simple, perfect match.  Black pepper and cinnamon support the ancho flavor here, as they so often do in Mexico.  Apple simply underscores kuri's natural sweetness. And the squash seeds (yes, I've saved them for the soup rather than the compost pile) add nuttiness.  With about a half hour investment (and another half hour of simmering), you can have a beautiful pot of soup to enjoy for several days.  I make this soup with water, because I like the purity of flavor.  If you want more richness, use chicken or vegetable broth.  
Ingredients
1

medium (3 pound)

kuri squash or sugar (a.k.a. pie) pumpkin OR 1 small (2 pound) butternut

2

tablespoons

butter

1

medium

onion, sliced 1/4-inch thick

1

dried ancho chile,

stemmed, seeded and torn into flat pieces

1

medium apple, cored, peeled and roughly chopped

1/2

teaspoon

black pepper, preferably freshly ground

1/2

teaspoon

cinnamon,

preferably freshly ground Mexican canela

Salt

Sugar
Instructions
Peel the squash or pumpkin, chop off the stem end and cut it in half lengthwise, slicing through the cavity that holds the seeds. Wrap and refrigerate half for another use; from the other half, scoop out the seeds and pull off the stringy fibers that entangle them (if a few remain, that's okay). Scoop the seeds into a small bowl (you should have about ¼ cup) and chop the squash or pumpkin into roughly 1-inch pieces (you should have about 3 cups).
Melt the butter in a medium (3-quart) saucepan set over medium heat. Add the seeds and onion, and cook, stirring frequently, until the onions are richly golden and the seeds have started to brown, about 10 minutes. Add the chile pieces and cook, stirring, for a minute or two, until they are fragrant and lightly toasted. Add the squash (or pumpkin), apple, pepper, cinnamon and 1 quart water. Bring to a boil, then reduce the heat and let the mixture simmer until everything is very tender, about 30 minutes. Ladle into a blender, loosely cover and blend until completely smooth. (A large, high-powered blender like Vitamix works best here; if yours is smaller, blend in batches. An immersion blender, while easy, will barely blend the seeds.) Set a medium-mesh strainer over the pot and pass the soup through. Season with salt (usually about 1 teaspoon) and a little sugar (½ teaspoon or so brings out the flavor of the apple). Serve warm in warm bowls.