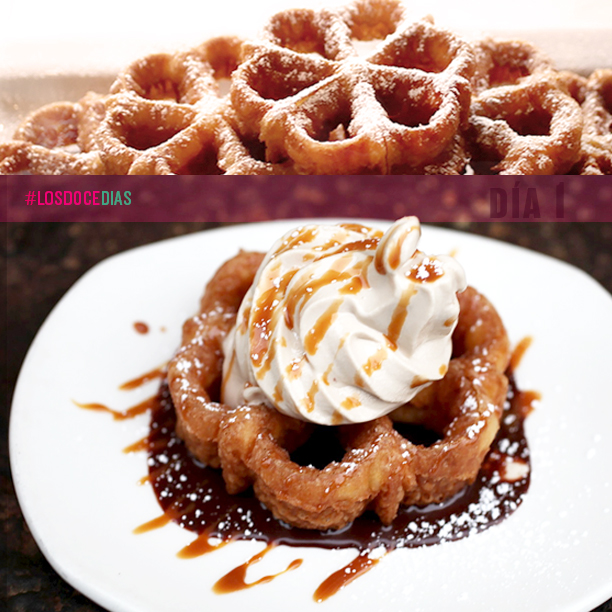 As today is December 13th, and as December 13th is just twelve days from Christmas, today is the day we start celebrating Los Doce Dias de Navidad–twelve days of all the Christmas-y things we do here at Frontera. First up: buñuelos.
Like almost everything in Mexico, buñuelos vary by region. In Oaxaca the fritters are made only around Christmas; elsewhere, such as Morelia, they're made year-round. In many places they are thin and crisp; in Mexico City, you'll often find buñuelos de viento, which are thicker and shaped like a flower.
We're serving them both ways. At Frontera, miniature versions of thin buñuelos are paired with guava, cinnamon ice cream and lime-scented meringue. At XOCO, buñuelos de viento are plated on ganache and topped with ice cream and cajeta.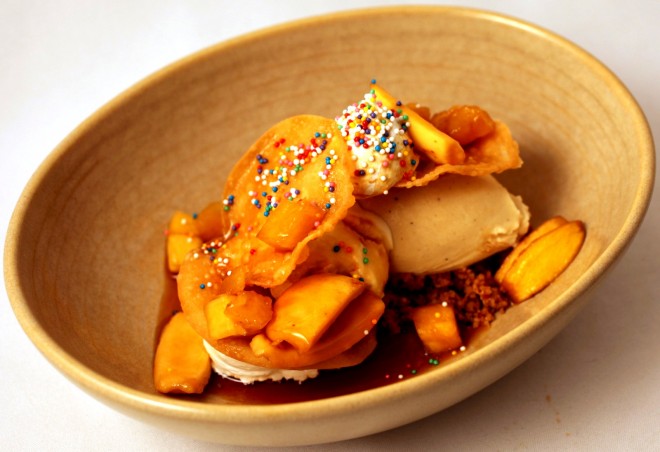 Can you make these at home? Sort of. Buñuelos de viento require a specially shaped iron, which is kept hot, dipped into the batter, and then immediately dropped into the fryer, where the buñuelo crisps up and releases. Hard to replicate at home, for obvious reasons. But if you're up for a project (maybe we a few other people to help), you can make the flat version at home. We've put the recipe (originally from Fiesta at Rick's) on the site. Get organized now–Christmas is in only doce days.