When Rick set out to write "More Mexican Everyday," he decided his ninth cookbook would be heavy on vegetable recipes.
Why? Many reasons, but mostly because fresh produce has never been more widely available and vegetables simply deserve better than getting tossed with pasta, which seems to be everyone's default option.  (Plus, we're long past due to put vegetables at the center, not the sides, of our plates.)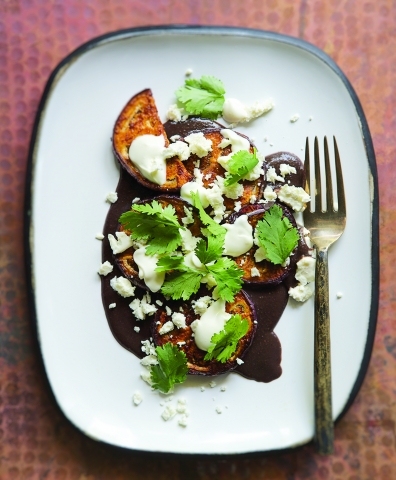 While "More Mexican Everyday" readers will find easy-to-make recipes offering a new approach to traditional Mexican produce — and quite a few meat and poultry dishes — they'll also discover the pleasure of introducing new vegetables into the Mexican kitchen, things like mustard greens, kale, asparagus and eggplant.
We are thrilled to report one of those vegetable recipes, Spicy Chipotle Eggplant with Black Beans, has found a fan in Washington Post food and dining editor Joe Yonan, who praised the dish with these kind words in Wednesday's paper:
As an eggplant lover, I'm always looking for new ways to prepare it, and Bayless's is a keeper. First, you make a wonderfully complex salsa negra out of canned chipotles, molasses, soy sauce and more. Then you use it two ways: to coat thick eggplant slices before roasting them at a high heat, and to stir into a black bean puree. The latter becomes the base of the dish, with the eggplant slices nestled in, sprinkled with queso fresco, dolloped with sour cream and garnished with cilantro leaves.
The combination of sweet, smoky, creamy and tart is unforgettable. Bayless himself writes, "I like eggplant pretty much every way I've had it, but this rendition is one I dream of." That makes two of us.
It's a fine compliment, and hopefully it More Mexican Everyday inspires more people cook healthy, delicious and easy meals at home.
Already, the book is flying off the shelves. You can pick up a copy at our website, your favorite local bookstore or online retailer.