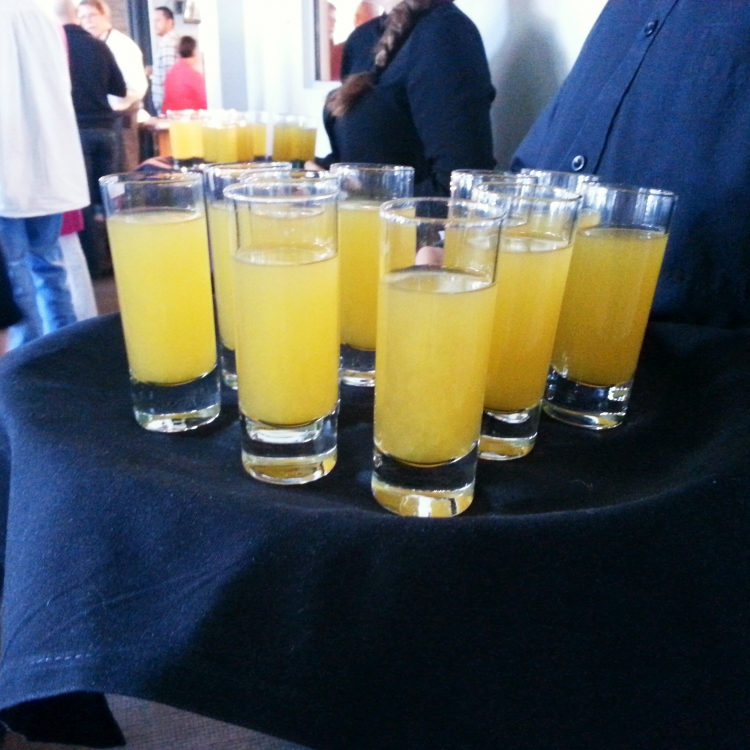 9:35am Good morning from Kendall College, where the second annual ModMex conference has just kicked off with coffee, granola—and a passion fruit-tequila-chamomile cocktail. We've got some amazing chefs who have flown in from New York and Mexico City for this event (and a few that have walked over from Chicago's Randolph Street), and together with Rick they're going to spend the day exploring the future of Mexican food. Rick has just welcomed everybody, and he encapsulated nicely what this event is all about. "This is a conversation we are creating by doing this—we're all coming together to talk about food and innovation, and to answer the question: What is the relevance of the Mexican pantry and the Mexican technique?" Good questions, right? Let's start answering them. 9:40am The first chef to present today is Chicago's Curtis Duffy, the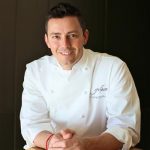 chef-owner of Grace, who was just described by host Ana Belaval as "a fancy chef." ("Not that you aren't fancy, too, Rick!")  Curtis started his presentation by blushing (Ana had talked about his good looks) and continued by talking about his relationship to Mexican food.  "It's challenging, because we don't cook with Mexican ingredients on a daily basis," Duffy said. "But I think of all food as just food."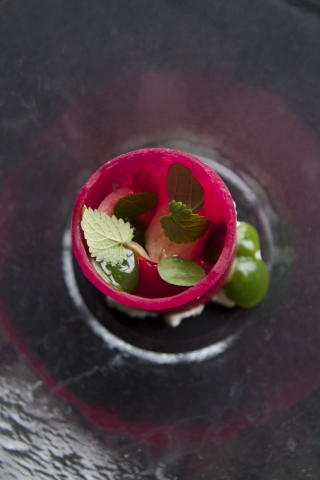 Duffy admitted that he was a little apprehensive when he was sent the list of Mexican ingredients we gave him. "I had to look at it as a challenge," he said. Like Benaval, he doesn't like spicy food. He chose to focus his dish on hoja santa, prickly pears, lime and cotija cheese—"my safe ingredients," he said. He started with the hojo santa, which he's particularly enamored with. ("I fell in love with the herb years ago… probably every menu I do has hoja santa on it.") He cooked a few leaves, shocked them in ice water and blended them in a Vitamix with some water. He strained the liquid and whisked in some tapioca—"a way to cook it without having to apply heat."
As he thinly sliced hamachi belly he spoke a little more about his ingredient philosophy. "Part of traveling around the world is eating, and taking from everything—ingredients don't have to stay rooted in that cuisine."  He seasoned the hamachi with sea salt, mandarin oil and pumpkinseed oil, then grated some lime zest over it. "This is traditionally where you would squeeze lime juice over the fish, but we're not going to do that," he said.
Instead, Duffy took some cactus pear juice, seasoned it with lime and froze it in one of Grace's custom silicone molds, creating a perfect cylinder of vibrant purple prickly pear juice. He took some almond milk-and-rice pudding and stirred in some fried, salted pepitos. That went on the bottom of the plate. The prickly pear ice was set in that, and the hamachi, lime segments, hoja santa, lemon balm and cotija was layered inside. "It's very time sensitive—it takes two minutes to build, and at five minutes it's ready to be thrown away."
"It's scientific," Ana said of the dish. But Duffy disagreed. "We use technology to further what we do and make it more interesting, but if it doesn't taste good, you lose."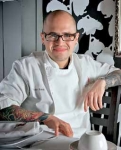 10:33am  Our second chef of the day was Pablo Salas, the chef behind Amaranta in Toluca, Mexico. Amaranta was recently named to Pellegrino's 50 Best Latin American Restaurants list. Toluca is known for its green chorizo, but Amaranta is giving the city a reputation for modern fine-dining as well.
Pablo prepared pork jowl with a green pipian. Pipians are sort of molelike, but based on seeds and nuts.  Salas's starts with chicken bones, which he fries in a pot. To that he adds a paste of peanuts, sesame seeds, pumpkinseeds, onion,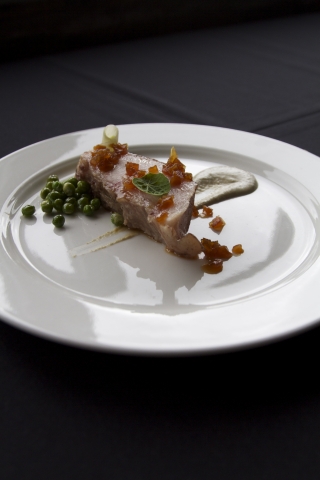 garlic and chicken stock, and a raw tomatillo sauce with pobano, spinach, epazote, cilantro and jalapeño. That all comes to a boil, then is blended (the chicken bones are discarded, obviously)—and the pipian is done.
Then it's on to the pork jowl. Salas loves the fattiness—or, as he explained it, the "exceptional marbling"—of pork jowl. And he has a fondness for what some people may call the "lesser cuts" of meat—offal and the like. ("We don't have any tenderloins at the restaurant," he says. "And it works.") To cook the pork, he slipped it into a bag with orange juice, bay leaves and lard and cooked it sous vide at 143 degrees for 6 hours. He then seared it in a very hot pan until it formed a golden crust. He plated the pork with some green peas, the pipian, some xoconostle and some quickly-pickled chayote.
 11:50am It isn't even lunchtime yet, but we've jumped to dessert: Fany Gerson, the pastry chef behind La Newyorkina and the popular Brooklyn doughnut shop Dough, is here to show us some Mexican sweets.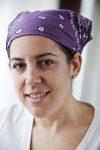 "Rick sent me a list of ingredients to choose from, and I had too many ideas—I was so inspired," she said.
What she finally decided on was an ice cream inspired by pinole—Mexican toasted corn flour, which she mixed with cinnamon.
"If there's one thing that I hope everybody here goes out and gets, it's Mexican cinnamon,"  she said. "It's often referred to as true cinnamon. It's more floral."
To go with the ice cream: peaches poached in white wine, piloncillo, vanilla and hibiscus—hibiscus being a common flavoring for Mexican candies.
"Mexican candies are very interesting. I didn't grow up with Snickers bars. We have candies that are spicy and sweet and salty, so I always try to incorporate layers of textures and flavors into my desserts."
As she put her dessert together, it became clear that Fany is a tip machine. Among the tips she gave out:
"It's a misconception that the flavor from vanilla comes from the seeds…the essence is underneath the seeds."
"You can rinse and dry vanilla beans and use them again."
"Every time you make ice cream, it's always good to let the custard sit overnight before spinning it, to let the flavors mature."
As she delivered these tips, her peaches were simmering in the poaching liquid, skin and all. Meanwhile, to make the pinole, Fany took some slow-toasted blue corn kernels and ground them in a Vitamix. When it was time to make the custard for the ice cream, she whisked three eggs with some sugar. (Usually she'd use six eggs for a batch of ice cream this size, but because the cocoa has fat, and the pinole has starch, she only needed three). After whisking in some cinnamon-infused cream, she poured the hot mixture over a cocoa paste, which melted on contact.
The peaches were done now, and they were two-toned—the outsides were red from the poaching liquid, the insides traditional peach yellow. Fany scooped some ice cream in a bowl and slipped a few peach slices alongside it. Some candied hibiscus from the poaching liquid went on top.
"There aren't, like, chunks of cookies in here," she said of the ice cream, which had tiny bits of cocoa nibs throughout it. "And it's not super-smooth. But I like that."
We like that, too, Fany.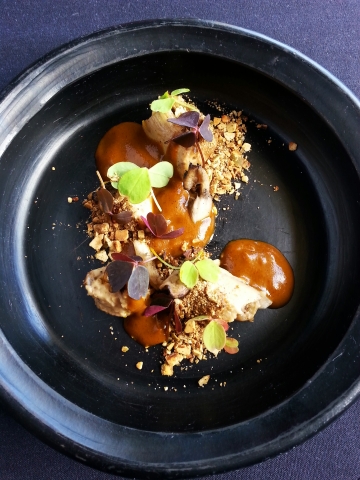 12:30pm It's Rick's turn to cook, and he's reaching back to 1491 to do it.
What was Mexican cooking like back then? As Rick explained, there was "no beef, pork or chicken. No wheat. No onions or garlic. Lime and cilantro weren't even there."
One thing that was particularly vexing to Rick was the tamale. "Usually when you make a tamale, the first thing you do is you whisk the masa with pork lard," he noted. But in 1491, there was no pork lard.
"So what were they doing? It's an ancient word, so we know we were making tamales. But how?"
The answer: "They used other natural fats, and that's what I'm going to show you today. All the fat for these tamales is going to come from pumpkinseed, and it's going to give us a wonderful toasty, roasted flavor."
With that, he scooped some pepitas into a Vitamix, blended them into a paste and combined it with water and masa. Then he started whisking, whisking and whisking, until the masa thickened until it could thicken no more.
"I'm really into cooking with water," he said as he whisked. "Water is the most underrated cooking ingredient in the modern kitchen. We come from a tradition of rich beef stocks, but that, to me, obscures the flavor of vegetables."
And this is a vegetable dish throughout, not just because pumpkinseeds are replacing lard, but because Rick filled the tamale with grilled butternut squash and wild mushrooms. (Of course, there was no oil in 1491, so these were dry-grilled, slowly, until they softened, charred and the mushrooms became slightly dehydrated.)
To sauce the tamale: a blend of toasted pasilla chiles, more charred butternut, tomatillos and cocoa nibs. And to season that sauce, Rick picked an unexpected ingredient.
"Chiles are botanically a fruit , and what do you use to bring the flavor out of fruit? Sugar."
And so to finish the dish, a little honey was whisked into the sauce as well.
1:21pm We took a short break, but now we're drinking. Time for ModMix, the cocktail portion of the day.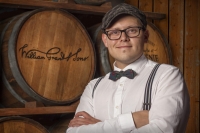 We start with Joseph Mortera, the leader of Mexico City's cocktail movement. We invited him, and all our mixologists today, to show us the future of Mexican cocktails. But we had one caveat: No margaritas.
So Joseph is doing a cobbler instead. It starts with a syrup made from hoja santa and…black beans.
"When I was growing up, my mom always made us kids clean the beans," he said. He reached into a bin of beans. "These are already clean," he assured us.
He combined the beans with a few cups of water, some piloncillo and a few hoja santa leaves. "Let it cook 30 minutes, tops," he says. "Otherwise the syrup will be more like a sauce."
"It's like we're making a tea," he says. "You get the tincture of the beans and the flavor of the hoja santa."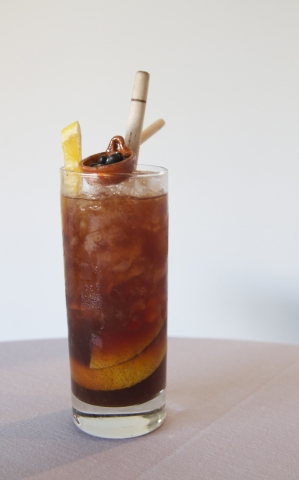 The syrup done, Joseph cut a few slices from an orange, put them in a tall glass and started muddling it with some syrup. "It's a gentle muddle. I only want the oils from the orange's skin."
He added lime juice, sherry and a young mezcal. Then, he brought out the swizzle stick.
"You need crushed ice to swizzle," he said. He crushed some ice with a muddler in a shaker, added the ice to the glass and started swizzling, using the stick to mix the cocktail with the ice.
To garnish, a tiny bowl of bean and a miniature muddler.
Rick was worried. "How am I supposed to drink that now?"
Suffice to say, we all found a way.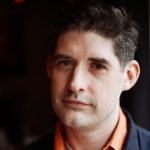 1:51pm We've move on now to Dave Arnold, the guy behind Momofuku's Booker & Dax. And it's now clear that this day has been all about the magic of hoja santa.
"About a year ago somebody I know from Guerrero gave me a little triangular piece of masa with beans on the inside," Dave starts. "It had this particular flavor. I asked what it was. Turns out it was hoja santa."
The question for Dave was: How to get the flavor of hoja santa out of the leaf and into a cocktail? Muddling, a common method, wouldn't cut it. "A problem with herbs is when you muddle them, they get swampy," Dave says. "So I'm going to use a technique called micro-muddling."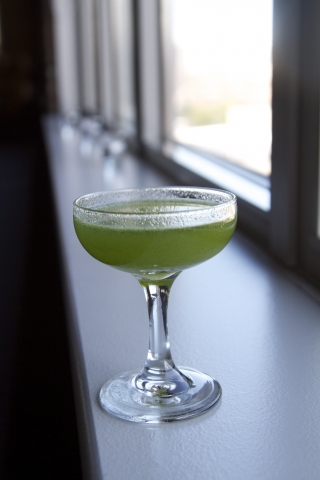 He folds a huge leaf of hoja santa, puts it in a shaker and pours liquid nitrogen over it. Icy smoke overflows from the shaker, and Dave starts muddling. It sounds like he's crushing tiny particles of glass; the nitrogen has turn the hoja santa into ice.
He pours out the contents of the shaker. Now, post micro-muddling, it has essentially been powedered.
"Because it's very small now, I can infuse it very very quickly," Dave explains.
Then, because he's such a smart guy, a guy who loves to nerd out on science and technology, he goes into a discussion of citric acid versus malic acid. It's not as academic as it sounds. The takeaway: the acid from lime juice (malic) is a much longer acidic experience than that from lemon (citric).
But Dave didn't want lemon or lime in this drink. "I wanted to use Orange." Orange juice on its own isn't acidic enough. But: "If you take OJ and add the correct amount of malic and citric acids to it, you get the flavor of orange juice and the acidity profile of lime. It's called acid-adjusted OJ."
Let's review the cocktail so far. We've got the nitrogen-frozen, micro-muddled hoja santa. (Dave actually put a small amount of cilantro in there, too.) And we've got 3/4 ounce of acid-adjusted OJ. Now Dave adds 2 ounces of mezcal, a little under 3/4 of an ounce of simple syrup and a little salt. He shakes, and preps a coup by pouring a bit of nitrogen into it.
"That won't break the glass?" Rick asks.
"Some glasses!" Dave—so peppy—says. "Not this glass, but some!"
The cocktail is shaken and strained into the coup, and the color is gorgeous—a pure, herbal green. I haven't tasted the cocktail (yet), but from what Dave says, the flavor matches the color: "It's the purest, lightest expression of what hoja santa can do," he says.
2:25pm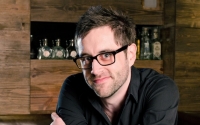 Jay, our cocktail guy from Frontera, has taken the stage, and he's waxing rhapsodic about the chocolate we make at Xoco. "When I started this job, goal number one was to make a cocktail with that chocolate," he said.
His tool for doing so: the immersion circulator. He's got a bag of Carpano Antica and cocoa beans floating in a circulator in front of him. "I'm impatient sometimes," Jay admits. Circulating will infuse the vermouth with the cocoa flavor in a fast, controlled manner.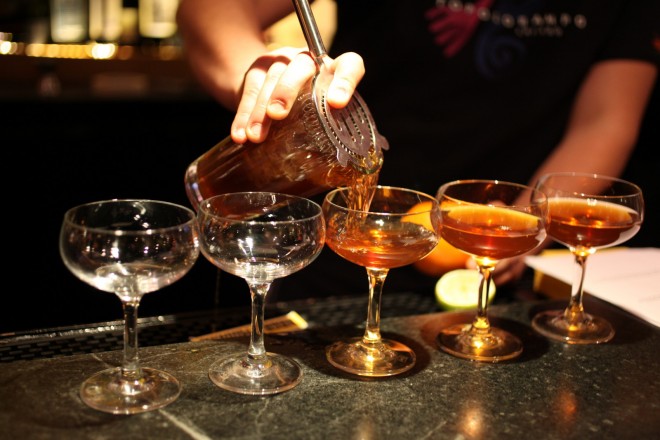 He's got a walnut liquor now. And a simple syrup made from guajillo chiles. Now he adds the cocoa-infused vermouth, anejo Tequila (Jay is clearly not worrying about what Mexico City hipsters, who shun Tequila these days, think of him) and gives it all a stir.
"Its definitely possible to over stir a cocktail," Jay says. "We want to balance temperature and dilution—we don't want it to get too watery."
"Then let's get the ice outta there!" Rick says.
Jay complies. He pours the drink and gives it a garnish of orange peel.
And with that, #ModMex2014 is a wrap!