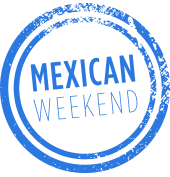 Not too long ago, we made a pan of this coconut bread pudding in the test kitchen above our Clark Street restaurants.
The reviews were across-the-board spectacular. In fact, we spotted a few taste testers having a private moment of bliss (if you know what I mean) as they took bite after bite.
The secret to a good bread pudding — what really makes it tender, not leaden — isn't really a secret at all. Just use the right bread (cakey bread like brioche is great) and add some richness (here it's butter plus the natural fattiness of tropical coconut milk).
Toast the bread, as I've described below, and the result is utterly seductive.
Don't forget: Snap pics of your finished dish and tag them #MoreBayless on Twitter, Instagram or Facebook for a chance to win an autographed copy of my new cookbook, "More Mexican Everyday." Details here. It's the final round! The deadline to submit is midnight on Tuesday, April 28.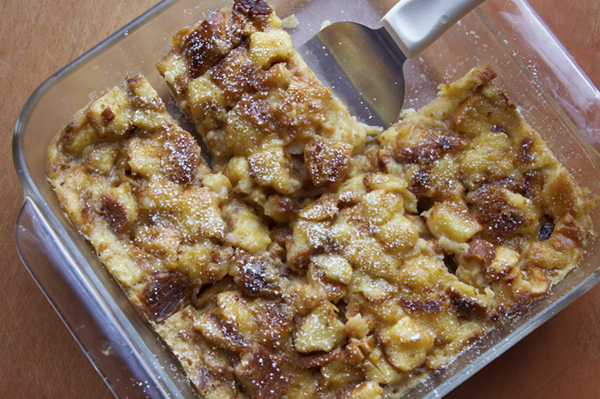 Ingredients
6

tablespoons

butter, cut into pieces, plus more for greasing the pan

14

ounces

bread (I like brioche or challah, but cakey white sandwich bread works well, too), crusts trimmed off if you wish, cut into 1/2-inch cubes (about 8 cups)

3

eggs

1

teaspoon

pure vanilla extract, preferably Mexican or dark rum or Xtabentún

1/4

teaspoon

salt

1

14-ounce

can coconut milk (regular, not "lite")

1/2

cup

granulated sugar

Confectioners' sugar, for serving

Optional garnishes

1/4

cup

chopped fresh basil

1

cup

chopped papaya

1

cup

crema
Instructions
Turn on the oven to 400 degrees. Scoop the butter into a large, microwave-safe bowl and melt in the microwave at 50% power for 1 minute. Scoop the bread into the bowl and stir slowly until it is evenly coated. Spread the bread on a rimmed baking sheet, slide it into the oven and toast, stirring every 5 minutes, until it is richly browned, about 15 minutes. Remove the bread and turn the oven down to 300 degrees. Butter an 8-inch-square baking dish and scoop the bread into it.
In a medium bowl, whisk together the eggs, vanilla and salt. In a small (1- to 2-quart) saucepan, heat the coconut milk and the granulated sugar over medium-low, stirring until the mixture is just warm (not close to boiling) and the sugar is dissolved. Pour the warm coconut milk into the eggs in a slow stream, whisking constantly, until well combined. Pour the custard over the bread. Let the bread soak up the custard for 15 minutes, gently stirring the mixture every few minutes. Slide the baking dish into the oven and bake until the bread pudding is barely set at the center, about 30 minutes. Sprinkle with confectioners' sugar, cut into pieces, place them on small plates and you're ready to delight a few friends.
Variations: Garnish the finished bread pudding with about 1/4 cup chopped fresh basil and 1 cup chopped papaya. Serve with crema.