These are the days of Halloween and Day of the Dead, and both of those things mean one thing: It's time to make Pan de Muerto.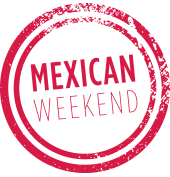 Our pan de muerto (a.k.a. Day of the Dead bread) is rich with butter and eggs, sprinkled lightly with sugar and made into individual rolls decorated with decadent crossbones. It's addictive whether eaten on its own with some champurrado, or turned into a full-fledged dessert (they're on the menu at both Frontera and Topolo right now). If you have some leftover, you can soak the day-old pan in a simple custard and fry it in butter for French toast.
But who are we kidding? You're not going to have leftovers. In fact, you better make a double batch. Because the only truly scary thing about Day of the Dead bread is running out.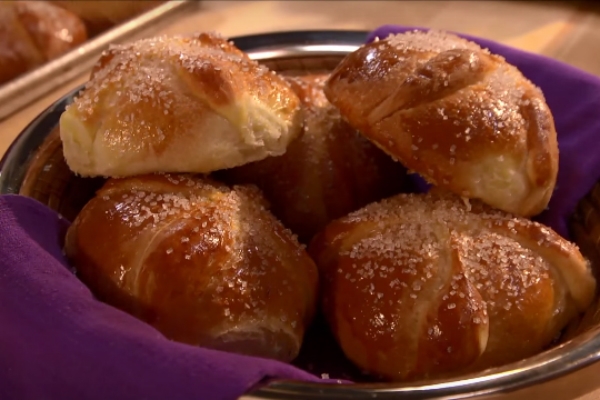 The dough for this classic-looking preparation is a little richer than most of the buttery egg breads that are created in Oaxaca.  It's based on a simple brioche recipe from Alice Medrich in Pure Desserts.  
From Season 9, Mexico—One Plate at a Time
Ingredients
3

cups (16 ounces)

all purpose flour

2

sticks (8 ounces)

cold unsalted butter, each cut into 8 pieces

1

package

active dry yeast

1/3

cup

sugar, divided use

5

large

eggs, divided use

1

tablespoon

Mexican crema,

sour cream or crème fraiche

1 1/4

teaspoons

Salt

Coarse "sanding" sugar for sprinkling
Instructions
Place the flour in a shallow baking dish, cover, and chill in the freezer for about half an hour. In the bowl of a stand mixer fitted with the paddle, beat the cold butter until it is creamy and smooth. Scrape the butter onto a plate and refrigerate; wash and dry the mixing bowl and paddle.
In the bowl, combine the yeast and 1 teaspoon of the sugar in ¼ cup warm water until just dissolved. Let stand a few minutes until foamy. (If the yeast doesn't start foaming right away, it's not fresh; start again with fresh yeast.) To the yeast mixture, add the remaining sugar, 4 of the eggs, crema, salt and chilled flour. Mix with the paddle on low speed until the ingredients are blended. Replace the paddle with the dough hook, and knead the dough on medium speed for about 5 minutes until very elastic and smooth.
Now, add the creamed butter in 4 additions, beating in each addition until thoroughly incorporated. Scrape the dough into a bowl, cover, and refrigerate overnight (it can stay refrigerated for a full day or so).
Scrape the dough onto a floured surface and press with your hands to deflate. Cut off a piece of dough that looks like about 1/5 of the total and set it aside. Divide the remaining dough into 12 even pieces. Cupping your hand over a piece of dough on an un-floured section of your work surface (you want the dough to have some traction on the surface), roll the dough in a circle while exerting slight pressure with the palm of your hand. Rolling the dough around about 10 times—if you're exerting the right amount of pressure—should create a tight, spherical ball when you release your hand. As each of the twelve pieces is rolled, place them on a silicon mat or parchment-lined baking sheet, evenly spaced apart.
Divide the dough you set aside into 12 even pieces. Roll each piece into a rope about 4 inches long. Cut them in half, then roll each half into 3-inch rope, pressing more firmly in the middle to make it thinner there. Brush each of the 12 dough balls with a little water to make them tacky, then drape two ropes in an X shape over the top to create the "crossbones" look. Cover the decorated breads with a clean kitchen towel and let rise in a warm place until about double in size—between 1 and 2 hours, depending on the temperature. Heat the oven to 350 degrees.
Whisk the remaining egg until it's fluid, then carefully brush it over the entire surface of each bread. Sprinkle with sugar and bake until richly golden and lightly springy, about 15 minutes .