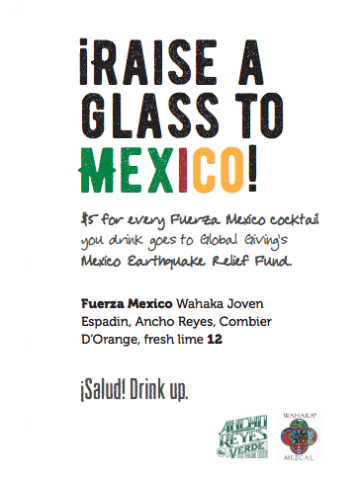 Our friends and family in Mexico need help after the devastating September 2017 earthquakes claimed hundreds of lives and caused an estimated $2 billion in damage throughout the republic.
Yet the determination of the Mexican people continues to inspire us. Under cries of "Mexico Unido!" people have banded together to help, whether through exhausting and emotional recovery efforts or through the simple, noble act of providing food to their friends and neighbors.
We ask you to join us in supporting the relief effort. Through Oct. 15,  our Chicago restaurants Frontera Grill, Topolobampo, Fonda Frontera and Leña Brava will send proceeds from our special "Fuerza Mexico" mezcal cocktail to Global Giving's Mexico Relief Fund. We feel it's important to give directly to organizations that are deploying boots-on-the-ground aid where it's needed most. This group has received top ratings from the agencies who monitor charities and we feel our financial support (and yours) will have the most impact.
The fund will initially "help any first responders meet survivors' immediate needs for food, fuel, clean water, hygiene products, medical care and shelter. Once initial relief work is complete, this fund will transition to support longer-term recovery efforts run by local, vetted organizations responding to this disaster."
If you can't make it into one of our restaurants this month, please consider making a donation directly to the fund. You can do so by clicking the button below, which will lead you to a secure website to complete your donation.