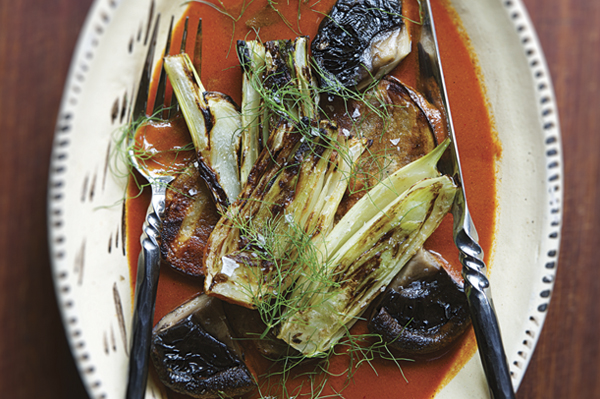 Ingredients
4

dried guajillo chiles,

stemmed, seeded and torn into several pieces

8

ounces

canned fire-roasted tomatoes

1/2

small

white onion

2

garlic cloves

1/4

teaspoon

ground cumin

1/4

teaspoon

allspice

1/4

teaspoon

cinnamon, preferably Mexican canela

1

teaspoon

dried oregano, preferable Mexican

5

cups

chicken broth (divided use)

1/4

cup

vegetable or olive oil (divided use)

3

tablespoons

masa harina or a generous 2 tablespoons fresh masa

1

large

fennel bulb, about 1 pound, fronds cut from the bulb and roughly chopped (you need 2/3) cup

4

medium

portobello mushroom caps (you can use a spoon to scrape out the dark gills if you want, but I don't mind them)

2

large

russet potatoes, about 1 pound, cut lengthwise into 1/4-inch slices

salt
Instructions
In a blender jar, combine the torn guajillo chiles, tomatoes, onion, garlic, spices, oregano and 1 cup of the broth.  Blend as smooth as possible. (A food processor will work though it won't completely puree the chile.)
In a large (4 quart) saucepan, heat two tablespoons of the oil over medium-high. Set a medium-mesh strainer over the top and pour in the chile mixture. Press the mixture through into the hot oil, then stir until it's noticeably thicker, about 5 minutes.
Scoop the masa harina (or fresh masa) into a blender and add 1/3 cup fennel fronds.  Add 1 cup of the broth and blend thoroughly.  Add the herby broth into the cooked chile mixture along with another 1/3 cup fennel fronds.  Whisk until the sauce comes to a boil.  Add the remaining 3 cups of broth and simmer for 15 minutes to meld the flavors. Taste the mole and season with salt, usually a generous teaspoon, depending on the saltiness of the broth. Keep the mole warm while you grill the vegetables.
Cut the stalks from the fennel bulb and discard them. Slice the fennel bulb lengthwise into ¼-inch slices (the root of the bulb should keep the slices intact) and set aside.
Heat a gas grill to medium, or light a charcoal fire and let it burn until the charcoal is covered with white ash and about medium-hot. Brush or spray the fennel, mushrooms and potatoes on all sides with the remaining oil and sprinkle generously with salt. Lay the vegetables on the grill, cover and cook, turning every few minutes, until they are tender and richly striped with grill marks (but not charred), 15 to 20 minutes total. Slice the portobellos into ¼-inch thick strips.
Divide the mole among 4 shallow bowls and arrange the vegetables on top. Sprinkle with a few chopped fennel fronds if you reserved any, and serve to vegetarians and meat-lovers alike.