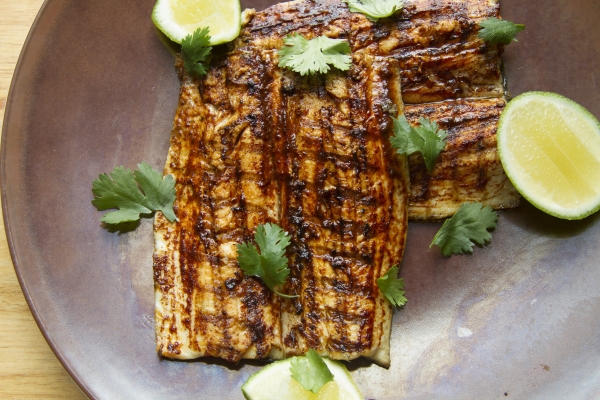 Ingredients
1/2

cup

good-quality ancho chile powder (the amount in a typical 2-ounce spice jar)

8

garlic gloves

1/2

teaspoon

ground cinnamon, preferably Mexican canela

1/4

teaspoon

black pepper

1/8

teaspoon

ground cumin

1

teaspoon

dried oregano, preferably Mexican

3

tablespoons

apple cider vinegar

Salt

For the Fish

4

whole

trout, boned

Lime wedges, parsley or cilantro for garnish
Instructions
Heat the grill: Heat a gas grill to medium-high on one side, medium on the other, or light a charcoal fire and let it burn until the charcoal is covered with white ash, then bank the coals to one side.
Make the red chile adobo: Scoop the powdered ancho chile into a blender or small food processor. Bring 1 1/4 cups water to a boil, pour over the chile, loosely cover the blender or secure the top of the processor and pulse to blend thoroughly. In a small microwave-safe bowl, collect the garlic, cover with water and microwave at 100% for 1 minute. Drain and add to the blender or processor, along with the spices, oregano, vinegar and 1 1/2 teaspoons salt. Process until smooth. Remove about 1/3 cup of adobo to a bowl and scrape the remainder into a pint-size jar and store, covered, in the refrigerator, where it will last several months.
Grill the fish: Dress the fish by cutting off the heads, tails and fins. Open the fish to lay them flat and pat them dry with a paper towel. Spray or brush the fish with oil. Place the fish flesh side down on the hottest part of the grill for about 1 to 2 minutes. Flip them onto their skin side over the cooler part of the grill. Spoon the red chile adobo over each fish. Cover the grill and cook 1-2 minutes more until the fish flakes under firm pressure. Garnish with parsley or cilantro leaves and lime wedges.