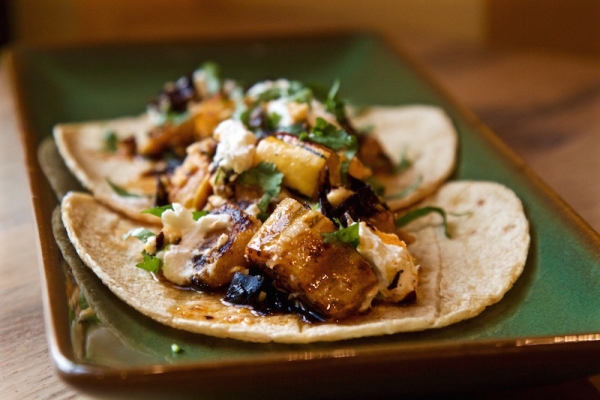 Ingredients
1

medium

squash (I like using delicata here)

1/4

cup

fresh goat cheese

3

tablespoons

unsalted butter

A few

tablespoons

salsa macha

Salt

1 to 2

tablespoons

cilantro for garnish

Warm corn tortillas
Instructions
Wrap each half of squash in plastic wrap and poke a few holes. Microwave at 100 percent power for about 7-8 minutes or until soft. In a small (7- to 8-inch) skillet over medium heat, melt the butter. As the foaming begins to subside, pay close attention: when the butter has turned nut brown and foaming has subsided, remove the skillet from the heat.
Cut the delicata into ½-inch cubes, skin and all. Add the squash and salsa macha to the pan, raise the heat to medium-high and bring the sauce to a brisk simmer. Cook until the butternut is fork-tender, about 15 minutes. Taste and season with salt, usually about ½ teaspoon.
Scoop the mixture into warm tortillas and finish with a generous sprinkling of the goat cheese and cilantro.