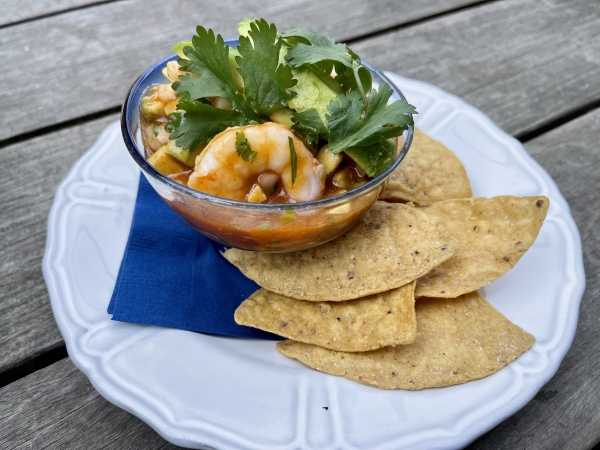 These are crowd-pleasing flavors, which no one would confuse with those of an American shrimp cocktail. Ketchup? Yes, but that's where it ends. Mexican cooks gravitate toward tanginess (so there's a good dose of lime here) and spice (I like Mexican Tamazula or Valentina or a chipotle hot sauce, though some cooks prefer chopped fresh serranos or jalapeños). There's the aroma of fresh cilantro, the crunch of white onion and the creaminess of avocado. Tempering all these bold flavors with a little clam juice (or the broth from poaching the shrimp) brings everything into beautiful balance. Now, about Fanta—orange Fanta. There are quite a few Mexican cooks who swear that a good douse of it adds something special to the sauce. Still others replace that artificial flavor with fresh orange juice. It's not my thing, but it may be yours. What can be really delicious, I think—because it adds depth—is a little Worcestershire (salsa inglesa in Spanish), so feel free to add a teaspoon or two as many cooks do.
Servings:
3
cups, serving 4 to 6 as a first course
Ingredients
1

generous pound peeled and deveined smallish shrimp (I prefer ones that are about 41/50 count to a pound) OR about 12 ounces cooked peeled and deveined smallish shrimp

1/2

cup ketchup

1/3

cup fresh lime juice

1/3

cup clam juice (or, if cooking raw shrimp, use the poaching liquid)

2 to 4

tablespoons vinegary Mexican bottled hot sauce (like Tamazula, Valentina, Búfalo or a chipotle-flavored one

About 2

tablespoons good olive oil, preferably extra virgin (optional but recommended to smooth out sharpness)

Salt

1/2

medium white onion, chopped into ¼ inch pieces and rinsed, plus a little extra for garnish

1/3

cup chopped fresh cilantro, plus several sprigs for garnish

1

avocado split, pit removed, flesh scooped from the skin, cubed

Tostadas, chips or saltine crackers

for serving
Instructions
Cook the raw shrimp.  Bring 1 quart of water to a boil over high heat and heavily salt it—it should taste like sea water. (Some cooks flavor the broth by adding a small sliced onion, a couple of roughly chopped garlic cloves, a couple of bay leaves and some coarsely ground black pepper, and simmering for 10 minutes or so.) Scoop in the shrimp and cover.  When the water barely returns to the boil, remove the pan from the heat, scoop out 1/3 cup to use in the sauce, set the lid slightly askew over the pot and pour off all the remaining liquid. Test a shrimp:  if it is not quite done, replace the cover and let the shrimp steam off the heat for a few minutes. Spread out the cooked shrimp to cool completely or, for the crispest texture, dunk the shrimp into a bath of ice and water for several minutes, then drain them thoroughly.

Make the sauce.  In a medium bowl combine the ketchup, lime, clam juice or cooking liquid, hot sauce and olive oil.  Taste and season with salt if the sauce needs it.  Stir in the cooled shrimp, onion and cilantro. Gently fold in the avocado.  Cover and refrigerate if not serving immediately.

Spoon the shrimp cocktail into sundae glasses, martini glasses or small bowls.  Garnish with a little chopped onion and cilantro. Serve with tostadas, tortilla chips or saltines (the most common accompaniment in Mexico) to enjoy alongside.

Variations on the theme: While cocteles de camarón in Mexico follow a pretty narrow path, you can easily dress it up with scallops, crab, squid and octopus.  I like to add in a cup or so of diced jicama or cucumber (or a combination of the two).  And it's fun to play around with different herbs, homemade ketchup (especially one with black garlic) and hot sauces like Sriracha, though the flavors can quickly veer away from what most people would recognize as Mexican.  
For the professional: The sauce makes about 1 1/3 cups.  For that quantity, I typically figure 12 ounces of cooked seafood.  For every serving, a couple heaping tablespoons of chopped onion and cilantro plus ¼ avocado is right.  There is room to add a little chopped jicama and cucumber if that appeals.