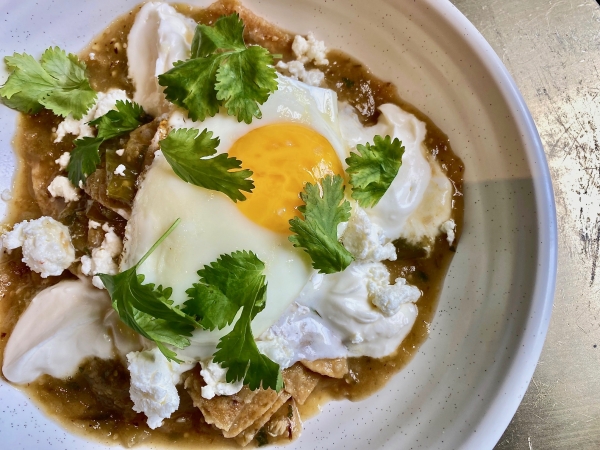 Ingredients
1

pound (6 to 8 medium) tomatillos, husked, rinsed and cut in half across their "equator"

4

unpeeled garlic cloves

1 or 2

fresh serrano chiles, stemmed and cut lengthwise

1

small white onion, sliced 1/4-inch thick

Enough oil

to coat your skillet and to fry eggs

Salt

2

cups chicken or vegetable broth

A big

handful of chopped cilantro (or for a very authentic flavor use epazote)

About 1/2

cup Mexican crema or crème fraiche (or sour cream or Greek-style yogurt thinned with a little milk)

6

ounces goat cheese

4

eggs

Fresh

black pepper
Instructions
On a rimmed baking sheet, spread out the tomatillos, garlic, chiles and onion.  Roast 4 inches below a heated broiler until the tomatillos are blackened and blistered on one side, about 5 minutes, then flip everything over and roast the other side.  Cool slightlys, then slip the papery skins off the garlic and scoop everything into a blender or food processor.  Process to a coarse puree.
Set a very large (12-inch) skillet over medium-high heat, film with oil and, when hot enough to make a drop of the tomatillo puree sizzle sharply, add it all at once.  Stir the mixture until it has thickened and darkened a little, about 4 minutes.  Stir in the broth and cilantro (or epazote), then taste and season with salt, usually about 1 teaspoon, depending on the saltiness of the broth.
In another skillet (again, preferably non-stick), heat a film of oil over medium.  Crack in the eggs and sprinkle with salt and pepper.  Let cook gently (you may need to reduce the heat a bit) until the whites are set, but the yolks are still runny.  Turn off the pan.
Bring the sauce to a boil over high heat, add the chips and stir to coat them evenly.  When the sauce returns to the boil, cover the pan and set a timer for 3 minutes.
When the timer rings, stir the contents of the pan and spoon onto deep serving plates.  Drizzle with the crema (or one of its stand-ins), dollop with the goat cheese, top each portion with a sunny-side up egg and scatter with cilantro.  You're ready to eat.