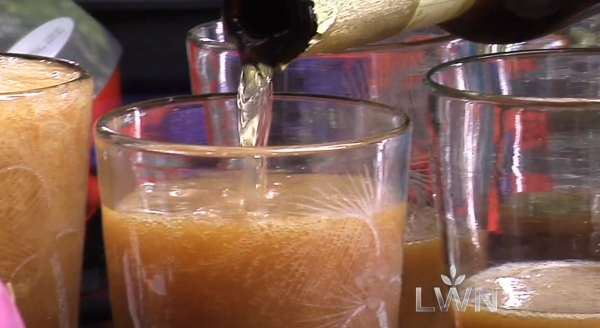 Click on the link below for directions on making the tamarind pulp from fresh pods.  You'll find the frozen tamarind pulp in Mexican or ethnic grocery stores.
Recipe from Season 7, Mexico—One Plate at a Time
Servings:
8
12-ounce drinks
Ingredients
2

cups

tamarind pulp (fresh or frozen)

3 1/2

cups

ice-cold apple cider, preferably fresh-squeezed and unpasteurized

4

12-ounce

ice-cold, full-flavored Mexican beers (my preference is for Negra Modelo)
Instructions
https://www.rickbayless.com/recipe/fresh-tamarind-pulp/
In a blender, combine the tamarind and half of the cider. Blend to thoroughly combine. Pour into a pitcher and stir in the remaining cider. Cover and refrigerate until you're ready to serve.
When that moment comes, measure 2/3 cup of the apple cider mixture into 8 tall glasses, then slowly top off each one with half a cold beer. Serve right away.