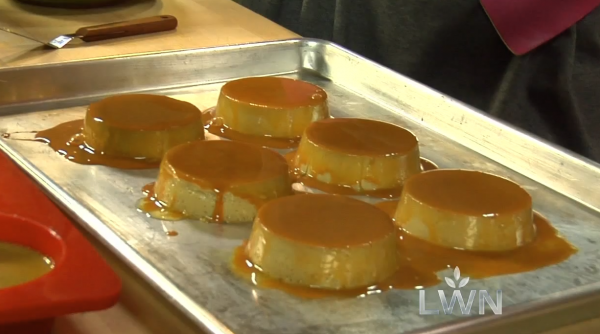 Recipe from Season 6 of Mexico—One Plate at a Time
Ingredients
Instructions
Set 2 6-muffin silicon (flexible) muffin molds in into a large pan that's at least 2-inches deep (a very large roasting pan usually works). Spoon 1 tablespoon of cajeta into the bottom of each mold, tilting the molds so that the cajeta completely covers the bottom. Turn on the oven to 325 degrees.
In a large (4-quart) saucepan, combine the milk, sweetened condensed milk, orange peel, cinnamon, cloves and coffee. Heat to a simmer, stirring occasionally, then remove from the heat and cover. Whisk together the eggs and egg yolks in a large bowl. When the coffee mixture has steeped about 10 minutes, strain it into the eggs. Whisk to combine. Divide the mixture among the molds.
Open the oven door, pull out the rack, set the roasting pan on the rack. Pour hot water around the molds, filling the pan to a depth of about 1 inch. Carefully slide the rack back into the oven and bake until the flans are just barely set in the middle, 50 to 60 minutes. Let cool in the hot water bath, then remove and refrigerate until thoroughly chilled, about 2 hours.
Run a small knife around the edge of each of the flans to release it from the sides of the mold. Lay a deep platter over one of the 2 pans of molds, grasp plate and molds firmly, then reverse the two. Shake the molds back and forth and up and down—squeezing the sides of the molds slightly if you need to—to insure that each flan has dropped. Remove the molds. Scrape any remaining caramel out of the molds and onto the flans. Repeat with the second set of molds.
Using a small metal spatula, transfer each flan to a serving plate. Divide the caramel among them and you're ready to serve. If you wish, the flans may be unmolded onto the platters, covered with plastic and refrigerated for several hours before serving.