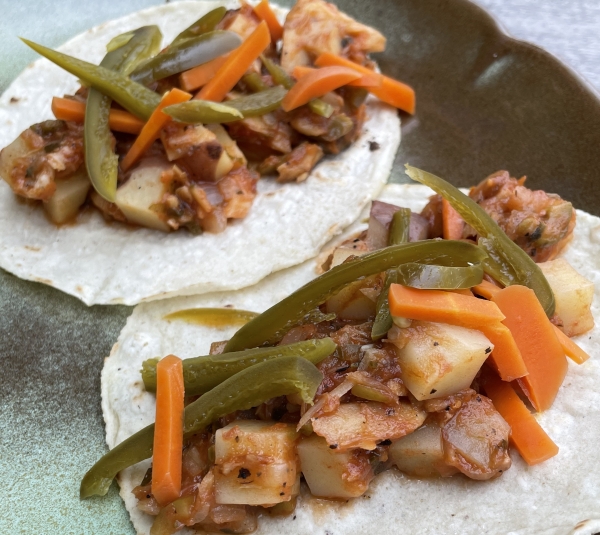 Though most of Mexico thinks of bacalao as traditional for Christmas, there are cooks who think of it as too good for just that short window. Beautiful, slow-cooked cod—permeated with sweet tomato, herbs, pickle-y jalapeños and briny olives—wrapped in a warm tortilla, is for me one of the best dishes Mexico offers us. If you're experience with salt cod in the past has not been a positive one, I encourage you to try this dish with really good quality salt cod (there are some really good ones available on line). Some of what floods are market here in the United States is dry and strong tasting. Look for bacalao that isn't too dried out and still has a little sheen.
Servings:
4
cups, enough for 16 tacos
Ingredients
1

pound

good-quality bacalao (salt cod)

2

tablespoons

olive oil

2

medium

white onions, chopped into ¼-inch pieces

1

28 ounce

can tomatoes, preferably fire-roasted, undrained

4

large

garlic cloves

1/2

cup

chopped flat-leaf parsley

1/2

cup

pitted green olives, thinly sliced

3 or 4

pickled jalapeños, stemmed, seeded and thinly sliced, plus more for serving

1/2

teaspoon

dried marjoram

1/2

teaspoon

dried thyme

2

bay leaves

4

medium (1 pound)

boiling potatoes (like the red-skin ones), cut into ¼-inch pieces

16

warm corn tortillas
Instructions
Soak the cod. The day before serving the tacos, lay the cod in a large bowl, cover with water and refrigerate.  Every few hours, change the water to leach out as much salt as possible. 
The seasoning mixture. Heat the olive oil in a large Dutch oven over medium.  Add the onions and cook, stirring frequently, until richly browned, about 10 minutes.  While the onions are cooking, blend the tomatoes to a coarse puree.  When the onions are browned, add the garlic and cook a minute or two longer, until aromatic, then add the tomatoes.  Cook, stirring occasionally, until the mixture is reduced and thick, about 15 minutes.
Finishing the dish. While the tomato mixture is reducing, drain the water off the salt cod and place it in a medium (2- to 3-quart) saucepan, cover with fresh water and bring to a boil.  Reduce the heat so that the water just simmers and cook the cod for about 5 minutes.  Drain.  
Add the parsley, olives, jalapeños, marjoram, thyme and bay to the tomato mixture.  Stir in enough water (usually about 1 cup) to give it the consistency of a marinara sauce, then nestle in the cod and cook, partially covered, over medium-low for 25- 30 minutes, until the cod is tender and has started breaking into chunks.  Use a large spoon or spatula to break up the cod into small pieces, then stir in the potatoes.  Simmer partially covered until they are tender, about 15 minutes, the mixture will hold its shape in a spoon.  Season with salt if necessary (the saltiness of the fish and the olives may supply ample seasoning).  Serve with warm tortillas for everyone to make tacos.  Pass more pickled jalapeños on the side for those who like their spicy tang.