Hoja Santa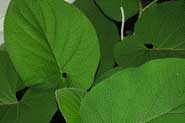 USES: The leaves of this plant—commonly called "Root Beer Plant"—are used as a wrapper or as a seasoning for meat, fish, mushrooms and tamales. It's also a classic seasoning in yellow mole.
FINDING: It grows wild in the Southwest. You can sometimes find the fresh leaves at Mexican groceries. You can buy the plants and grow it in your garden. We've found 2 sources on the internet. almostedenplants.com and campanionplants.com
STORING: We harvest the leaves from Rick's garden and freeze them between sheets of parchment paper for use in the winter and spring.