TOPOLOBAMPO | 445 NORTH CLARK STREET | CHICAGO |  312-661-1434
LOCATION:
Topolobampo is located on Clark Street, just south of Illinois Avenue, in Chicago's River North neighborhood. Valet parking is available.
ADDRESS:
445 North Clark Street – Chicago, IL 60654
HOURS:
Wednesday & Thursday: First seating at 6:00 pm, Final seating at 8:30 pm
Friday & Saturday: First seating at 5:30 pm, Final seating at 9:00 pm
CURRENT MENU
  Fire, Chiles & Cacao: The Flavors of Tabasco
SERVICE CHARGE
 Learn more about our Service Charge here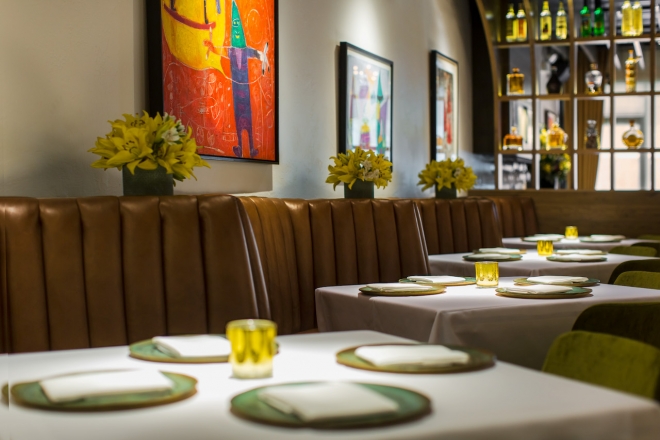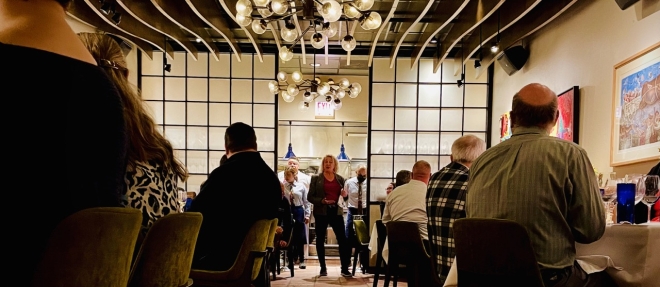 Topolobampo immerses you in the flavors of a story.
Sometimes a story of people and places, a time now distant, or even works of art that offer a glimpse into the uniqueness of Mexican life. Every story is deeply rooted in Mexico, and so is the food, though rarely does it resemble what you'd find in a traditional Mexican kitchen. Topolo presents Mexican cuisine through a contemporary, fine-dining lens, while bringing vibrant excitement and adventure that is sure to enchant even the most experienced culinary travelers.
The narrative of our tasting menu—which changes every seven or eight weeks—has garnered many accolades: the nation's Outstanding Restaurant at the Beard Awards (2017), a Michelin star, highest ranking from the Chicago Tribune and Chicago Magazine, Award of Excellence from Wine Spectator, Best New Restaurant from Esquire Magazine, Outstanding Service nominee from Beard.
And under the guidance of veteran Chef de Cuisine Meagan O'Connor and Pastry Chef Jennifer Melendrez, both of whom have accompanied Chef Rick Bayless for decades as he has learned from cooks all over Mexico, Topolo's food has never been better.
• Fire, Chiles & Cacao: The Flavors of Tabasco •
In Tabasco, cacao trees sprout up under canopies of tropical fruit, vast ancient Mayan ruins have been reclaimed by a growing rainforest and small communities carve out space to create culinary traditions that celebrate the area's delicious and unique bounty. Buckle up, sip your mezcal or wine, and let the team at Topolobampo take you on an expedition through the enchanting and exhilarating flavors of Tabasco.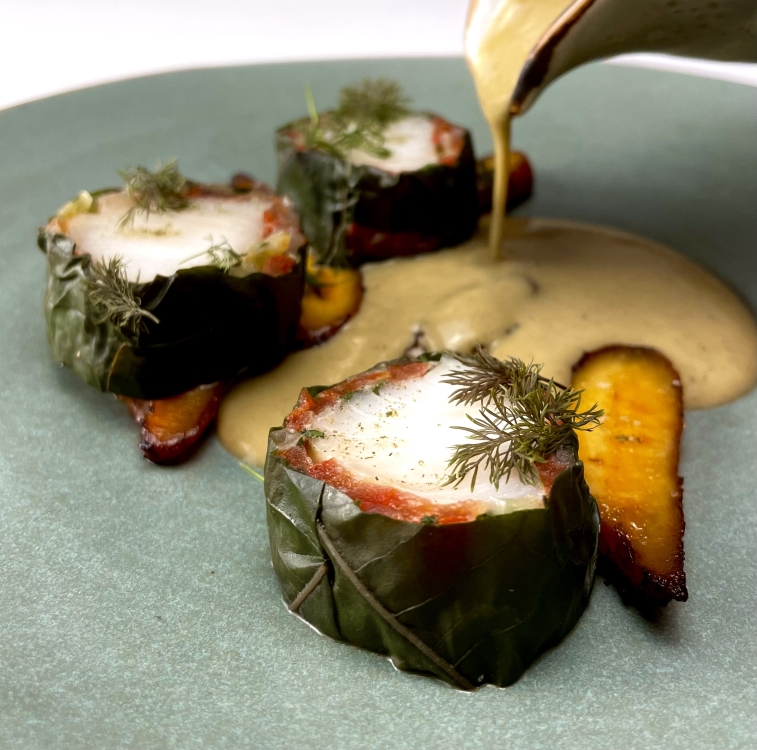 MENU
Aguachile de Pulpo y Camarón • mosaic of young octopus & sashimi-grade shrimp, avocado, cucumber, charred knob onions & black aguachile "broth" (charred onion & serrano, lime).
Tortilla de Maíz Nuevo Relleno • rustic tortilla of three heirloom corn masas, spring filling (local greens, buttery morels, lion's mane mushroom longaniza, quesillo cheese), salsa of cascabel chiles & milpero tomatillos.
Mone de Pescado • banana-leaf-cured California black cod slow-cooked in herby hoja santa with chilies, tomatoes & sweet plantain; green pipian (pumpkin seeds, tomatillo, roasted güero chiles, herbs).
Horneado de Cochinita • slow-roasted suckling pig basted with a sofrito of ancho & pasilla chiles, achiote & sesame; rich black beans (star anise, roasted tomato), queso doble crema.
Regalo de Plátano Macho • butter-basted plantain "gift" with homemade fresco cheese, nata & sweetened crema.
Cacao • chocolate-chevre cheesecake, allspice-leaf ice cream, roasted strawberries, cacao fruit gastrique, crunchy cocao-nib tuile, house-ground chocolate sauce.
A perfect pair
ing
 for every dish.
To enjoy Topolobampo's beverage pairings, you don't have to be a wine or agave spirits connoisseur—though we love it when you are! Each one of our dishes has been meticulously partnered with both a wine and agave spirit, culminating in an elegant dance between food and drink.
Our wine program is led by the ever-passionate, award-winning Jill Gubesch. For 16 years Jill has filled our cellar with unique wines (we have one of the largest lists of Mexican wines in the United States). Jill has also blended special bottlings with some of the top winemakers in Mexico's Valle de Guadalupe exclusively for Topolobampo, and she hosts many of that area's craftsmen for remarkable winemaker dinners where sommelier, vintner and guests get to talk all things Mexican wine.  
Our ever-evolving agave spirits program is co-directed by Julianna Arquilla and Lanie Bayless, who are masterfully crafting cocktails and continuously growing our collection of mezcal, tequila, raicilla, sotol and bacanora into one that is beyond reproach. Even when there are only a few bottles in the whole world, it's likely that we have it (or had it).
Julianna, Lanie and Jill are leading the pack in presenting Mexico's presence as the home to many master distillers and vintners. We invite you to pre-book a pairing package or simply ask your server which of our offerings will make your night even more special.
Outstanding Restaurant Award James Beard Foundation
One Star Michelin Guide
Outstanding Service nominee James Beard Foundation
Outstanding Restaurant nominee James Beard Foundation
Good Food 100
Best New Restaurant Esquire
4 Stars Chicago Magazine
4 Stars Chicago Tribune
Award of Excellence Wine Spectator
LET US HOST YOUR NEXT FIESTA!
For a more intimate Topolo experience for your group, consider Topolo's private dining room, The Library. We can accommodate up to 30 guests for magical multi-course meals. It's just one of our three private event rooms at our Clark Street restaurants. For more information see
Rick and Dean Bayless, PROPRIETORS | Zach Steen, CULINARY DIRECTOR
Meagan O'Connor, CHEF DE CUISINE | Jennifer Melendrez, PASTRY CHEF
Lanie Bayless, GENERAL MANAGER | Alejandra Navarro, MANAGER
Jill Gubesh, WINE DIRECTOR | Julianna Arquilla, SPIRITS DIRECTOR
Topolobampo
445 North Clark Street • Chicago, IL 60654