TOPOLOBAMPO | 445 NORTH CLARK STREET | CHICAGO |  312-661-1434
LOCATION:
Topolobampo is located on Clark Street, just south of Illinois Avenue, in Chicago's River North neighborhood. Valet parking is available.
ADDRESS:
445 North Clark Street – Chicago, IL 60654
HOURS:
Wednesday: 6:30 p.m. seating
Thursday, Friday & Saturday: 5:30 p.m. & 8:30 p.m. seatings
GIFT  CARDS
Give the gift of Topolo.  SHOP GIFT CARDS HERE
CURRENT MENU
Your Riviera Maya Beach Vacation
SERVICE CHARGE
Learn more about our Service Charge here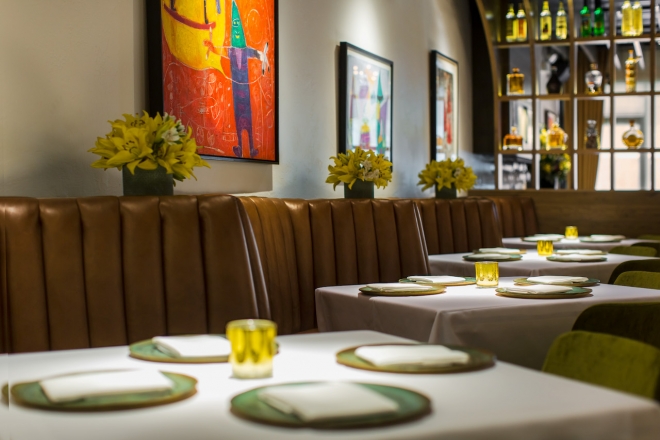 The Topolo experience is back in our beloved dining room. Begin your night with snacks and drinks in our front-room lounge, then move into our main dining room for the complete, Michelin-starred chef's tasting menu experience. Our award-winning wine pairings, plus a reserve spirits list completes the evening. We accommodate dietary restrictions & follow all safety & sanitation protocols, including filtering the air with HEPA filters.
Rick and Deann Bayless, Proprietors
Meagan O'Connor, Chef de Cuisine || Jennifer Melendrez, Pastry Chef

• Greetings from Chiapas •
Chiapas is a state of brilliant contrasts, which the Topolo's chefs experienced first-hand a couple of months ago. Like Oaxaca, that colonial gem of a city—vibrant with boutiques and great restaurants—is ringed by indigenous villages of Tzotzil and Tzeltal speakers who carry on the delectable culinary and exquisite textile traditions of their ancestors.  Poor in economic resources, Chiapas is abundantly rich in culture.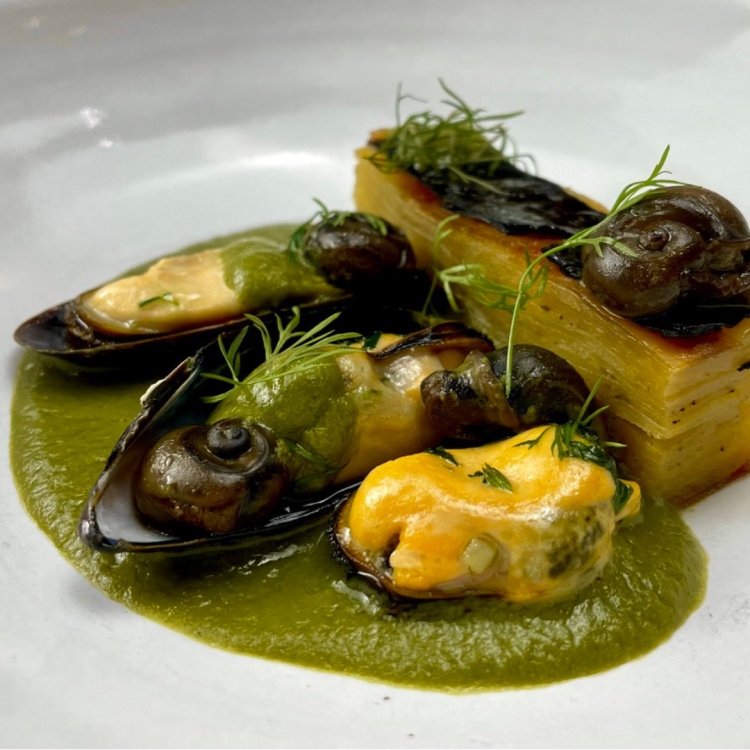 MENU
San Cristobal Shrimp Aguachile • preserved shrimp, avocado mash, cucumber, finger lime, grill-roasted red onion, tangy aguachile broth (pumpkinseeds, simojovel chiles, cilantro).
Sopa de Pan • toasted pan de yema (brioche), soft-cooked quail cooked, golden plantain, slow-cooked chayote & tatume, charred Might Vine tomatoes, rich chicken broth with sweet spices.
Shote • Garlic-braised mussels & snails in a sauce of herby hoja santa, roasted poblano & epazote. Black truffle potato pavé.
Guinea Hen, Mole Coleto • butter-basted guinea hen, San Cristobal's mole coleto (ancho, pasilla & mulato chiles, sweet spices, plantain, chocolate), black bean tamal juacané, creamy plantain puree with aromatic queso chiapaneco.
Queso Doble Crema, Café, Membrillo • Chiapas' famous "doble crema" cheese made into ice cream, quince paste, coffee granita & crunchy crumble, chimbo (candied marquesote cake).
Tascalate • tascalate cake (toasted corn, cacao, achiote), cacao mousse, tascalate crema, cacao mascerated cherries, blue corn masa tuile.
Rick and Deann Bayless opened Topolobampo in 1989, a few years after opening Frontera Grill. The two restaurants were designed to have the same front door, but that would be one of the few things they would share. If Frontera rocks and claps, Topolo is the sleek, artful sister. She's also the more adventurous one.
Outstanding Restaurant Award James Beard Foundation 2017
One Star Michelin Guide, 2011–2023
Outstanding Service nominee James Beard Foundation, 2011–2016
Outstanding Restaurant nominee James Beard Foundation, 2002
Good Food 100 2017-2019
Best New Restaurant Esquire, 1991
4 Stars Chicago Magazine
4 Stars Chicago Tribune
Award of Excellence Wine Spectator,  1990-2019
LET US HOST YOUR NEXT FIESTA!
For a more intimate Topolo experience for your group, consider Topolo's private dining room, The Library. We can accommodate up to 30 guests for magical multi-course meals. It's just one of our three private event rooms at our Clark Street restaurants. For more information see
Topolobampo
445 North Clark Street • Chicago, IL 60654