TOPOLOBAMPO | 445 NORTH CLARK STREET | CHICAGO |  312-661-1434
LOCATION:
Topolobampo is located on Clark Street, just south of Illinois Avenue, in Chicago's River North neighborhood. Valet parking is available.
ADDRESS:
445 North Clark Street – Chicago, IL 60654
HOURS:

Wednesday: 6:30 p.m. seating
Thursday, Friday & Saturday: 5:30 p.m. & 8:30 p.m. seatings

GIFT  CARDS
Give the gift of Topolo.  SHOP GIFT CARDS HERE
CURRENT MENU
Puebla of the Angels: Inspirations from an Ethereal Cuisine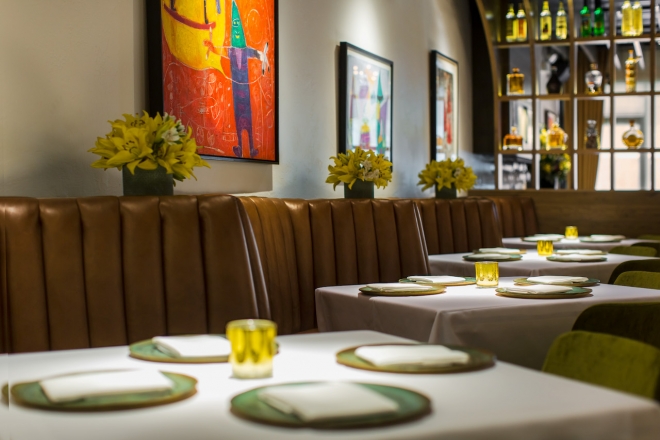 The Topolo experience is back in our beloved dining room. Begin your night with snacks and drinks in our front-room lounge, then move into our main dining room for the complete, Michelin-starred chef's tasting menu experience. Our award-winning wine pairings, plus a reserve spirits list completes the evening. We accommodate dietary restrictions & follow all safety & sanitation protocols, including filtering the air with HEPA filters.
Rick and Deann Bayless, Proprietors
Meagan O'Connor, Chef de Cuisine || Jennifer Melendrez, Pastry Chef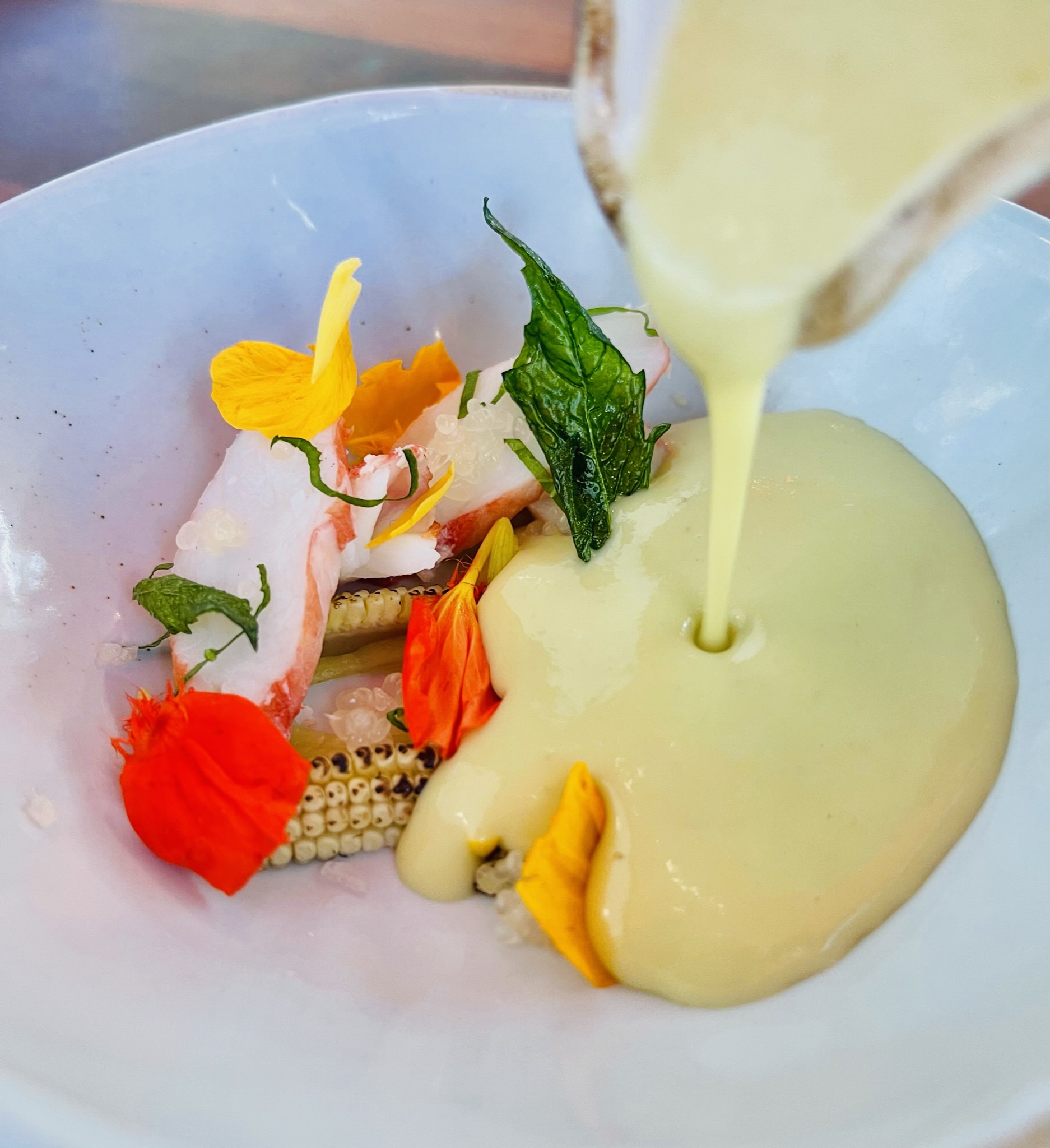 Topolo's "Puebla of the Angels" Menu: When the Spaniards settled the city of Puebla in 1531 in an unoccupied valley some 80 miles east of Mexico City, it was to create a secure spot for these conquistadores as they went back and forth from the capital to the port of Veracruz.  Little did those founders know that this bastion of Spanish colonialism would prove to be the wellspring of mestisaje, the blending of native and Spanish traditions. Our new tasting menu proudly offers you a taste of the Pueblan spirit .
Cremita de Elote •  chilled fresh corn soup with Alaskan king crab, güero chile, finger lime, nasturtium, Abasolo corn whiskey.
Verduras in Pipían Verde • grilled baby patty pan, squash blossom stuffed with huitlacoche, green pipian (tomatillo, pumpkin seeds, serrano, radish leaves, za'atar marjoram), black truffle.
Borrego, Sabor Arabe • seared tender lamb tongue (Lebanese spices), chipotle-infused yogurt, warm salad of chickpeas, heirloom tomatoes, & cucumber, chickpea croqueta, flour tortilla crisp.
Gallina de Guinea, Mole Poblano • pan-roasted guinea hen (sweet spice marinade), mole poblano (4 chiles, nuts, seeds, spices, chocolate), chanterelle & blue oyster mushrooms, Bayless Garden baby eggplant. 
Chile en Nogada en Dulce • sweet-simmered poblano chile, fruity filling (peaches, apples, golden raisins, tomatoes), nogada sauce (walnuts, goat cheese, cream, sherry), candied pork threads, pomegranate, parsley.
Torta de Elote • fresh corn cake and ice cream, herby pepita -white chocolate butter,  blackberry compote, candied melon.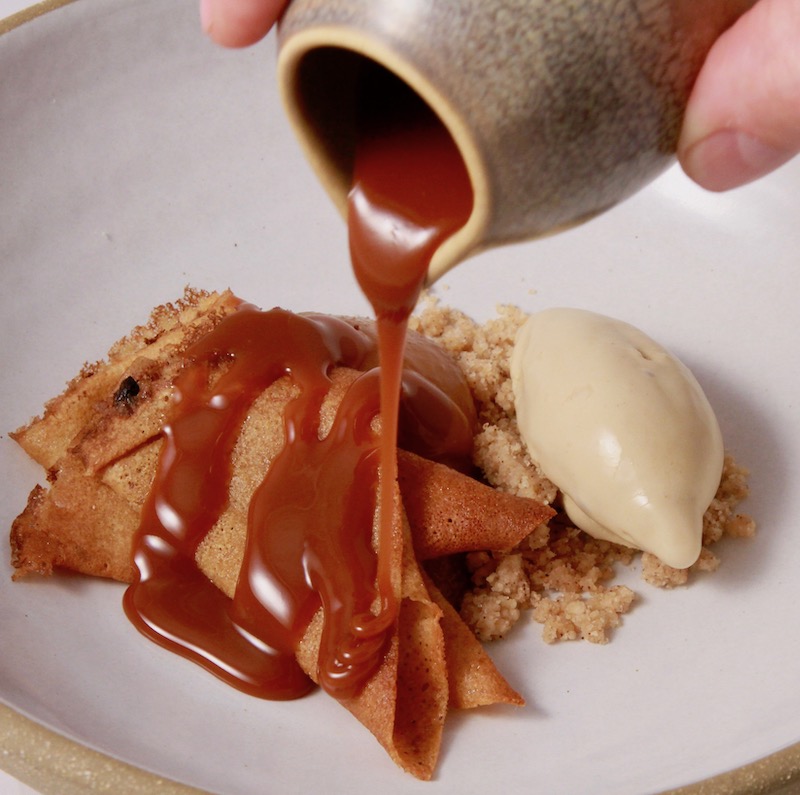 Rick and Deann Bayless opened Topolobampo in 1989, a few years after opening Frontera Grill. The two restaurants were designed to have the same front door, but that would be one of the few things they would share. If Frontera rocks and claps, Topolo is the sleek, artful sister. She's also the more adventurous one.
Outstanding Restaurant Award James Beard Foundation 2017
One Star Michelin Guide, 2011–2021
Outstanding Service nominee James Beard Foundation, 2011–2016
Outstanding Restaurant nominee James Beard Foundation, 2002
Good Food 100 2017-2019
Best New Restaurant Esquire, 1991
4 Stars Chicago Magazine
4 Stars Chicago Tribune
Award of Excellence Wine Spectator,  1990-2019

LET US HOST YOUR NEXT FIESTA!
For a more intimate Topolo experience for your group, consider Topolo's private dining room, The Library. We can accommodate up to 30 guests for magical multi-course meals. It's just one of our three private event rooms at our Clark Street restaurants. For more information see
Topolobampo
445 North Clark Street • Chicago, IL 60654