BAR SÓTANO | 443 NORTH CLARK STREET | CHICAGO | 312-391-5857
LOCATION:
Bar Sótano is located behind Xoco. Entrance in alley.
ADDRESS:
443 North Clark Street – Chicago, IL 60654
HOURS:
Wednesday-Thursday: 5-10 p.m. (kitchen) 5-11 p.m. (bar)  • Friday-Saturday: 5-11 p.m. (kitchen) 5 p.m.-midnight (bar)

BAR SÓTANO WILL BE CLOSED DEC. 24, 25 AND 26. WE WILL ALSO BE CLOSED JAN. 1-9 FOR OUR ANNUAL WINTER BREAK.

GIFT CARDS
Make someone's night with a Bar Sótano gift card. SHOP HERE.
HAPPY HOUR
Unwind in the basement bar with Happy Hour. Everyday 'til 6 and all night on Wednesdays.

Download menu in PDF format: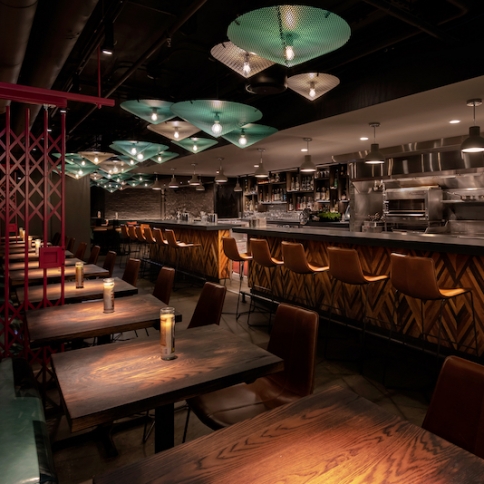 Bar Sótano reservation policy:
Want in? Reserve  your spot using Resy.
Bar Sótano takes you deep into the heart of Mexico, away from the beaches and Big Bus tours.  Bar Sótano's lifeline is the markets. Where aromatic waves wash over you from the fruit stalls. Where meat vendors set out every part of the pig as a prize. Where herb stands promise health in a hundred or more flavors. Where chiles transform from a single-note spice to a symphonic full-body experience.
Mexico's cuisine, of course, is an ancient and complex one, always adapting and evolving from its millennia-old indigenous roots through encounters with the kitchens of Spain, Islam, Southeast Asia, France and its neighbors to the north.  Which means that the country's collective cookbook is vast, and the craftsmanship of those who keep these flavors alive is remarkable.  True, too, of those who craft dozens of agave varieties into distillates called mezcal or sotol or raicilla or bacanora or tequila.  Just like the markets, Mexico's master distillers offer a nearly unfathomable variety of flavors. 
 Welcome to Bar Sótano!
RICK AND DEANN BAYLESS, PROPRIETORS
Bar Sótano
443 North Clark St • Chicago, IL 60654