BAR SÓTANO | 443 NORTH CLARK STREET | CHICAGO | 312-391-5857
| | |
| --- | --- |
| LOCATION: | Bar Sótano is located behind Xoco. Entrance in alley. Valet parking is available. |
| ADDRESS: | 443 North Clark Street – Chicago, IL 60654 |
| HOURS: | BY ORDER OF THE STATE OF ILLINOIS, OUR DINE-IN BUSINESS HAS BEEN SUSPENDED THROUGH MARCH 30. PLEASE CONSIDER PURCHASING A GIFT CARD. HELP US NOW, DINE-IN LATER.  |
| GIFTS: |  SHOP GIFT CARDS HERE! |
| | |

Download menu in PDF format:
BARRA DEL GUSTO is our chef's tasting counter experience. Five courses paired with cocktail tastes. This option is limited to Tuesday, Wednesday and Thursday evenings, and only to six seats at the bar. Interested? Visit our Resy page and look for the "Barra del Gusto" option.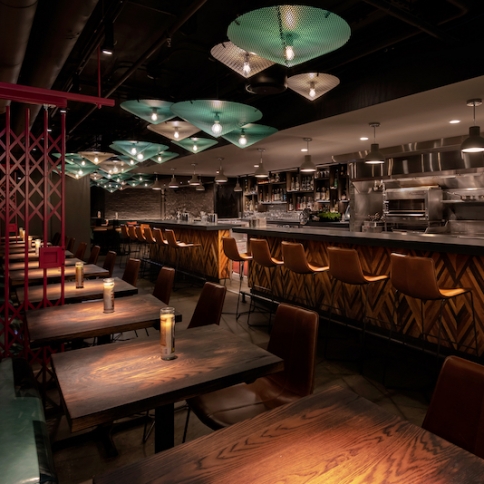 Bar Sótano reservation policy:
Reservations are recommended, but we save space for walk-ins. Reservations can be made by calling 312-391-5857 or through Resy.
Bar Sótano takes you deep into the heart of Mexico, away from the beaches and Big Bus tours.  Bar Sótano's lifeline is the markets. Where aromatic waves wash over you from the fruit stalls. Where meat vendors set out every part of the pig as a prize. Where herb stands promise health in a hundred or more flavors. Where chiles transform from a single-note spice to a symphonic full-body experience.
Mexico's cuisine, of course, is an ancient and complex one, always adapting and evolving from its millennia-old indigenous roots through encounters with the kitchens of Spain, Islam, Southeast Asia, France and its neighbors to the north.  Which means that the country's collective cookbook is vast, and the craftsmanship of those who keep these flavors alive is remarkable.  True, too, of those who craft dozens of agave varieties into distillates called mezcal or sotol or raicilla or bacanora or tequila.  Just like the markets, Mexico's master distillers offer a nearly unfathomable variety of flavors. 
 Welcome to Bar Sótano!
RICK AND DEANN BAYLESS, PROPRIETORS
Bar Sótano
443 North Clark St • Chicago, IL 60654