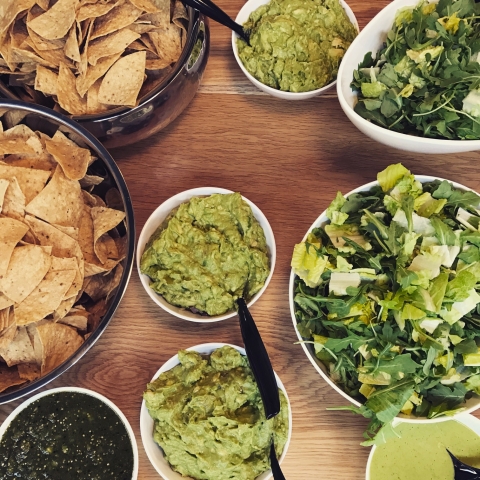 While we are huge proponents of home cooking — I mean, we have a vast collection of at-home Mexican recipes right here — we know that it's sometimes too much to take on for a party, what with all that planning and preparing. (That's to say nothing of the actual cooking and serving.)
We also know those sad spreads that pass for office catering leaves you wanting a little more. Soggy deli sandwiches and greasy potato chips? NOPE.
Rest easy, friends. XOCO is here to help.
Our new catering menu gives you a whole bunch of tasty new options.  Tacos filled with wood-roasted meats and fresh vegetables from local farms?  Check. Huge bowls of freshly made guacamole with your choice of toppings? Check. Soul-satisfying smatterings of charro beans and rice? Check. Salads? Cookies? Churros? Check, check, check.
Wanna make things super convenient? Try the Torta Box, a handsome little $18 package filled with one half of a ridiculously good torta, a side of guacamole, a big handful of just-made tortilla chips, small salad with avocado-lime dressing and a freshly baked chocolate hazelnut cookie.
For more information on XOCO catering options, contact us at catering@fronteragrill.net. We monitor that all the time, but if you're still not convinced, manager Maria Cotorra is standing by at mcotorra@fronteragrill.net and make your catering dreams a reality.