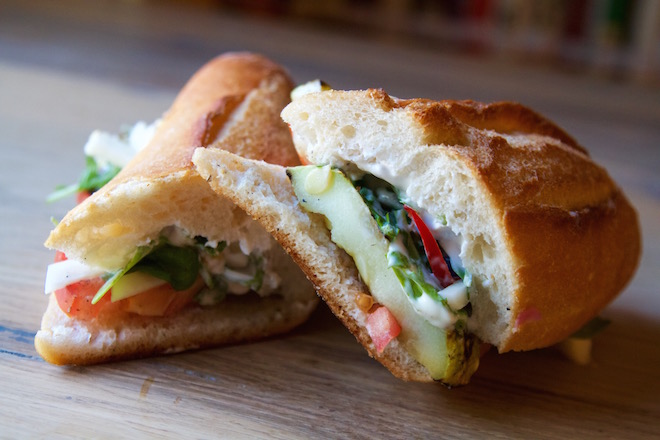 Summer Market Torta Oven-roasted local summer squash, local tomatoes, fresh corn-goat cheese spread, grilled onion, Three Sisters farm black beans, jalapeño-kohlrabi slaw, cilantro crema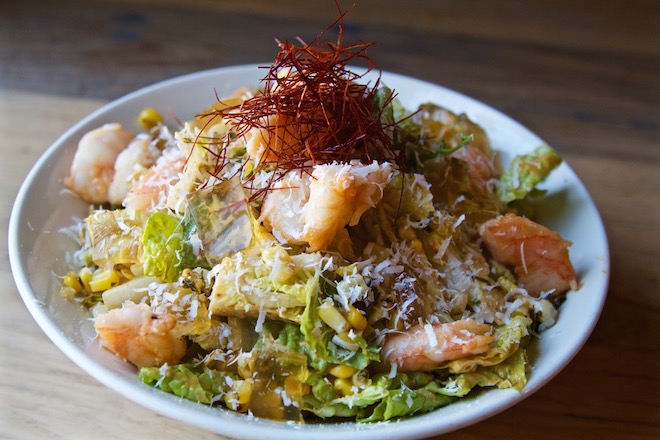 Shrimp & Corn Esquites Salad Mazatlan blue shrimp, roasted corn esquites, romaine, arugula, chipotle aolii dressing, corn broth gelatina, queso do cincho, chili threads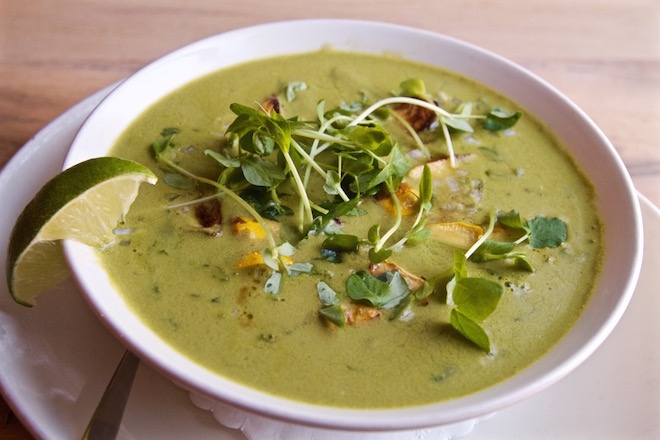 Green Mole Caldo Gunthorp chicken, brothy mole verde (tomatillos, pepitas, poblano) pozolo corn, patty pan squash, pea shoots, wild greens
This time of year, deliveries into XOCO from local farmers simply drive our chefs wild. Seriously, the look on their faces is amazing.
Even better is what they do with all of those beautiful, fresh-from-the-farm fruit and vegetables. And therein lies the inspiration for our latest seasonal menu celebrating the height of the growing season.
Let's start with Chef Wil's Summer Market torta, packed with roasted summer squash, local tomatoes, grilled onions, black beans and a big fat smear of fresh corn goat cheese. Kohlrabi and jalapeño offer a burst of freshness and crunch, while cilantro crema lends richness.
Chef Julio's Green Molde Caldo, meanwhile, is a riot of bright, fresh green goodness. Did we mention there's mole in the soup? That's right, Julio's — mole verde made with tomatillos, pepitas and poblano chiles — becomes part of the broth for the soup, which features Gunthorp Farms chicken, corn, patty pan squash, pea shoots and wild greens.
Chef Julio's Shrimp & Corn Esquites Salad is another seasonal knockout. It's made with shrimp, roasted corn esquites, chipotle aoili dressing and, our favorite, a corn broth "gelatina" that tastes like elotes made with Jello.
On the sweet side — and there's always a sweet side — Chef Wendy's Creamy Horchata "Custard" is adorned with more summer seasonality: jamaica-poached local peaches, fresh blackberries and crunchy almond granola.