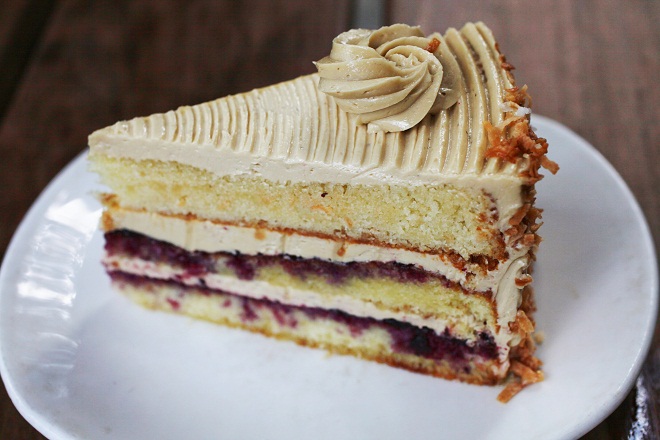 Coconut Layer Cake: with blueberry jam and piloncillo buttercream frosting!
Tomato plants have reached their full height on the Xoco rooftop garden which means September has arrived!  For Xoco's new seasonal menu, the Xoco chefs have crafted some dishes to celebrate the sun's lingering warmth and others well suited to brisker breezes which soon may blow.  We are calling it, "Hot Days, Cool Nights!"
Chef Alonso has spent the past month surrounded by beautiful heirloom tomatoes and just couldn't take it anymore:  he had to make a batch of salsa Mexicana (aka pico de gallo)!  In this classic salsa the three colors of the Mexican flag are represented by local tomatoes, serrano chile, and onion.  Golden pork carnitas, slow-cooked at low temp for about 18 hours, guacamole made with amazing Michoacan avocado, and salsa Mexicana… you #tortally need this sandwich in your life.
Inspired by Chef Alonso, and former Xoco Chef Adrian, in whose shoes he now stands, Chef Glenn has unleashed his own creativity for the Roasted Chicken Soup.  Glenn butter poaches leeks for an hour to begin the creamy broth, building into its flavor poblano chile and fennel.  Gunthorp Farm free range chicken breast is the star, with local sweet corn and spicy grilled chile guero sharing the stage. It's at once comforting and complex, and has our team excited to try more of Chef Glenn's dishes!
As a kid, I thought all watermelon was the same.  At Xoco, I have discovered and fallen in love with the subtle nuances of color, sweetness and juiciness in the heirloom watermelons grown at Nichols Farm.  Xoco is celebrating the season two ways!  In our new salad we have paired watermelon with tangy Prairie Fruits Farm goat cheese and nutty roasted almonds over Bayless Garden greens and leaves of cilantro.  And, for the first time ever, Xoco is serving a street snack of diced local melon with lime, chile and salt (Chef Alonso's secret recipe) as long as watermelon is available.
Xoco is going to rock your watermelon socks off!
For those cooler September evenings with a hint of smoke in the air, where you just want to curl up with a sweet treat, Chef Wendy has just the ticket.  Her trio (!!!) of new pastries includes a Plum Tart with almond frangipane, drizzled with Xoco chocolate, as well as a Grilled Peach empanada filled goat cheese and walnut… both served warm right out of the oven.  Chef Wendy has earned a reputation for amazing cakes.  Her blueberry jam filled Coconut Layer Cake, iced with piloncillo buttercream, is one of the best of all time!
Whether it's a blazing hot day or a breezy evening, when you walk by our restaurant and see Wendy frosting cakes in the front window, or the cooks slicing and dicing tomatoes for salsa Mexicana, it's going to be hard to resist… we'll see you inside Xoco!