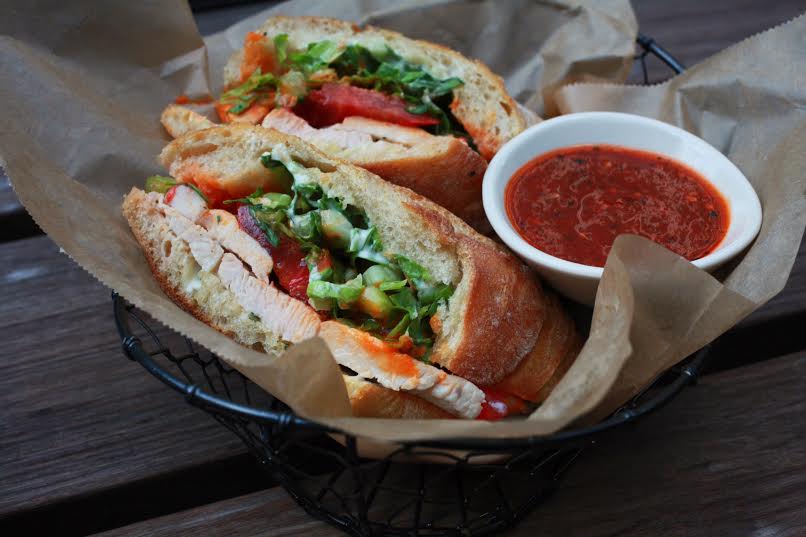 Perfect Summer Torta: Smoked Gunthorp Farm turkey, local tomato, homemade Sriracha.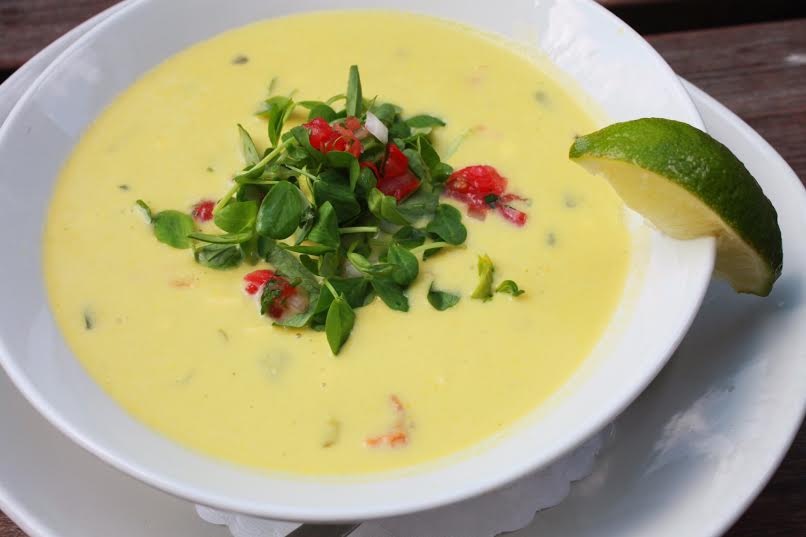 Caldo de Elote: Nichols Farm sweet corn, Sea of Cortez scallops, salsa Mexicana.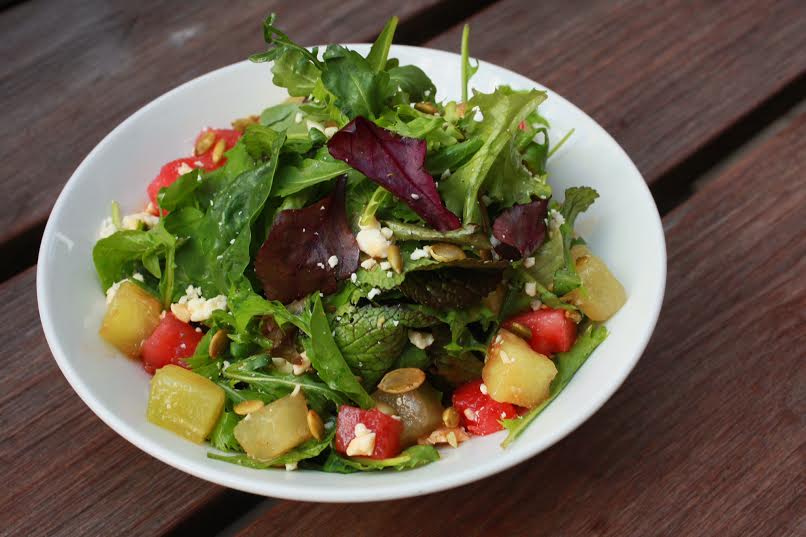 Chipotle Melon Salad: Nichols Farm heirloom melons, Bayless Garden greens, queso de cincho.
Late summer is a beautiful time of year.  Every evening the north-facing patio at XOCO is bathed in golden hues as the sun sets on the west side.  We have started featuring agua frescas made with melon:  cantaloupe, honeydew, and my favorite, agua de sandia, made with delicious heirloom watermelon from Nichols Farm.  The chefs have crafted a seasonal menu featuring tomatoes, corn, and these melons, all late summer staples.
The Perfect Summer Torta is truth in advertising: we are brining and smoking turkey, from birds raised all-naturally at Gunthorp Farm.  This turkey stays tender as it finishes roasting in the wood-burning oven.  We layer on tomatoes from XOCO's rooftop garden, local lettuce, and a 3-chile hot sauce reminiscent of Sriracha.  The smoky, spicy flavors of this torta are the juicy essence of a BLT: let's call it a TLT.
I'm from the Northeast, and the Caldo de Elote brings to my mind a delicious chowder.  Light cream in the poblano broth enhances the richness of new potatoes and carrots, and salsa Mexicana brings in a touch of spice.    Sea of Cortez scallops, plump and delicate, marry the sweetness of local corn.  What a great season for corn it's been.
Ripe melons, tossed with sherry vinaigrette and mint, are balanced with salty cows' milk queso de cincho, and Mexican pumpkin seeds, in the Chipotle Melon Salad.  The greens and the mint are grown right in the garden at Rick and Deann's house.  I love melons: melons in salad, melons in agua fresca, sometimes I even get called Arthur Melon.
All 3 dishes are fresh and refreshing, and currently available only at XOCO River North.  These dishes are on the menu only until Wednesday, September 3rd.  With less than a month of true summer remaining, they should be savored, just like a walk in the park.