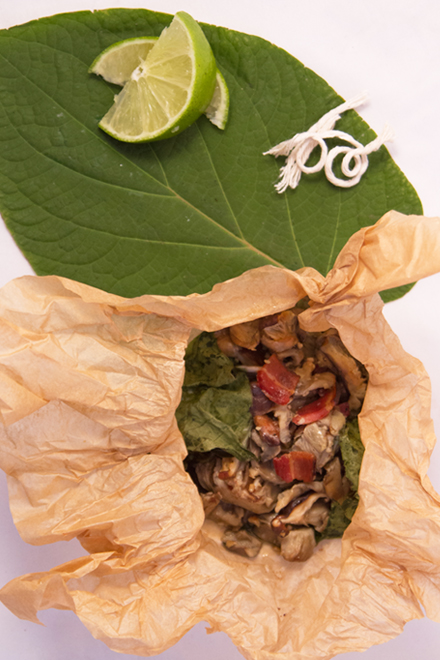 This is a farmers market weekend, because in many cities it will be the last market of the season (or, in some cases, the last weekend before the market moves indoors). The thing to look for at the market: Mushrooms. Wild ones. Pick up as many—and as many varieties—as you can, keeping in mind that they shrink when you cook them.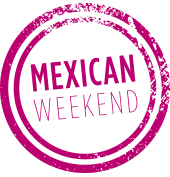 You'll want these
mushrooms to put on pizzas, blend into soup, roast and scatter on top of a salad and, most impressively, tie up in these parchment bundles with bacon and plenty of roasted garlic mojo. Make these mixiotes when you have a few people to cook for—the rapturous expression on their faces when they open the bundle and catch the woodsy, garlicky aroma is second only to the expression they'll have when they taste it.
Mixiotes of Woodland Mushrooms with Mojo de Ajo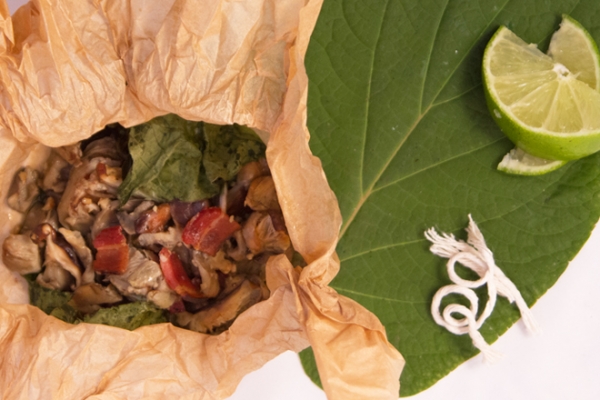 Recipe from Season 7, Mexico—One Plate at a Time
Servings:
8
as a tapa or soft taco filling
Ingredients
12

ounces

mushrooms (I love a mixture of cultivated shiitakes and oysters with a handful of wild mushrooms—porcini, chanterelle, hedgehog—thrown in), sliced 1/2-inch thick (you'll have about 6 cups of slices)

2

large (or 4 small)

hoja santa leaves OR 32 epazote leaves

2

medium-thick slices of bacon, cut into 1/4-inch pieces

1/3

cup

slow cooked garlic mojo

(stirred before measuring)

1/2

teaspoon

salt

1 or 2

limes, cut into wedges
Instructions
Soak the parchment. Cut four 12-inch squares of parchment paper, loosely roll them together submerge them in a large bowl of tap water and weight with a light plate to keep them submerged. Soak 30 minutes.
Form and bake the packages. Turn on the oven to 325 degrees. Lay the soaked parchment pieces out on your work surface. If using the hoja santa, place 1/2 leaf (or a whole leaf if you're using small ones) in the center of each parchment square. In a large bowl, mix the sliced mushrooms, bacon and garlic mojo (throw in the epazote leaves that's what you're using). Sprinkle with the salt, stir to coat everything evenly, then scoop a portion into the center of each parchment piece. Gather up the corners of each one to form a pouch. Pinch the parchment together just above the mushrooms and tie securely with a piece of string or raffia. Slide onto a baking sheet, then slide the sheet into the oven. Bake for 30 to 45 minutes, until the mixture is bubbling vigorously in the packages.
Serve. Open the packages in front of your guests so they can enjoy the explosion of aroma into the room. Serve with lime wedges to squeeze on plus fresh tortillas for making soft tacos or toasted baguette for making montaditos.