The once unknown state of Oaxaca, Mexico's fifth largest, is now on the knowing traveler's hit list. Its capital is one of Mexico's most enjoyable colonial cities. By day, people relax at plaza-front sidewalk cafes beneath shady arches and take in the slow-motion scene, reflecting the best of old Mexico. By night, the same plaza becomes alive with entertainment, crafts, folkloric dances and food stalls. Near the plaza, there's a burgeoning restaurant scene, traditional markets and art galleries.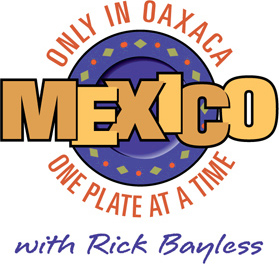 We visit the surrounding Valley of Oaxaca to explore regal ruined cities, crafts villages, colorful markets and beloved old churches and town plazas. Head south and the Pacific beckons with the coastal resorts of Huatulco, Puerto Angel and Puerto Escondido. Here, outdoor adventures from fishing and river rafting to paddling through wild-life rich coastal mangrove lagoons and hiking tropical rain forest trails.
After eight seasons of exploring Mexico, we can't resist the allure of Oaxaca. For the ninth season of Chef Rick Bayless' highly-rated cooking and travel show, we're taking our viewers from Oaxaca City to Puerto Angel to explore the cuisine and culture that makes this wonderful state of Mexico irresistible.