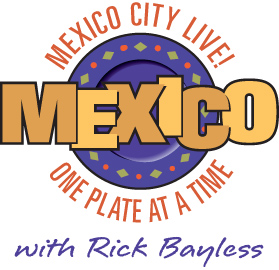 SEASON 7: MEXICO CITY LIVE!
For six seasons, the critically acclaimed series Mexico – One Plate at a Time has brought to life the foods, the flavors, the stories and the fun of Mexico for public television viewers. In each episode, beloved chef, restaurateur, author, teacher and culinary adventurer, Rick Bayless, effortlessly tosses together cooking demonstrations, cultural musings, exotic locations, ideas for home entertaining and a generous helping of off-the-wall surprises to create a whole new kind of cooking show that mirrors the thrilling diversity and depth of Mexico. Now, Frontera Media Productions proudly announces Season 7— Mexico City Live!
These days, it seems there's not a travel, food or lifestyle magazine that hasn't done a story on Mexico City, and for good reason. The world's most eye-opening food metropolis has it all: traditional foods and flavors from all over the country, as well as some of the coolest cutting-edge eateries anywhere.  So this season, Rick takes a fresh look at 13 iconic Mexican dishes,    from tacos and enchiladas to chiles rellenos and carnitas — on a deep dive into Mexico City's mouthwatering market stalls, hidden-treasure taco stands and restaurants, where chefs are turning out high-style takes on dishes in ultra-cool dining rooms that range from rustic-elegant to urban ultra-hip.
As always, back in his own home kitchen, he shows viewers how to recreate the spirit of those classic dishes in everything from easy, casual dinners to full-blown parties. There's a magical Mojo de Ajo sauce that's culinary gold on everything from popcorn to pasta; a luxury guacamole bar that offers a whole new do-it-yourself way to entertain; an authentic, made-ahead Chicken in Mole for a crowd, and much more.
Rick also takes us behind the scenes at his world-renowned restaurants, Frontera Grill and Topolobampo, to see how he and his chefs reinvent classic Mexican dishes in fresh new ways, like his signature sous-vide Carnitas and a dazzlingly decadent Pan-Seared Lobster with Truffles and Pata Negra Ham.
Mexican cooking has come into its own as a vibrant new source of creativity. And Mexico City is where it all comes alive. Join Rick for his greatest food adventure yet: an insider's tour of the capital of cool — and the soul of a new cuisine. Mexico One Plate at a Time, Season 7—Mexico City Live!