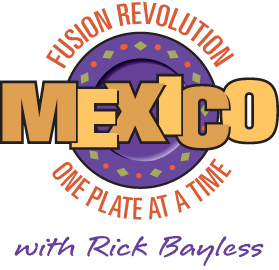 SEASON 4: FUSION REVOLUTION
Highlights from this season include:
Super-Hero Sandwich – Join Rick on a hunt for the perfect snacks as he visits Mexico City street stalls selling everything from tacos and snacks to colorful wrestling masks and capes.  Along the way, we discover the history of this uniquely Mexican blend of acrobatics, myth and morality play.
It's A Shore Thing – Wading through the surf at Guyabitos, a charming fishing village on Mexico's Pacific Coast, Rick sets off in search of the ultimate catch-the Mexican seafood dish that captures everything that's perfect and irresistible about a day at the beach.

Quest For Fire – Deep in the Mexican countryside, Rick pulls over for a sizzling roadside snack: chicken grilled on an improvised oil-drum barbecue. Then he brings the idea home with a recipe for Roadside Whole Chicken with Knob Onions on his own backyard barbecue.
Welcome to Tequila – Tequila has come around from "lick the salt and suck the lime" firewater to a chic drink of connoisseurs and hipsters alike.  What exactly is the quintessential Mexican spirit, and what makes one tequila so-so and another sublime? Rick takes us straight to the source-where the first families of tequila still brew the stuff from the slow-roasted heart of the blue agave plant.
Fusion Revolution – Mexican cooking might be called the original fusion cuisine.  Of all the dishes in the Mexican repertoire, mole is doubtless the ultimate example of fusion food, born of a baroque melding of influences from nuns and native women who mixed old and new world ingredients to create a sauce of dazzling complexity.
Mexico Unplugged – When Rick wants to get away from the frantic pace of life in the restaurant world, he heads South.  It's a search that takes him from a mountaintop in the jungle to a mellow natural products store in a quiet corner of Mexico City and a traditional spa and sweat-lodge where curanderos practice ancient healing arts.