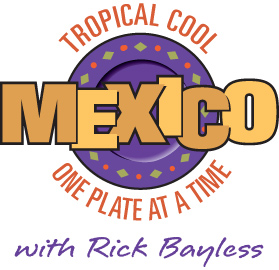 SEASON 3: TROPICAL COOL
Highlights from this season include:
Antojito Jones – Searching from jungle to big city markets for classic Mexican snacks like Carne Asada Tacos, Crispy Sopes, and Blue Corn Quesadillas.
Chorizo Hunter – "The Bacon of Mexico," this famous Mexican sausage is not as complicated as you might think.  Rick makes Chorizo-stuffed Ancho-Chiles.
Color on the Palate – Rick takes us on a technicolor adventure in Mexico that's all about how color is an inextricable part of the landscape, the culture, the art and the food.  Lime Pie, Prickly Pear Sauce and tostadas.
Tropical Cool – An adventure in Acapulco, the great international resort that's making a major comback.  Traditional poolside Banana Daiquiris, refreshing Shrimp Cocktail, Choconuez Ice Cream, and tropical Ice Pops.
Savoring Sundays – The best Mexican Sunday traditions – Crispy Pork Carnitas, Chicken in Escabeche, and whimsical hot cakes in the Coyoacan Square.