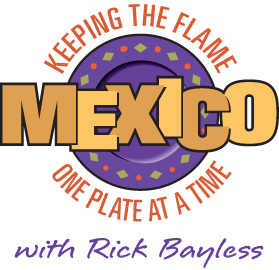 SEASON 2: KEEPING THE FLAME
Highlights from this season include:
Fish a la Veracruzana – Rick takes us to the Gulf Coast port of Veracruz, "The Mexican Mediterranean," for a look at the city's most famous contribution.
Mojo and Escabeche – Mexican mainstays since the arrival of the Spanish: Slow-cooked garlic with smoky chipotles to spoon over shrimp; tangy light escabeche that's the kind of fresh cooking that's so popular today.
Let's Talk Tacos – Gleefully dispelling the notion that tacos are crispy shells jammed with ground beef and shredded lettuce, Rick takes us on a journey in search of the real thing.
Sopes & Gorditas – Sopes (little masa boats) and  Gorditas (plump little tortillas) are baked on a griddle  and finished with all kinds of flavorful toppings.  We  watch them being created in a courtyard and market stalls in Mexico, as well as in Rick's kitchen with a contemporary twist.
Straight Cheese on Quesadillas – No one can resist a crusty grilled cheese sandwich, and Mexicans are no exception-only they replace bread with fresh corn tortillas.