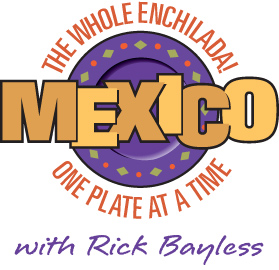 SEASON 1: THE WHOLE ENCHILADA!
Highlights from our inaugural season include:
Ceviche in the Limelight – Ceviche, traditional Mexican lime-marinated seafood with green chiles and tomato:  it's so ancient, so simple.
Holy Mole – Rich, complex and shrouded in mystery,  red mole is widely regarded as the crowning  achievement of Mexican cooking.                                                                                               
Three Hot Tamales – Tamales.  They're sold by the steamer-full on street corners and plazas, prepared by the hundreds for parties, eaten out of hand as a morning or evening snack, and universally loved.
Pozole – Mexico's festive pork and hominy stew cooks slowly all day.  As the corn and meat simmer, Rick takes us to the ruins of Mitla, where he reveals one of the most ancient and fundamental cooking techniques of Mexico.