Far from being Mexican Halloween, Day of the Dead (Día de Muertos) in Oaxaca is a sacred holiday, the most important family gathering of the year. It's a time to reflect on the sanctity of life and the role of the ancestors in making this world a better place. We offer you a sampling of Oaxacan specialties—ones often found on Day of the Dead altars throughout the state.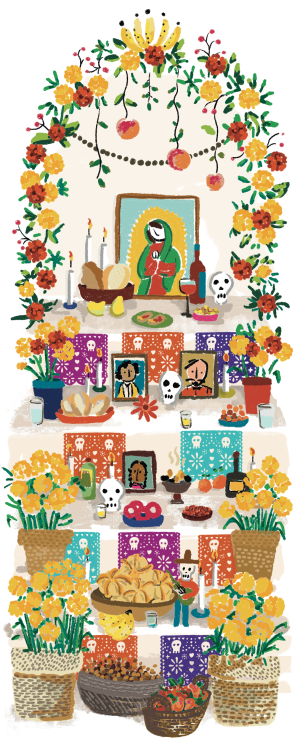 Molote de Abulón • two-tone heirloom corn masa "torpedo" filled with abalone & scallop chorizo.  Smoky Oaxacan pasilla salsa borracha (infused with mezcal), creamy avocado, fresh herb salad.
Caldo de Piedra • Ora King salmon & Florida pink shrimp, Mighty Vine tomatoes, serrano chile, classic Mexican herbs (epazote, cilantro, mint marigold), rich broth.
Tamal Oaxacaqueño • fresh-ground corn masa steamed in banana leaves with coloradito mole, huitlacoche (corn mushroom), black maitake mushroom, black truffle.
Mole Chichilo, Borrego • Grilled, dry-aged lamb loin, mole chichilo (dark chiles, tomatillo & tomato, savory spices), slow-cooked chayote, tangy escabeche of chile de agua, avocado-leaf black beans.
Mole Amarillo, Dulce-Salado • tender cake infused with classic yellow mole, hoja santa ice cream, guajillo-poached pears, sweetened yellow mole, crisp hoja santa.
Ofrenda de Chocolate • Xoco chocolate mousse (encrusted with Mexican cacao nibs & pumpkin seeds), little chocolate-pinole cakes, calabaza en tacha, marigolds.