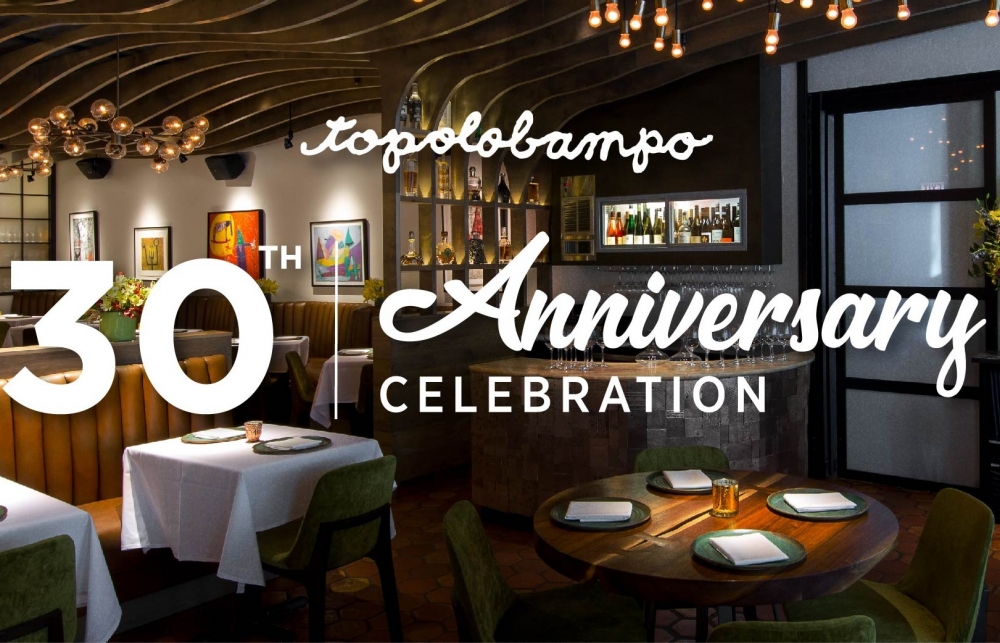 Topolobampo, the groundbreaking fine dining Mexican restaurant from Chef Rick Bayless, is celebrating its 30th anniversary with a one-of-a-kind celebratory dinner.

Created as a movable feast with Rick leading the way, the dinner takes place Sunday, Jan. 26 at Topolobampo and throughout Bayless' adjoining restaurants at 445 N. Clark St.

"This party won't be some retrospective stroll down memory lane. Instead, we're going to show just how far we've come over the past three decades," said Bayless, who opened the restaurant with his wife Deann in 1989, just two years after the debut of their adjacent Frontera Grill.

Guests at the anniversary dinner will begin with modern Mexican snacks and mezcal cocktails in the subterranean Bar Sótano, then be whisked away to Frontera Grill for the legendary hand-shaken margaritas, classic family-style guacamole, ceviche and fresh-corn tamales.

After that, everyone moves to Topolo for the restaurant's signature dish of dry-aged ribeye carne asada with the triumphant 29-ingredient mole negro, paired perfectly with wine selected by longtime sommelier Jill Gubesch. The Topolo experience ends with everyone cracking open their fun, fancy Piñata Dulce dessert expertly paired with mezcal selected by spirits director Lanie Bayless.

To bring the evening to a close, we'll toast 30 incredible years with a Bar Sótano nightcap.

Yes, we tend to overdo things. Even by our standards, this will be an unforgettable party.

Tickets are extremely limited and are available on Tock. (A gratuity charge of 20 percent and sales tax will be added to the total price.)

Debuting in 1989, Topolobampo was a pioneering concept in fine dining, widely credited for ushering in Mexican cuisine's rightful place on the world stage.

Three decades later, the James Beard Foundation's 2017 Outstanding Restaurant continues to push boundaries with seven-course themed "narrative" tasting menus, a sexy interior redesign and an agave spirits pairing program to rival its lauded wine program.