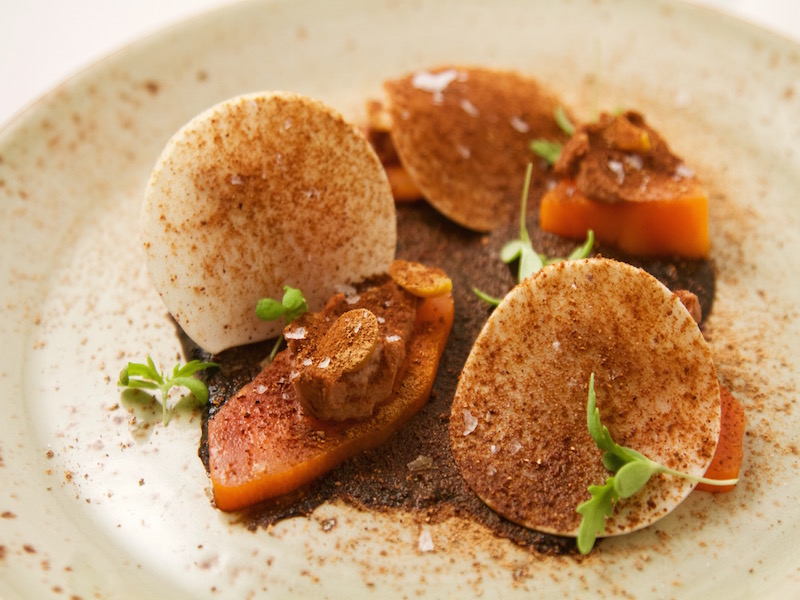 ANCIENT ABUNDANCE Tangy hearts of palm, tropical black zapote, chunky pecan crema, ripe papaya, toasted chanterelle mushroom dust, aromatic nanche, sour prickly pear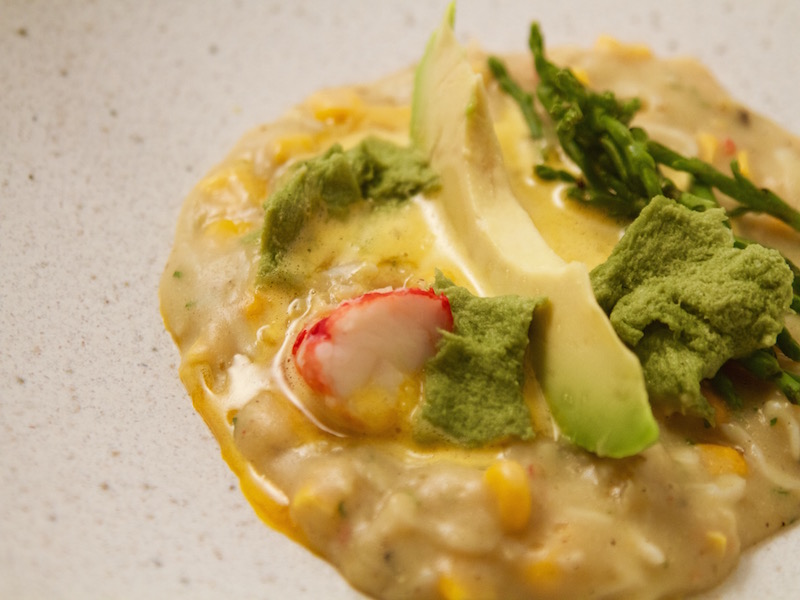 CRAB CHILEATOLE Corn masa-thickened braise (sweet corn, serrano, epazote, king crab), avocado and sea beans, uni-egg yolk emulsion, spirulina "sea foam"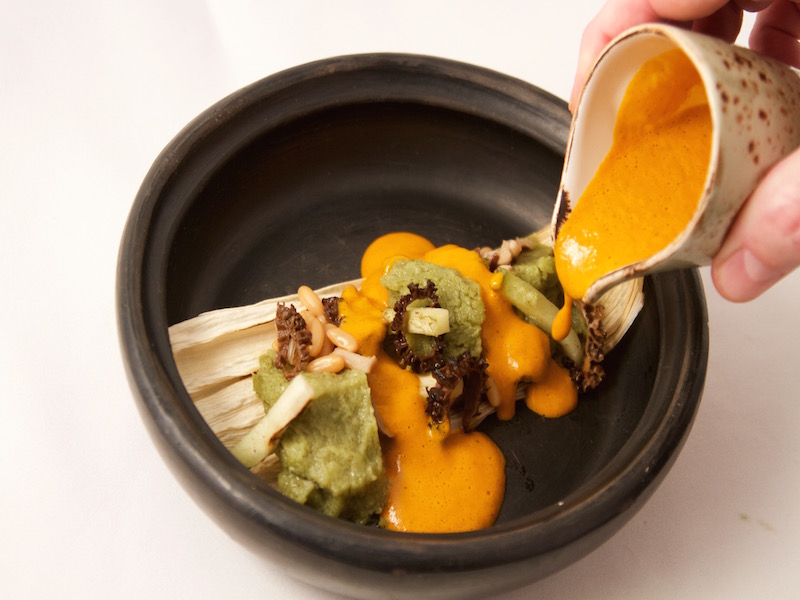 FOREST ADVENTURE Pudding-style corn masa tamal (pumkinseed oil, epazote), dry-roasted shiitake and morel mushrooms, roasted red poblano-pumpkinseed sauce, wood-grilled chayote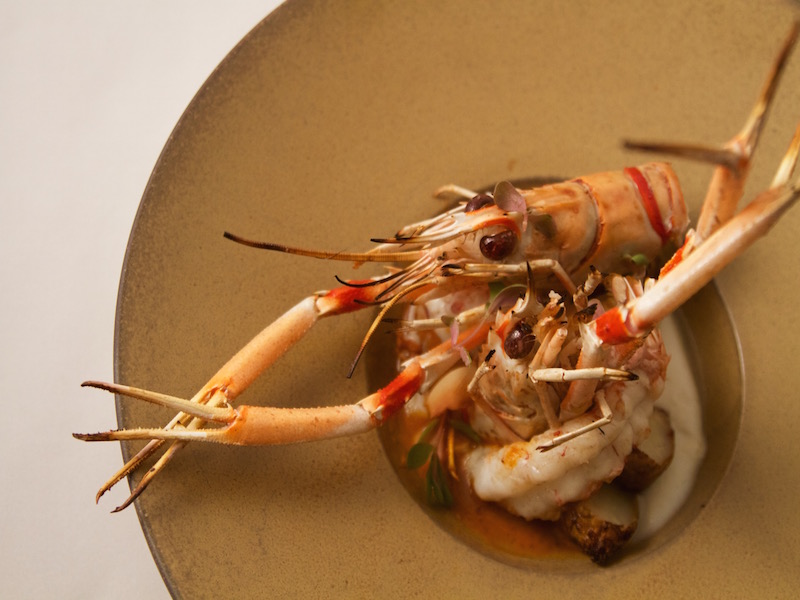 LANGOSTINOS, BIRTH OF MOLE Grilled pacific langostinos, sunflower seed-guajillo chile "molito," sunchoke cocunit crema, roasted sunchokes, tiny purslane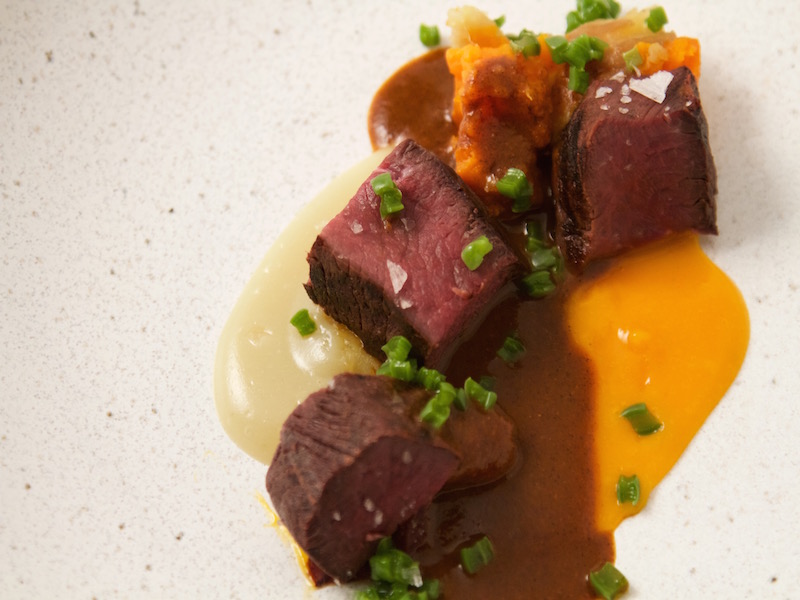 VENISON, GUAXMOLE Hawks Tail Ranch venison, guaxmole (guaje-thickened sauce of ancho & Oaxacan pasilla chile, tomatillo, avocado leaf), camotes (white and orange sweet potato, two ways), salt-cured nopales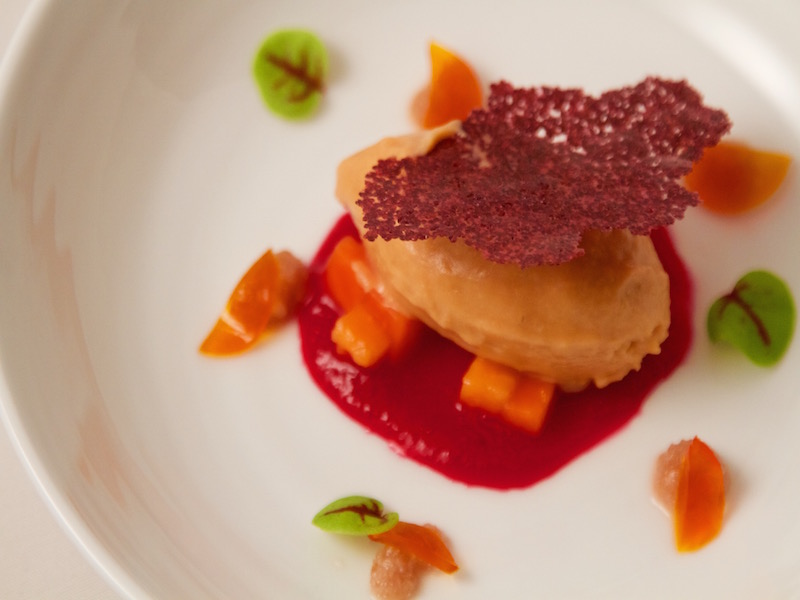 ANCIENT INTERLUDE Mamey-pinenut sorbet, prickly pear (three colors, three ways), papaya, amaranth-jamaica crisp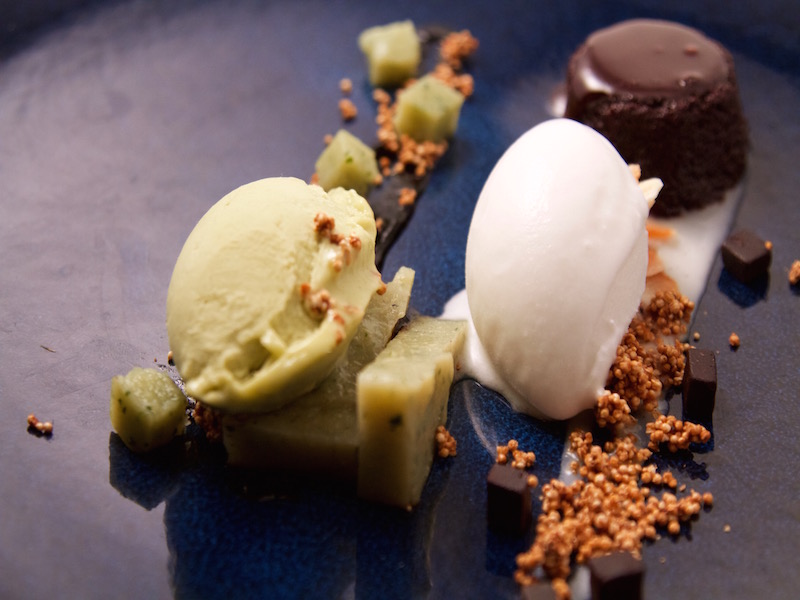 CHOCOLATE FROM THE TROPICS Bitter chocolate-mesquite bean cake, two sorbets (coconut-palm sugar & avocado-pineapple), hoja santa nicuatole, black zapote sauce, coconut-chocolate fudge, amaranth "alegría"
In 1492 the first Europeans set foot on New World soil and changed the course of history. They brought guns and horses, new languages and diseases, and, of course, a host of ingredients that quickly found their way into the kitchen.
Before their arrival, indigenous ingredients had been woven into unique flavors for millennia. Made entirely from Pre-Columbian ingredients, Topolo's latest menu reflects what Mexico may have tasted like, before it became "Mexico."
Amazingly, some of modern-day Mexico's most common ingredients are not indigenous to the new world: No domesticated animals to speak of—certainly no pigs, chickens or cattle—which also eliminates hen eggs, dairy and lard. No wheat or refined sugar, either.
So what did they cook?
Abundance from a complex agricultural system that produced beans, corn, squash, tomatoes, tomatillos, avocados, amaranth, chia and myriad tropical fruits. Wild hunted game and fish; wild foraged greens and herbs. And, of course, the New World's most famous ingredients — chile, chocolate and vanilla.
We think you'll be surprised and delighted by the complexity and brilliance of this ancient kitchen.