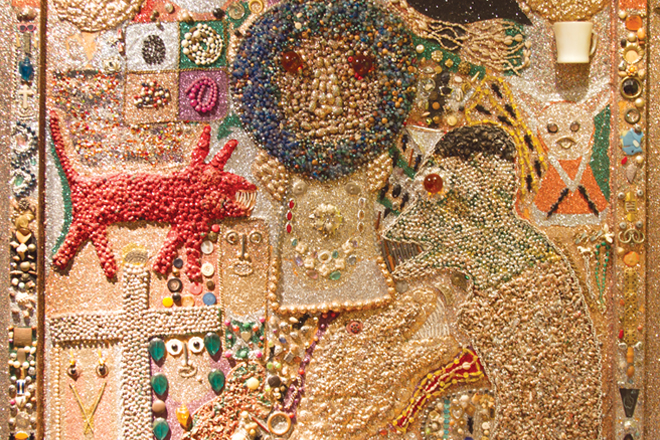 UNTITLED (Detail) Simon Sparrow (1925-2000)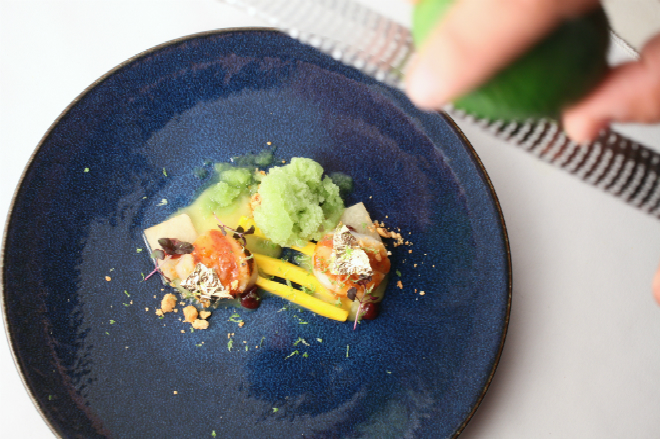 DESIRE Once is Not Enough Puckery cucumber ice, sweet-spicy sea scallop, lime-infused jicama, smoked pineapple, sour salted plum, sweet honey Manila mango, edible gold leaf, toasted hazelnuts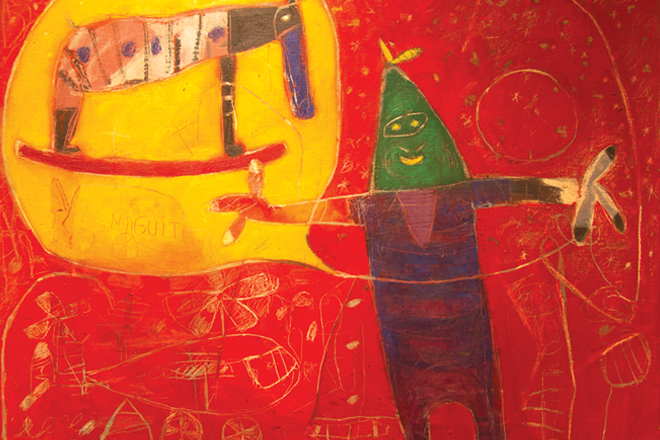 MAGIC ACT Rubén Leyva (b. 1953)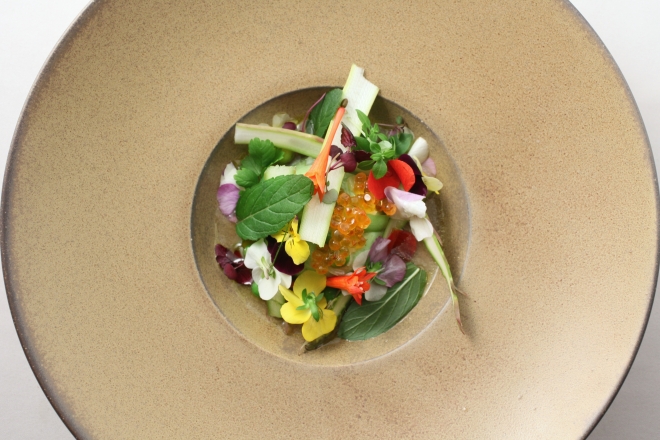 EXUBERANCE Spring Has Sprung A riot of herbs and flowers, creamy green "flan" (local goat milk and cheese, garlic chives and ramps), trout roe, fresh peas and shaved asparagus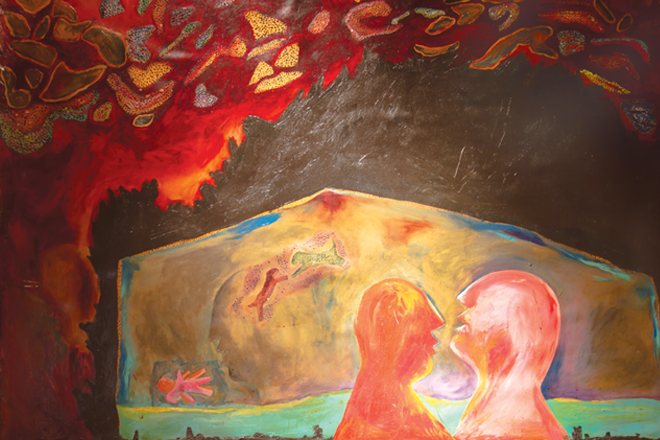 UNTITLED Paula Pia Martinez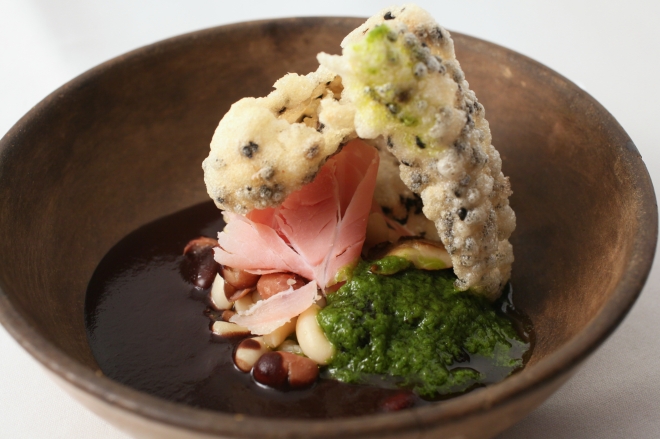 COMFORT Beans and Rice Heirloom Mexican beans three ways (creamy white been puree, three varieties braised whole, chipotle-black bean sauce), crispy homemade rice-sesame cracker, house-cured suckling pig ham, aromatic wild ramp mojo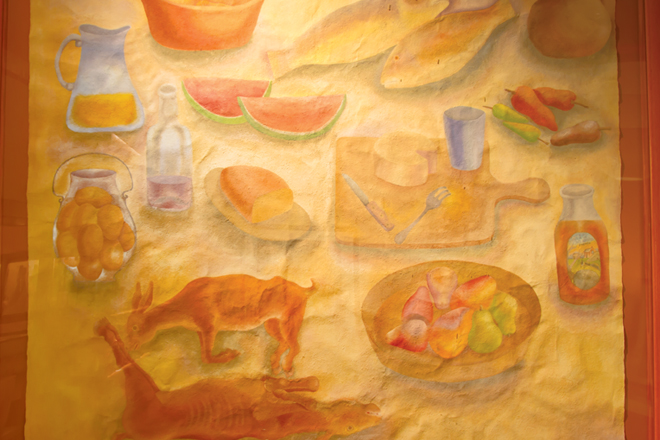 UNTITLED (Detail) Filemón Santiago (b. 1958)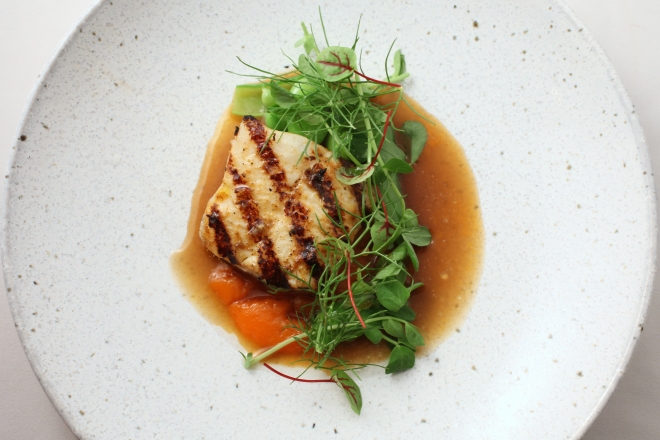 WONDER All's Right Wood-grilled Alaskan halibut, rich-and-meaty roasted poblano broth, spring snap peas and favas, spicy chamomile-infused carrot crema, pea tendrils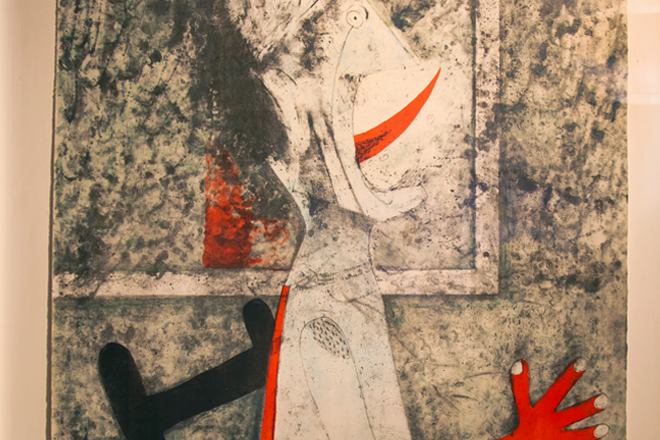 THE CRY (Detail) Rufino Tamayo (1899-1991)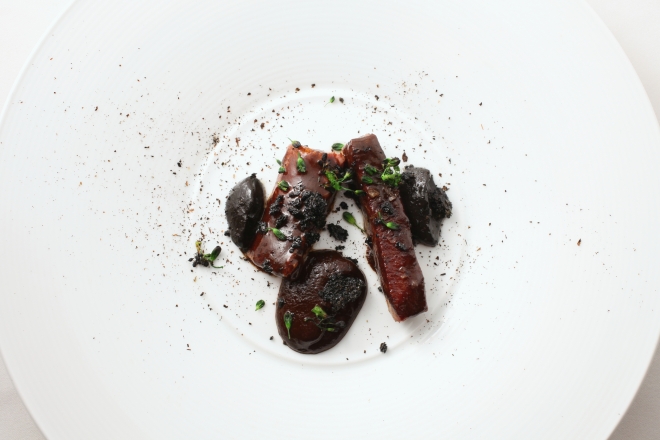 SURPRISE After the Fall Black garlic-glazed lamb shoulder and freshwater eel, black zapote sauce, black salsa (chile pasado, cuttlefish ink, roasted rhubarb), yesterday's bread, charred broccoli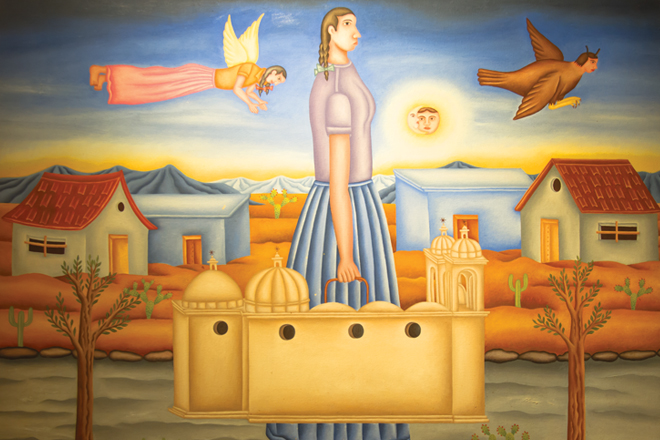 WOMAN CARRYING A CATHEDRAL Felipe Morales (b. 1959)
Chicago Tribune food critic Phil Vettel has bestowed some lavish praise on Topolo in years past. 
Last year's four-star review, the one where our fearless chef de cuisine Andres Padilla was credited for "triumphs of technique and scholarship that stimulate the mind as much as they do the palate," simply blew us away.
Imagine our delight, then, when Vettel published his latest review of our Art Menu, a seven-course culinary journey designed to elicit an emotional response.
The verdict? Four stars.
"'Art,' ultimately, is fascinating," Vettel writes. "It's Topolobampo's most overtly collaborative menu ever, and shines a well-deserved light on lesser known members of Topolo's team (Bayless' name isn't associated with a single dish, and Padilla's only once)." 
As Rick put it, we're "button-busting proud" that our sous chefs, those hardworking creative souls, are not only credited by name in the review (how often does that happen?) but that their contributions to this special menu were so incredibly well-received.
Of Lisa Despres' opening dish, a "tart, teasing plate" appropriately named "Once is Not Enough," Vettel said "there's enough heat and acidity in the dish to make one salivate, and, true to the title, I wanted more of this."
Pastry chef Adriana Martell's dish, called "Birthday Party,"  is "a symphony of chocolate and coffee flavors," while Joel Ramirez's "Spring Has Sprung" is described as an "explosion of "herbs, vegetables and flowers."
For Vettel, Ramirez's "After the Fall" dish was the "best dish of the night" for it's "remarkable composition" of lamb and eel, as well as the daring, suprising manner in which it's plated.
As ever, sommelier Jill Gubesch's wine picks, are "unerring."
News of the four-star review broke while Rick was out of the country.
But in this electronic age, news travels fast and transcends time zones, so Topolo's guiding force was quick to post his kudos to his staff by way of his popular Facebook page.
"I'm button-busting proud, not just because I'm chef-owner of the place," Rick wrote, "but because Mr. Vettel focused on each of the brilliant chefs who created these stunning dishes that explore flavor, art and emotion."