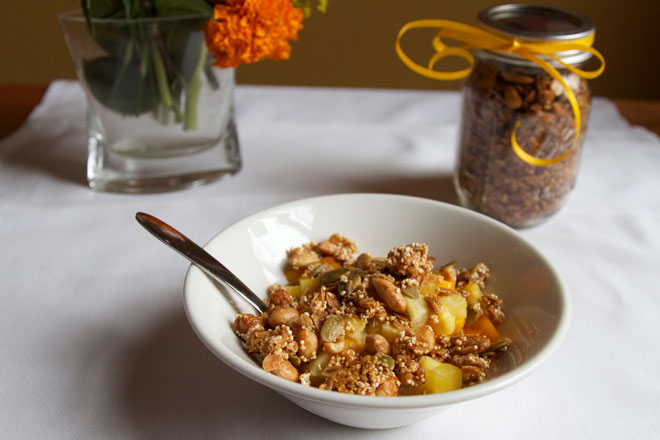 This morning, Katy and I spoke at length about what the perfect Mother's Day recipe is. (Forgetful folks may want to take this as a reminder—Mother's Day is this Sunday!) Like most people, our first thoughts were of baked goods. But baked goods just weren't sitting right. Anything with chocolate seemed wrong. Strawberry shortcake—at one time a famous recipe around here—seemed like a good idea, but here in Chicago berries are nowhere in sight. Our minds wandered to savory recipes like this egg torta, but those didn't seem right either. Imagine greeting your mother with the words "Happy Mother's Day, mom. Here's an egg sandwich."
Then we thought of granola. Granola excites us for Mother's Day because it's both a brunch (fruit and yogurt needed) and a gift (Ball jar recommended). It helps that we have a great granola recipe from Xoco, full of puffed amaranth, almonds, pepitas and honey. And it helps that is just sounds good:
"Happy Mother's Day, mom. I made you some granola."
See? Much better.
XOCO'S GRANOLA

Ingredients
1 1/2

cup

old-fashioned rolled oats (quick-cooking oats will work here, but the texture isn't as attractive)

1/2

cup (about 2 ounces)

raw almonds

1/2

cup (about 2 ounces)

raw peanuts

1/2

cup (about 2 ounces)

raw cashews

1/2

hulled, raw pumpkin seeds

hulled, raw pumpkin seeds

1 1/4

cups

puffed amaranth (amaranth is classic in Mexico, but if you can't find it, replace it with the easier-to-find puffed millet)

1/4

cup

all-purpose flour

1/4

cup

vegetable oil

1/3

cup

honey

1/4

cup

sugar

1

teaspoon

salt
Instructions
Turn on the oven to 300 degrees. On a  rimmed baking sheet lined with parchment paper, spread out the oats, nuts, pumpkin seeds and amaranth. Bake, stirring halfway through, until the nuts are just beginning to color and the oats are crispy, about 20 minutes. Scrape it all to a large bowl, sprinkle on the flour and toss to coat. In a medium bowl, whisk together the oil, honey, sugar and salt. Pour this mixture over the oats and mix until everything is evenly coated. Spread the mixture into an even layer on that same parchment-lined baking sheet and return it to the oven. Bake, stirring every ten minutes, until the oats are a rich caramel color, the nuts are browned and shiny, and the granola is fragrant, about 40 minutes. (The baked mixture may still feel dampish when you stir it with a spatula, but it will crisp as it cools.) Transfer the baking sheet to a cooling rack and let the granola cool completely. With your hands, break the granola into bite-size clusters and transfer it to an airtight container; it will keep for two weeks or so.