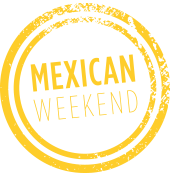 OK, so you probably know that moles are the famous, time-consuming, special-occasion dishes that Mexicans make from a huge grocery list of ingredients.
But this mole—one of the classic seven moles of Oaxaca—is the everyday mole, put together in a matter of minutes. It offers a satisfying, spice-and-herb—tinged yellow-orange sauce to buoy pieces of tender chicken and fresh vegetables.
So what's the secret?
Here, I'm skipping the toasting and soaking of the dried guajillo chile, saving about 20 or 30 minutes. (The dried chile plays a lesser role in yellow mole than it does in, say, the famous mole poblano). 
And about that hoja santa: No one in Oaxaca would think that a pot of yellow mole is complete without a handful of torn hoja santa leaves added just before serving, but most of them have an hoja santa bush near the kitchen window. Though it's very easy to grow in moderate climates (during the winter in Chicago, I have to bring mine inside), many of us can't easily lay our hands on this sarsaparilla-flavored herb. So I say: Use cilantro or the feathery green tops from fennel (they gave a flavor similar to hoja santa) . The dish won't be the same as with hoja santa, but it's good!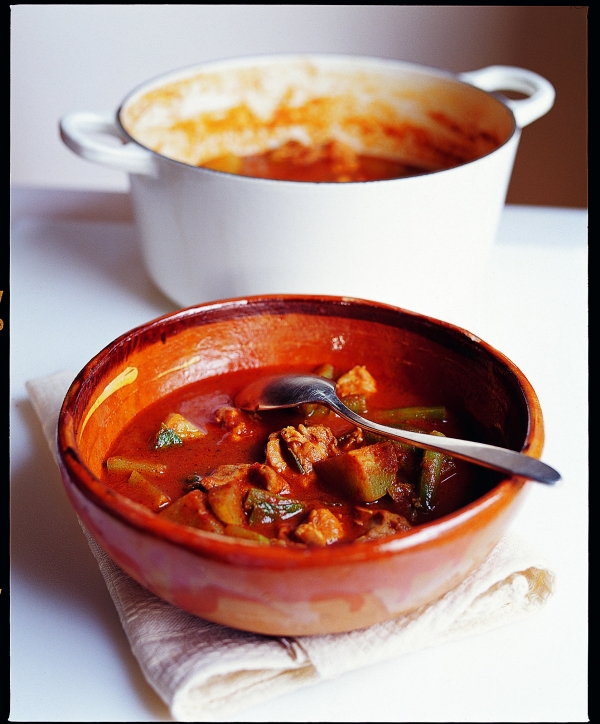 Ingredients
4

(1 ounce total)

dried guajillo chiles, stemmed and torn into several pieces each

1/2

15-ounce

can diced tomatoes in juice (preferably fire-roasted), drained

1/2

small

white onion, cut into 4 pieces

2

garlic cloves, peeled and halved

1/4

teaspoon

each ground cumin, all-spice and cinnamon, preferably Mexican canela

1

teaspoon

dried oregano, preferably Mexican

4

cups

chicken broth (divided use)

2

tablespoons

vegetable or olive oil

1

tablespoon

Masa Harina

(Mexican corn

4

(1 pound total)

boneless, skinless chicken thighs, cut into 1-inch cubes

6

ounces

green beans, tops and tails broken off and cut into 2-inch pieces (you need about 2 cups)

2

large (1 pound total)

chayotes, peeled (if you wish), pitted and cut into 1-inch cubes OR 4 medium (1 pound total) red-skin boiling or Yukon Gold potatoes, peeled (if you wish) and cut into 1-inch cubes

1 to 2

fresh

hoja santa leaves

, torn into 1-inch pieces OR 1/2 cup (or more) roughly chopped cilantro
Instructions
In a blender jar, combine the torn guajillo chiles, tomatoes, onion, garlic, spices, oregano and 1 cup of the chicken broth. Blend as smooth as possible. (A food processor will work though it won't completely puree the chile.)
In a medium-large (4- to 6-quart) heavy pot, heat the oil over medium-high. Set a medium-mesh strainer over the top and pour in the chile mixture. Press the mixture through the strainer into the hot oil. Cooking, stirring, until the mixture is reduced to the consistency of tomato paste, about 5 minutes.
Whisk the masa harina into the remaining  3 cups broth, then pour into the cooked chile mixture. Whisk until the sauce comes to a boil and thickens to the consistency of a light cream soup. Reduce the heat to medium-low. Add the chicken, green beans, chayote, or potatoes and 1 teaspoon salt. Simmer gently, stirring regularly, for about 20 minutes, until all the chicken and vegetables are tender.
Add the hoja santa or cilantro, then taste and season with salt, usually between 1/2 and 1 teaspoon, depending on the saltiness of your chicken broth, and serve.
Riffs on Yellow Mole: Because I have such respect for kitchen tradition (and the fact that I've already taken a few liberties with this revered classic here), I'm hesitant to go much further. I will say, however, that a seafood version of yellow mole is one of my favorite things in the world. When the vegetables have cooked for 10 minutes, in place of the chicken add a dozen or so mussels or clams and about ¾ pound firm-flesh fish (like halibut, bass or grouper) cut into about ¾-inch pieces. In Oaxaca, they also make a much thicker version of this sauce (they would add the equivalent of about 6 tablespoons of masa harina versus the 2 I've called for here) to use as a filling for what they call empanadas: They press out a corn tortilla from the prepared corn masa, lay it on a griddle to brown lightly, then flip it and top it with a spoonful of the thick sauce, a few shreds of cooked chicken and a big piece of hoja santa leaf. After folding it in half, the cook cooks the empanada on the griddle until toasty and aromatic.