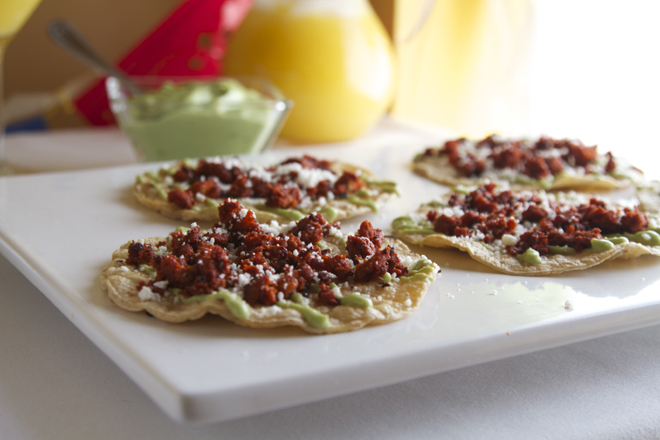 Real talk about Cinco de Mayo: This year, it's on a Monday. Which means that, really, you'll probably celebrate Cinco de Mayo on Cuatro de Mayo, or Tres de Mayo.
No problem. The day you celebrate Cinco de Mayo is not important; it's what you cook that matters. On that front, we have some ideas: Our 2014 Cinco de Mayo fiesta includes a pitcher of a seasonal margaritas, two kinds of tacos—one warm and savory, the other cool and spicy—and, of course, a dessert that involves Mexican chocolate.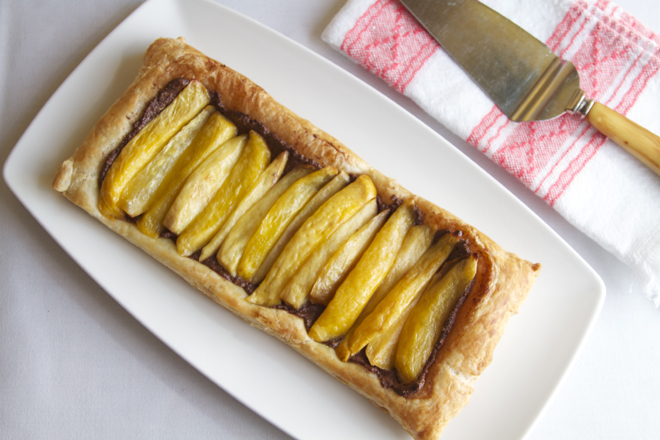 Here's the full lineup of recipes (it serves 8-10 easily):
Cocktail
Mango (or Peach) Basil Margaritas
Snacks
"Almost Oaxacan" Grilled Tostadas with Chorizo, Tangy Guacamole, and Fresh Cheese
Roasted Garlic Guacamole with Help Yourself Toppings
Tacos
Smoky Pork Tinga Tacos with Avocado and Fresh Cheese
Herby Ricotta-Poblano Tacos
Dessert
Caramelized Mango Tart with Mexican Chocolate and Pepitas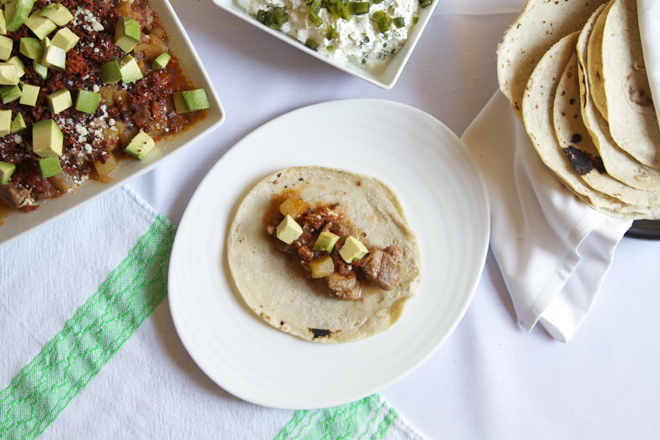 And because we love you, we went ahead a made a shopping list for you, too:
[bsk-pdf-manager-pdf id="22″]

Now that you're armed with recipes and a shopping list, it's time to get to work:
Up to 1 Week Ahead
Download and print your shopping list.
Shop for decorations such as candles, colorful tablecloths and napkins, paper products, etc.
Buy firm avocados and let them ripen at room temperature, or order ripe avocados to be picked up later in the week from a reliable market. If you're headed to a Mexican market for other ingredients, you'll typically find ripe, inexpensive avocados there—so ripe you'll actually want to buy them closer to party time or refrigerate them to stop further ripening (place them in the warmest part of your refrigerator to avoid discoloration).
If you do some of your shopping at a Mexican market this will be where you will want to buy your poblanos, Queso Fresco, tortillas, and tortilla chips.
Gather what you need for your buffet: serving trays, plates, bowls, serving spoons, etc.

3 Days Before
Make the mango (or peach) puree for the margaritas.
Make the basil salt.
If you bought flowers already, give them a fresh cut and change of water.

Day of Party – 8-10 Hours Before
Buy ice if necessary.
Buy flowers if you haven't already.
Set your table with linen, platters, flowers, etc.
Start the pork tinga in the slow cooker.
Roast the poblano chiles and garlic for the ricotta-poblano tacos as well as the roasted garlic guacamole.
Lay out tortillas to dry out for the tostadas.
Make the pitcher of margaritas and refrigerate.
Assemble your ricotta-poblano filling and refrigerate.
Caramelize mangos for the tarts.

3 Hours Before
Make the gucamole. Cover with plastic wrap directly on the guacamole and refrigerate.
Make the avocado sauce for the tostadas. Cover with plastic wrap directly on the sauce and refrigerate.
Cook the chorizo for the tostadas and tinga.
Assemble the mango tart and refrigerate until ready to bake.

45 Minutes Before
Turn on music.
Light candles.
Warm your tortillas and keep in warmers until your guests arrive.
Remove the guacamole from the fridge and place on buffet.
Transfer the tinga to a serving dish.
Open tortillas chips and jarred salsa and pour into bowls.
As guests arrive, shake margaritas and serve. Start grilling your tostadas.
Bake the mango tart.
And finally, pour a margarita for yourself.