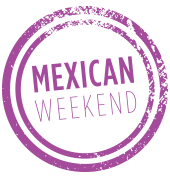 When it comes to carnitas, let's assume you don't have the time or energy to heat a huge cauldron of pork lard and cook a cut-up pig.
Instead, you might head to a restaurant that's known for carnitas and buy some to bring home.
But this near-effortless version of the classic Mexican preparation allows you to make your own — good news for those of us who don't have a great carnitas restaurant nearby.
Cooking pork submerged in its own fat—what chefs have classically called confit—produces a lusciously tender and juicy result that you'd never achieve by roasting or simmering.
In the traditional Mexican kitchen, carnitas are typically cooked first at a high temperature to promote browning, then simmered low and slow until they are richly tender. Here, we're doing the reverse, cooking the pork slowly in its own fat in a slow cooker (it requires much less fat and much less tending), then browning it when it's time to serve.
Quick note: carnitas demand a big stack of warm tortillas for making tacos. And what's a carnitas taco without some guacamole to spoon on it, plus a little salsa and a smear of beans.
It's a big dish, to be sure, but a simple salad on the table really completes the meal.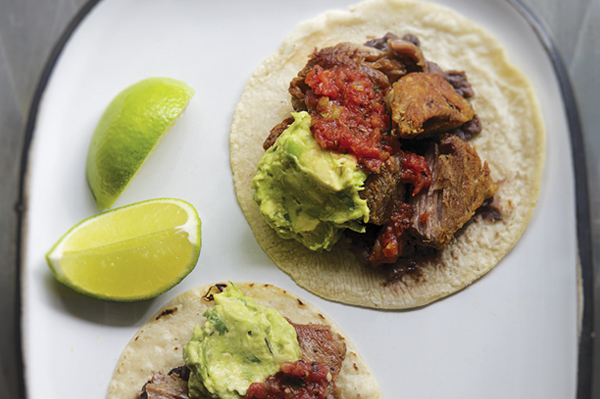 Ingredients
2

pounds

boneless pork shoulder

salt

1 1/2 to 2

cups

freshly rendered pork lard (you can buy good-quality lard from a local butcher or Mexican market; I don't recommend the hydrogenated lard that's sold in bricks)

3

serranos

(or 2 jalapeños) stemmed, seeded if you wish

10

unpeeled

garlic cloves

4 1/2

cups

cooked beans (and kind you like), drained, cooking liquid reserved (this is the quantity you'll get from three 15-ounce cans)

1

15-ounce

can fire-roasted tomatoes, drained

1/2

cup

chopped cilantro (divided use)

3 or 4

limes

(divided use)

3

ripe

avocados, pitted, flesh scooped from the skins

2

dozen

corn tortillas
Instructions
Cut the pork into 2 ½- to 3-inch pieces and sprinkle generously on all sides with salt. Scoop the lard into a 6-quart slow cooker and turn on high.  When the lard is melted, fit in the pork in a single layer (there should be few gaps between the pieces and they should be barely covered with the fat).  Cover and cook until thoroughly tender, about 3 hours.  Turn off, uncover and let cool while you prepare the accompaniments.
In a very large (12-inch) non-stick or seasoned cast-iron skillet over medium heat, roast the chiles and unpeeled garlic, turning regularly until they are softened and blackened in spots, about 10 minutes for the chiles, 15 minutes for the garlic.  Cool, then slip the garlic from its skins and put into a food processor. Pulse the garlic until it's finely chopped.
Set the skillet over medium heat and spoon in a few tablespoons of the pork fat from the carnitas.  Add the beans and 1/3 of the chopped garlic.  Mash with an old-fashioned potato masher or back of a large spoon until as smooth as you like—I like mine to retain a little texture—adding bean cooking liquid (or water) a few tablespoons at a time until the beans have a slightly soupy consistency.  Scrape the beans into a serving bowl, cover with a piece of foil and keep warm in a very low oven.
Divide what remains of the garlic between 2 medium serving bowls.  Without cleaning the processor, pulse the chiles until finely chopped.  Divide between the two bowls.
Again, without washing the processor, pulse the drained tomatoes until they resemble salsa texture.  Scrape into one of the bowls with the chile and garlic. Stir half of the cilantro into the tomato salsa bowl and season with a tablespoon or two of fresh lime juice. Thin the salsa with a little water if it needs it, then taste and season with salt, usually about a ½ teaspoon.
Scoop the avocados into the other bowl and mash with the potato masher or back of a spoon until smooth or chunky—whatever your favorite guacamole texture.  Stir in the remaining cilantro and squeeze in a little fresh lime juice—1 tablespoon is usually enough to brighten the flavors.  Taste and season with salt, usually about a ½ teaspoon.
Cut the remaining limes into wedges and scoop into a serving bowl.
Remove the pork to a cutting board, leaving behind as much fat as possible.  (You can refrigerate the lard to use for another round of carnitas, to season beans or fry potatoes or the like.) Shred the carnitas into very large, coarse pieces.  Set the cleaned bean-cooking skillet over medium heat. When the pan is very hot, spoon in enough carnitas-cooking fat to film the bottom generously.  Scoop in the pork, spreading it out evenly over the bottom of the pan.  Cook undisturbed for a couple of minutes, until it is richly browned and releases itself from the bottom of the pan.  Gently turn the pieces to brown the other side. Remove to a plate lined with paper towels.  Sprinkle with salt (coarse salt is welcome here, if you have it). Serve on a warm platter with the beans, salsa, guacamole, lime wedges and warm tortillas.