The most wonderful time of the year deserves a gift guide to match, so we've put together a few of our favorite things.
Giving a gift means you care about someone. Giving them Sleep Walk Chocolate from Chicago's Dark Matter Coffee means you love them. These wildly delicious chocolates are made in partnership with Mexico City's La Rifa and emphasize quality sourcing of cacao beans from Mexico, traceability and great taste.
Make someone's day with good tidings from Chef Rick Bayless on Cameo. These special video messages can be highly customized and sent directly to the recipient's phone. An amazing, unexpected, feel-good gift for the home chef in your life.
We are huge fans of Masienda, the L.A.-based company that works with Mexican farmers to grow and source heirloom corn. They've now grown (👏 ) into a formidable retailer of all things masa, and founder Jorge Gaviria has just released the definitive book on the topic. Start your masa journey with their CORNucopia kit, which includes everything you need to make your own homemade corn tortillas.
Signed cookbooks! Go deep into our back catalog with the classics like "Authentic Mexican," Rick's first (and groundbreaking) collection of regional Mexican recipes. Or get current with titles like "Mexican Everyday" and the successful follow-up, "More Mexican Everyday." All copies bought from our online shop arrived signed.
We have some super-fun new restaurant merch in the online shop, including some sleekly designed,  super-comfortable T-shirts. Coming very soon: adorable youth shirts featuring the "Churro Libre" wrestling character!
Frontera Gift Cards are always a hit. (FYI: we've moved to an e-gift card system for easy giving.) Available in values up to $500 and redeemable at Frontera Grill, Topolobampo, Xoco and Bar Sótano.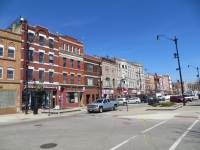 Wanna an off-the-beaten path holiday present shopping expedition? Start in Pilsen at the National Museum of Mexican Art for artesanía, then head a few blocks to Sleep Walk for Mexican chocolate bars, next door to Casa del Pueblo Grocery for cool Mexican candies (great stocking stuffers), have lunch at 5 Rabanitos or Carnitas Uruapan (or take carnitas home for a festive dinner), then head down to Moreno's for the best selection of mezcal in town.
Give the gift of Mexican flavor. We ship a few incredible packages nationwide — right to your doorstep — with Goldbelly. Our Carnitas Kit features pasture-raised pork carnitas tacos with all the trimmings, and our Oaxacan Mole Kit in at-home tour of Oaxaca with green almond soup, grilled heritage-breed chicken breast, famous mole negro, black beans and chocolate pecan pie bars. Going big? We also have a package with both kitts for an unforgettable holiday feast!