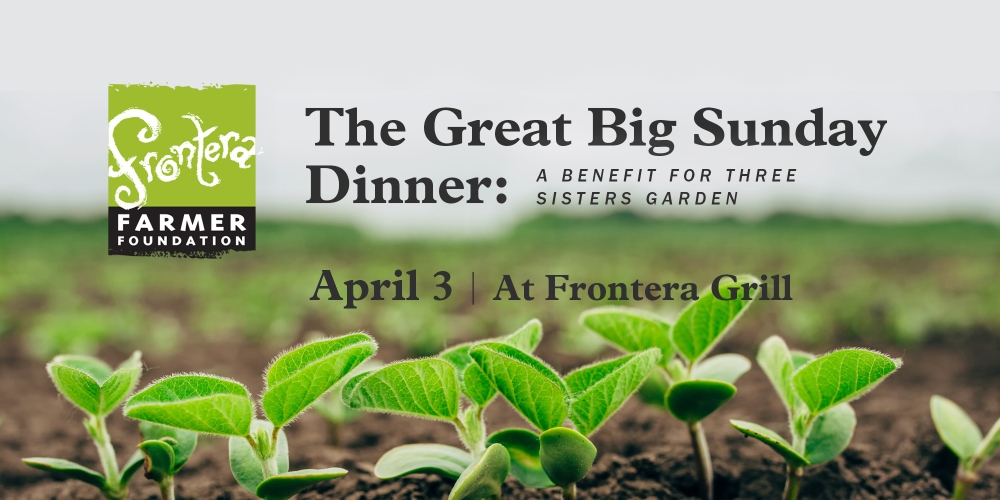 So many of us in Chicago's farmers market and restaurant community know Tracey Vowell.
Tracey ran the kitchens at Frontera Grill for years, our Frontera Farmers Foundation was her brainchild, and for nearly two decades her farm, Three Sisters Garden, has supplied restaurants and markets with beautiful bi-colored corn (we use it for our wildly popular elotes!), beans (her black beans rival the best heirloom Oaxacan varieties), pecans and many other products.
A month ago, a massive fire destroyed her equipment and stored produce, taking with it a critical supply of good food to Chicago's farm-forward restaurants.
On Sunday April 3, a team of top chefs is helping to jumpstart planting at the farm
"The Great Big Sunday Dinner" takes place Sunday, April 3 at Rick Bayless' Frontera Grill, 445 N. Clark St.
Tickets to the one-of-a-kind dinner cost $275 and include a six-course tasting menu, wine pairings and specialty cocktails. Seating is communal.
Participating chefs include Darnell Reed (Luella's Southern Kitchen), Sarah Stegner (Prairie Grass Cafe) and Jason Hammel (Lula Cafe) and Greg Mosko (The Gage), along with Bayless and his culinary team.
Located in Kankakee, Three Sisters Garden is a key provider of corn, beans and squash—the indigenous people's famed "three sisters" crops—as well as petite greens, vibrant watermelon radishes and fresh-rolled oats to restaurants throughout the area.
Vowell's farm and its impact on the quality and integrity of the food chain cannot be overstated.
Tracey's forward-thinking led to our Frontera Farmer Foundation, a nonprofit that's awarded nearly $3 million to family Midwest family farms since 2003. Now, in a full-circle moment, all proceeds from the dinner will be sent the foundation for a special emergency relief grant for Tracey.
Right now, her focus (and ours) is raising money to allow her to plant corn in the spring. Let's make it happen.
Join us as the table for a convivial night of food and drink benefitting one of our own.