Greetings, Thanksgiving cooks! We're grateful that you'll be joining us for a little live holiday treat. Join us over at Rick's Facebook page at Noon (central) on Thursday to start cooking along. Meanwhile, here's a sneak peak at the recipes so you can gather your ingredients.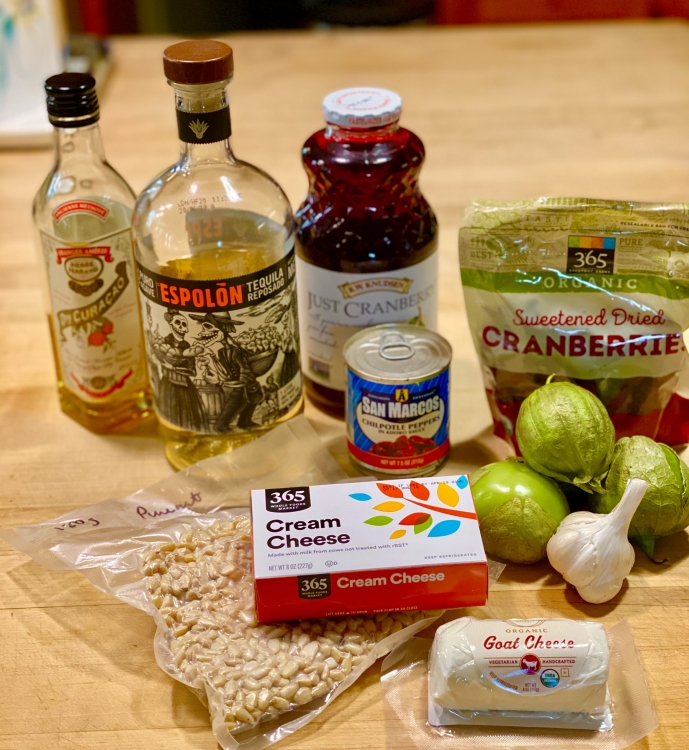 Holiday Cranberry Margarita
Besides lime and salt to crust the rime of the glass, for each drink you'll need:
• 1 ½ ounces tequila (choose a blanco for a bright-tasting drink, a reposado for a richer-tasting one.
• ½ ounce Cointreau
• 2 ounces cranberry juice (we like an unsweetened one)
• ½ ounce fresh lime juice
• ½ ounce agave syrup or honey
• Ginger beer (the spicier the better)
Rub a lime wedge around the rim of a 10-ounce glass (a Collins or double old fashioned glass), then up-end it into a plate of Kosher salt. Fill it nearly full with ice.
Fill a cocktail shaker about half full of ice, measure in the tequila, Triple Sec, cranberry and lime juices and the agave syrup or honey—you can do up to 3 drinks at once.  Shake vigorously for 10 to 15 seconds, then strain into the salt-crusted glass and top with ginger beer.  Stir once and your holiday drink is ready to serve. 
Baked Goat Cheese with Tangy Cranberry-Chipotle Salsa
For the salsa:
• ½ cup dried cranberries
• 3 tablespoons tequila, mezcal or water
• 3 garlic cloves, peeled
• 8 ounces (about 4 medium) tomatillos, husked, rinsed and cut in half
• 2 canned chipotle chiles en adobo (or more if you like really spicy salsa)
For the cheese:
• ¼ cup pine nuts or coarsely chopped walnuts or pecans
• 1 (4-ounce) log goat cheese
• 1 (3-ounce) package cream cheese
• A little chopped cilantro, parsley, chives or green onion tops for garnish, if you have it
Make the salsa. Set a large (10-inch) nonstick skillet over medium heat. (If your skillet isn't non-stick, lay down a piece of foil.) Lay in the garlic and tomatillos (cut-side down). When the tomatillos are well browned, 3 or 4 minutes), turn everything over and brown the other side. (The tomatillos should be completely soft). While the tomatillos are roasting, scoop the cranberries into a small microwave-safe bowl, add the tequila/mezcal/water. Either cover with a microwave lid or plastic wrap (poke a couple of holes in the top) and microwave for 1 minute.
In a blender or food processor, combine the tomatillos, garlic, chipotles (I like to add a little of their canning liquid as well) and cranberries (including their liquid). Pulse a few times to start the chopping, then run the machine until it looks like salsa—not really smooth, but not too chunky. If the salsa is thick, add 2 or 3 tablespoons of water, then pulse to incorporate it. Taste and season with salt, usually about ½ teaspoon.
Toast the nuts. Heat the oven to 350 degrees. Spread out the nuts on a baking sheet, set them in the oven and let toast until lightly browned and very fragrant, 7 or 8 minutes. Remove and slide off into a medium-size bowl.
Form and bake. Add the cheeses to the bowl and use the back of a spoon to work everything together. Scoop into the center of an ovenproof baking dish (something about the size of a 9-inch pie pan) and form it into a 5-inch-diameter disc. Spoon the salsa over and around the cheese, set in the oven and bake until heated through, 10 to 15 minutes.
Sprinkle with the cilantro (or one of the other choices) if you have it, and set your aromatic appetizer out to enjoy as a dip or a spread on crackers or toasted bread.