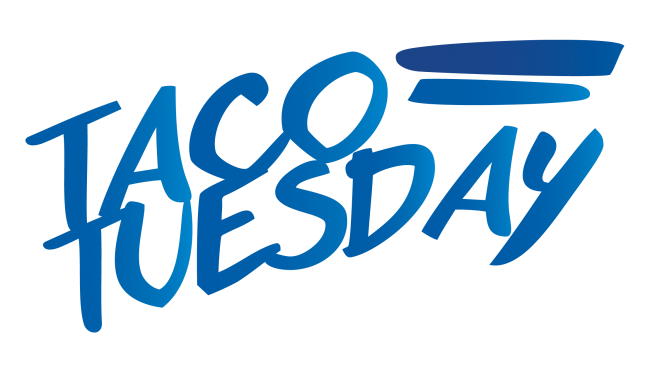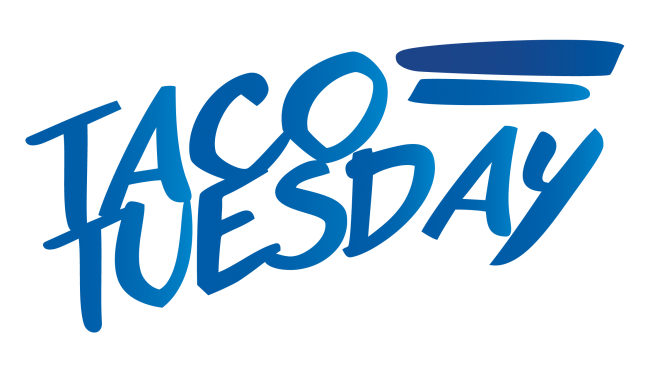 If you follow my writing, you'll see I sometimes employ the phrase "soul-satisfying" to describe certain dishes.
See, I just think that something happens when we eat honest-to-goodness food, some sort of necessary, beautiful connection between body and soul signaling that, yeah, some things are still right in our world.
These tacos of beans and greens in red chile and fresh cheese is exactly that type of dish.
It begins with a simple red chile sauce of toasted dried guajillo chiles (they look a little like the famous New Mexico chiles), garlic and Mexican oregano that adds an iconically Mexican character to what happens in the pan. Add canned black beans and sliced kale (or other greens), spoon the mixture into warm tortillas, sprinkle on some fresco cheese and you have a dinner that's perfect for eating low on the food chain and, you guessed it, for satisfying your soul.  
'Til next week!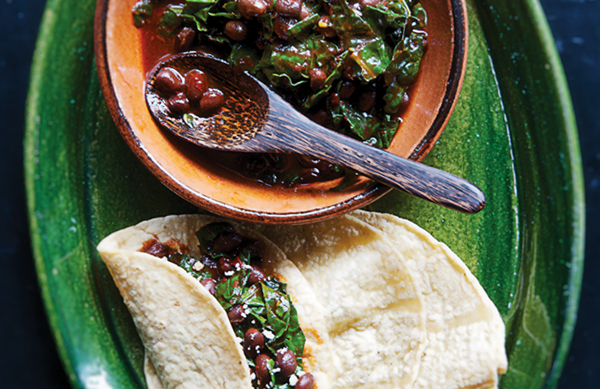 Servings:
4
(enough for 12 tacos)
Ingredients
3

tablespoons

vegetable oil

8

medium-large (about 2 ounces

dried guajillo chiles,

stemmed and seeded

3

garlic cloves, peeled and roughly chopped

1/2

teaspoon

dried oregano, preferably Mexican

1/4

teaspoon

ground black pepper

Salt

Sugar

1

medium bunch (about 12 ounces)

black (aka Tuscan or Dinosaur) kale, stems removed, cut crosswise into ½-inch strips—you should have about 6 cups

1

15-oz

can black beans, drained

12

corn tortillas
Instructions
Heat the oil in a large (4-quart) saucepan over medium.  One or 2 at a time, fry the chiles until they're aromatic and change color (they'll lighten a little on the inside and brown on the outside), 10 seconds or so on each side.  Remove to a bowl, cover with hot tap water, weight with a plate to keep them submerged and rehydrate for about 20 minutes.  Set the pan aside.
Scoop the chiles into a blender jar, along with 2/3 cup of the soaking water.
Add the garlic, oregano and pepper and blend to a smooth puree. (If the mixture won't move through the blender blades, add a little more of the soaking liquid to loosen it up.)
Return the oily pan to medium-high heat.  When hot, set a medium-mesh strainer over the pan and press the chile mixture through. Discard the skins and seeds left in the strainer.  Cook, stirring nearly constantly, until the consistency of tomato paste, about 4 minutes. Pour in 3/4 cupwater, reduce the heat to medium-low and simmer, stirring regularly, until the sauce takes on a medium consistency, about 5 minutes.  Taste and season highly with salt, usually about 1 teaspoon; adding about ½ teaspoon sugar will bring out the natural fruitiness of the chile and balance the heat a little.
Add the kale and beans to the sauce all at once, tossing to coat with the
guajillo sauce. Cook, stirring often, until the kale wilts, about 3 minutes. Transfer themixture to a warm serving bowl. Sprinkle the queso fresco on top and you're ready to serve.  If you're like me, that'll include plenty of warm tortillas for making tacos.