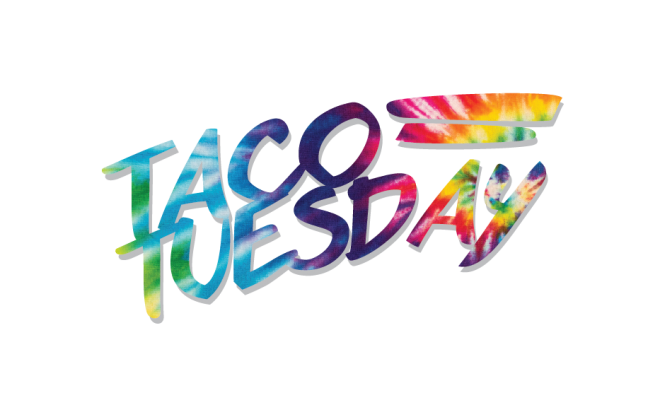 Heyyy maannnnn,

It has come to my attention over the years that a good number of people think my mellow enthusiasm for stuff I taste or cook is a result of—I'll just say it—a little weed. While those that know me find that a little hilarious, the truth is I never touch the stuff. Well, certainly not recently (remember, I came of age in the '60s). Besides, I'm a mezcal man.
Nevertheless I find the presumed connection between me and a little weed just hilarious enough to do a 420 edition of Taco Tuesday dedicated to some tacos worthy of late-night munchies.
First, we start with bacon. (I mean, obvious, right?)
Then, we'll caramelize some onions in all of that beautiful bacon fat, which is then used to fry a big mess of diced potatoes. And since these tacos wouldn't be complete without some gooey melted cheese, we'll add just enough to blend with all that delicious crispy bacon and onion caramelized in bacon fat. (I'll bet you're thinking about a one-hitter, aren't you?)
Oh, and there's some healthy splashes of Mexican hot sauce. And a handful of crumbled chicharrón (hey, potato chips could work here, too) for some crunchy, salty goodness.
Ok, maybe not everyone who partakes craves indulgent eats, but trust me, you're going to want to make these — "enhanced" state of consciousness or not.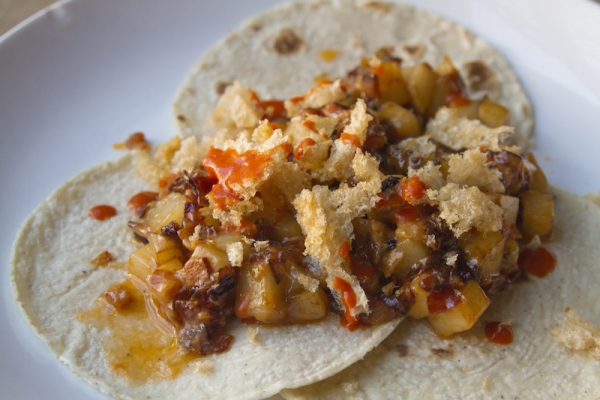 Ingredients
1

small white onion, diced

2 to 4

ounces

(2 to 4 thick strips) bacon, cut crosswise into 1/2-inch pieces

2

pounds

red skinned potatoes, cut into 3/4-inch chunks (about 3 cups)

1/4

cup

shredded melting cheese, like Jack cheese

Hot sauce

1

piece

chicharrón
Instructions
In a large (10-inch) skillet set over medium heat, cook the bacon and onions, stirring occasionally, until the bacon is crispy and the onions are golden, about 10 minutes.
Scoop the potatoes into a microwave-safe bowl and splash with a few tablespoons of water. Cover with plastic wrap, poke a few holes in the top and microwave at 100% for 3 minutes, until mostly cooked. Tip out the water and add the potatoes to the pan, raise the heat to medium-high until the potatoes begin to crisp, about 4 minutes. Sprinkle the skillet with cheese and hot sauce. 
Scoop the mixture into warm tortillas and top with chicharrón and more hot sauce.