We drink classic margaritas full of puckery-sweet limonada all year round. But we'd be lying if we said it didn't taste best outside on a warm day, in the sun, preferably near some water.
Not the Apple-Habanero Margarita from Rick's latest book. This margarita is infused with autumn in three different ways: an apple-habanero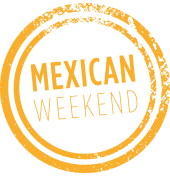 puree; a dose of apple brandy; and a peppery cinnamon salt that goes around the rim of the glass.
This is a richer margarita, a cocktail that offers a roasty sweetness followed by the pleasant bite of chile. It's not the type of drink you sip on the beach; it's a drink you sip near the fire. Which, of course, makes it perfect for this Mexican Weekend.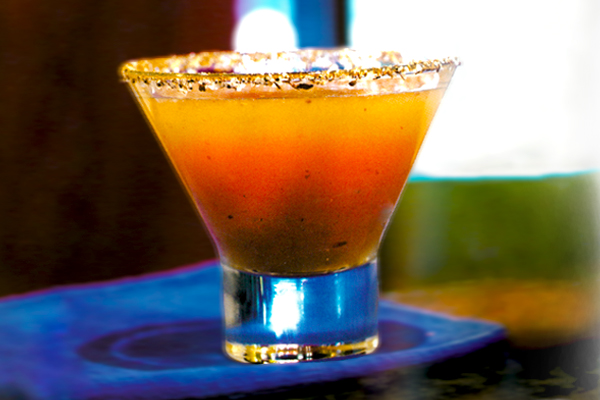 Habanero chiles, though foremost thought of in terms of their heat, are one of the most delicious chiles on earth—fruity, citrusy, wonderfully floral. And they pair perfectly with apples. So when you're at the fall farmer's market, buy your favorite apples and a few habaneros (thankfully, both are in abundance at the same moment) for this special cocktail—special for anyone who loves spicy. For me, ½ of an habanero is the right amount. I typically roast a whole habanero with the apples, then roughly chop it and add it to the pureed apples a little at a time, until the flavor and heat at perfect. I encourage you to do the same. Combining apple brandy and roasted apple puree gives this drink a rich, roasty oaky flavor with hints of oakiness. A resonant reposado tequila fits in beautifully, offering an age-induced smoothess while preserving the tequila's agave flavor. To make Peppery Cinnamon Salt, mix 3 parts coarse (kosher) salt with 2 parts ground cinnamon (preferably fresh-ground Mexican canela) and 1 part fresh-ground black pepper.
Ingredients
Peppery Cinnamon Salt (see Bartender's notes above) or coarse (kosher) salt

1

lime wedge

1 1/2

ounces

100% blue agave reposado tequila

1/4

ounce

fresh lime juice

1/2

ounce

apple brandy (Calvados is the most famous one)

1 1/2

ounces

Apple-Habanero Puree (see recipe below)

6 to 10

small ice cubes (about ¾ cup)
Instructions
Spread the Peppery Cinnamon Salt on a small plate.  Moisten the rim of a 6-ounce martini glass with the lime wedge, and upend the glass onto the salt to crust the rim. Set aside.
In a cocktail shaker, combine the tequila, lime juice, Calvados, Apple-Habanero Puree, apple brandy and ice. Cover and shake vigorously until frothy and cold; tiny ice crystals will appear in the drink after about 15 seconds of shaking. Strain into the salt-crusted glass and serve immediately.
Apple-Habanero Puree
2 large apples, peeled, quartered and cored (you need about 12 ounces/3 ½ cups of    cleaned apple quarters)
¼ cup sugar
¼ to ½ fresh habanero chile, stemmed
¼ cup agave syrup (light organic syrup gives the best flavor) or simple syrup
Heat your oven to 400 degrees.  Spread the apples onto a baking sheet and sprinkle with the sugar, tossing them to coat evenly.  Add the habanero to the baking sheet, and slide into the oven. Roast for 20 minutes, then use a spatula to flip the apple pieces. Roast for another 20 minutes, until lightly browned and completely soft.
In a food processor or blender, process the roasted apples with the agave syrup (or Rich Simple Syrup) and ½ cup water until completely smooth. Chop the habanero (seeds and all), then add a portion to the apple puree—start with a quarter to make it a little spicy, half for the full experience. Process to blend thoroughly, taste and add more habanero if you were too timid at first. Pulse to blend.  Pour into a storage container (strain the mixture if you think there may be unblended bits), cover and refrigerate until you are ready to use, up to 5 days.
Yield: 1 ½ cups