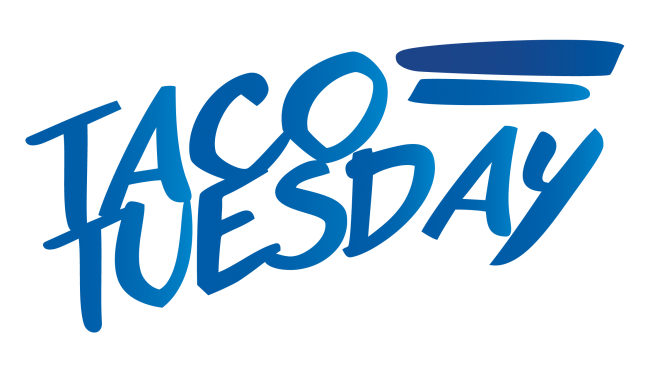 Seems everyone's always asking what dishes to make for holidays and special occasions.
Though it's close to impossible to narrow it to a manageable list, I can say with certainty that this week's Taco Tuesday recipe for slow cooker pork carnitas is perfect for any big celebration, including that big Cinco de Mayo fiesta you're planning.
It starts with big chunks of pork shoulder submerged in their own fat and ends with golden, crispy, salty pieces of carnitas wrapped in a tortilla and slathered with guacamole and salsa. (Cooking pork submerged in its own fat—what European chefs have traditionally called confit—produces a lusciousness that you'd never achieve by just roasting or simmering.)
While the pork is busy getting all tender and juicy in the slow cooker, you'll prepare two simple accompaniments — guacamole with roasted garlic and serrano chile, plus a roasted tomato salsa—to complete the feast.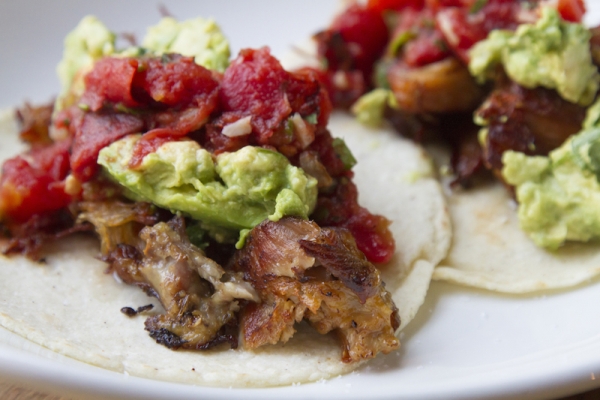 Ingredients
2

pounds

boneless pork shoulder

Salt

1 1/2 to 2

cups

freshly rendered pork lard (you can buy good-quality lard from a local butcher or Mexican market; I don't recommend the hydrogenated lard that's sold in bricks)

3

serranos

(or 2 jalapeños) stemmed, seeded if you wish

10

unpeeled garlic cloves

1

15-ounce

can fire-roasted tomatoes, drained

1/2

cup

chopped cilantro (divided use)

3

or 4

limes (divided use)

3

ripe

avocados, pitted, flesh scooped from the skins

2

dozen

corn tortillas
Instructions
Cut the pork into 2 ½- to 3-inch pieces and sprinkle generously on all sides with salt. Scoop the lard into a 6-quart slow cooker and turn on high.  When the lard is melted, fit in the pork in a single layer (there should be few gaps between the pieces and they should be barely covered with the fat).  Cover and cook until thoroughly tender, about 3 hours.  Turn off, uncover and let cool while you prepare the accompaniments.
In a very large (12-inch) non-stick or seasoned cast-iron skillet over medium heat, roast the chiles and unpeeled garlic, turning regularly until they are softened and blackened in spots, about 10 minutes for the chiles, 15 minutes for the garlic.  Cool, then slip the garlic from its skins and put the chiles and garlic into a food processor. Pulse the mixture until it's finely chopped.
Scrape half of the mixture into a bowl with the avocados, mash with the potato masher or back of a spoon until smooth or chunky—whatever your favorite guacamole texture.  Stir half of the cilantro and squeeze in a little fresh lime juice—1 tablespoon is usually enough to brighten the flavors.  Taste and season with salt, usually about a ½ teaspoon.
Scoop the remaining half of the chile-garlic mixture and cilantro into a bowl with the fire-roasted tomatoes and season with a tablespoon or two of fresh lime juice. Taste and season with salt, usually about  ½ teaspoon.
Cut the remaining limes into wedges and scoop into a serving bowl.
Remove the pork to a cutting board, leaving behind as much fat as possible.  (You can refrigerate the lard to use for another round of carnitas, to season beans or fry potatoes or the like.) Shred the carnitas into very large, coarse pieces.  When the pan is very hot, spoon in enough carnitas-cooking fat to film the bottom generously.  Scoop in the pork, spreading it out evenly over the bottom of the pan.  Cook undisturbed for a couple of minutes, until it is richly browned and releases itself from the bottom of the pan.  Gently turn the pieces to brown the other side. Remove to a plate lined with paper towels. Sprinkle with salt (coarse salt is welcome here, if you have it). Serve on a warm platter with the salsa, guacamole, lime wedges and warm tortillas.